Student Story
A Life of Service: Kate Lucier '21 Finds Purpose in Serving Her Country and Community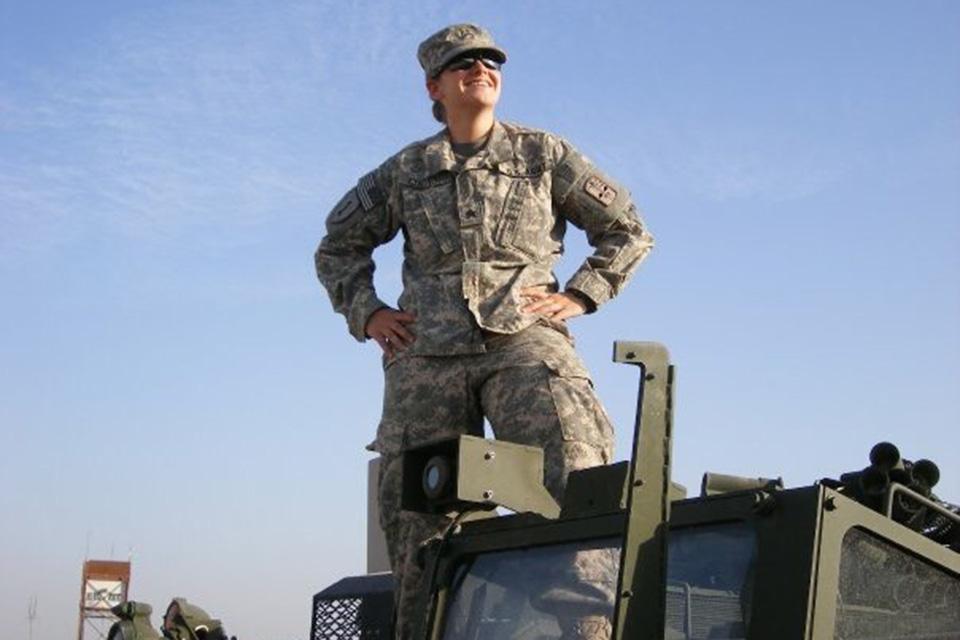 As a veteran, Memorial Day is a day of heart-wrenching remembrance of those who have served and sacrificed everything they had for our country. No matter their beliefs, or where they were born and raised, they were part of our global presence. 
Why did you decide to join the Army?
I joined the Army because it was the best option I had at 18 years to get out of an abusive home environment old and land on my feet. Without help or support to figure out a higher education path, college was off the table for me until I was old enough to apply to school and get financial aid on my own.
I've also always had a passion for helping people, so joining the Army and becoming a Combat Medic was my chance to help others in a way that would be bigger than I could ever be alone. I knew that joining in 2006 there would be a good chance of getting deployed to war, which would allow me the opportunity of a lifetime to help our brothers and sisters get home to their families. In short, I felt it was an opportunity, a calling, and my duty. 
What lessons from the military have translated into your academics? 
The skills and lessons I learned in the military have absolutely translated into my academics and overall life skills. I know I can accomplish anything at any time. I just need work as hard as I can, keep working through challenges, continually ask questions and find the right people to help if I can't do something on my own.
But it's been a long nine years of healing after leaving the Army in 2010 — and the process of healing continues to this day. There are still times that I struggle mentally, but I have incredible resilience that I've cultivated and practiced during my four years of service and beyond that I rely on everyday. I also use as many resources of support as I can, knowing where my weaknesses are and when I'm not coping well.
The military certainly taught me that all we have is today and we all deserve to see and be seen by one another with a foundation of respect. Opportunities and lives get cut short everyday. For me, I've learned I'd rather show up and do my best with as much sincerity, honesty, and open-mindedness as I can. This translates into my academics because it makes it worth it to put in the work, to ask questions, to stay after class, to study with colleagues, to be honest and speak up when I run into challenges, and to know that I will get out of this education and experience whatever I'm willing to put into it. 
As a veteran, what does Memorial Day mean to you?
As a veteran, Memorial Day is a day of heart-wrenching remembrance of those who have served and sacrificed everything they had for our country. No matter their beliefs, or where they were born and raised, they were part of our global presence. They chose to serve (even if they were drafted, they chose to serve with honor) and stand up for things they believed in, beyond themselves, and made the ultimate sacrifice.
Memorial Day always makes me think about friends and family who are still serving as well. I remember to be thankful for them — for keeping me safe and helping me through all those tough days and nights, for the work that they continue to do, and for their continued safety. For all of that, Memorial Day is a moment in time to reflect on sacrifice, service, honor and integrity, and to be grateful for my comrades who are still here. 
Why did you decide to attend Simmons?
I decided to attend Simmons because of the history of Simmons' founding and Dorothea Lynde Dix's legacy. I saw that Simmons has a rich history, rooted deep within Boston and was built upon an ideal of women's equality, which is what Dorothea Dix stood up and fought for as well: education for young women, as well as better living and treatment conditions for mentally ill and incarcerated individuals. On top of that, she started the Army's female nursing corps! The idea of being surrounded by strong, empowered (and empowering) women at such a reputable academic institution and working upon the foundation of women's freedom and equality felt like the right place to start a new foundation for myself. 
Why have you decided to pursue a career in public health?
Public health speaks to my experiences and passions and will allow me to do what I love: to protect and serve our people and to improve their standard of living, by way of policy, research, education, and my own personal investment. I grew up in central Massachusetts and feel it's my responsibility to take care of my home. This is my opportunity to give back and do something meaningful — for the children in need, for the elderly, for formerly incarcerated individuals, for the single parents, etc. Everyone deserves a fighting chance and we can't fight alone. I want to be a part of providing and assisting with that fighting chance, for as many people as possible. I want to do work that means something at the end of the day. 
What's the best thing about Simmons' public health program?
The professors — they create a safe environment to learn, ask questions, make mistakes, and encourage students to be excited about learning. As a woman that has been the biggest thing for me. 
Do you have any advice for students who are considering coming back to school?
As we age it can get harder and harder to put ourselves first. Harder and harder to look back on what we wanted to do and what we actually decided to do. It's not about the choices we didn't make, but the ones that brought us to today — to this new place with a different perspective, to this opportunity where you're investing in your skills and capabilities.
There will never be a good time to do it that'll be convenient and easy. Nothing that's worth having has ever come easy. Figure out what it will take, take it step by step, ask questions without fear (you're getting too old for that), and remember that none of us can do this alone. There will always be help along the way. Take the first step.