Campus & Community
Librarianship in Rwanda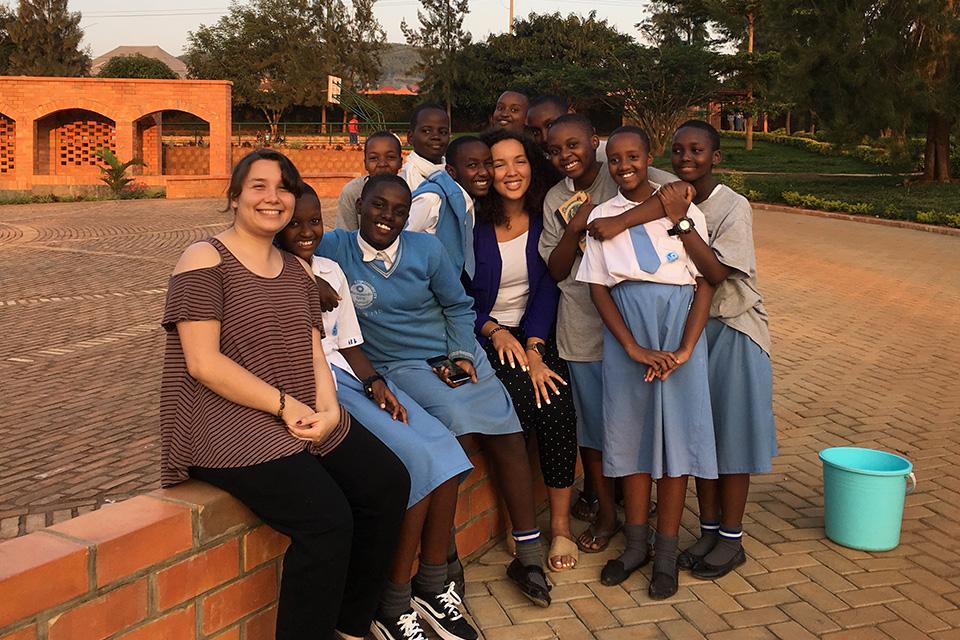 Faculty and students travel to collaborate with the Maranyundo Girls School.
In May 2018, Professor and Math & Computational Sciences Director Nanette Veilleux and SLIS Associate Professor Lisa Hussey traveled with students Vanessa Burns '20 and Heather Moeykens '18 to Rwanda. They worked with the Maranyundo Girls School (MGS) in Nyamata to collaborate with the computer science instructors and organize the fiction and related materials in the library. MGS is a private boarding school run by Benebikira Nuns. MGS consistently scores in the top three in national testing and many students go on to college and successful careers.
Nanette, Vanessa, and Heather worked with the faculty to identify and train students as lab curators to provide more independent use of the computer labs. Nanette developed and presented suggestions for final projects for the students in their last year. They also met with several different students to assist in the development of computer programming and apps. One student group, self-named the "Techies," won a national award last year for an app they created.
In the library, Lisa, Vanessa, and Heather introduced several well-received changes. The first involved reorganizing the fiction into easily identifiable categories based on reading levels (Introductory, Intermediate, and Advanced) and each book was assigned a color stripe based on the reading level (Green, Yellow, or Blue). Within each section, the books were organized based on the author's last name, identified by a sticker with a letter on the spine, just above the color stripe. Poetry, plays and stories were separated into their own section and identified by a purple stripe. Non-fiction pleasure reading (non-textbooks) were separated into biographies and memoirs (orange stripe) and general non-fiction (red stripe). 
Lisa worked with the librarian, Sister Vivian, to train a group of six students as library assistants, including instruction on how to process new books into the collection. Vanessa and Heather worked with the students to create signage that explained the new system and identified the location of each area.
The group was able to rearrange bookshelves and create space for two tables to provide study space in the library. The Maranyundo students responded well to the changes and used the tables the day after they were brought into the library. Vanessa worked with students to create decorations to make the library a welcoming spot, as well as providing readers' advisory for students.
During their stay, the group visited other areas of Rwanda. Lisa, Vanessa, and Heather visited two other schools and saw the libraries and computer labs in each place. As a group, they visited the National Library of Rwanda and the Genocide museum in Kigali, the Ethnographic Museum of Rwanda in Butare, and spent a day touring Akagera Park, Rwanda's National Park.