Student Story
Leaving a Legacy: Autumn Ledgister-Cummins '20 on the Ifill Scholarship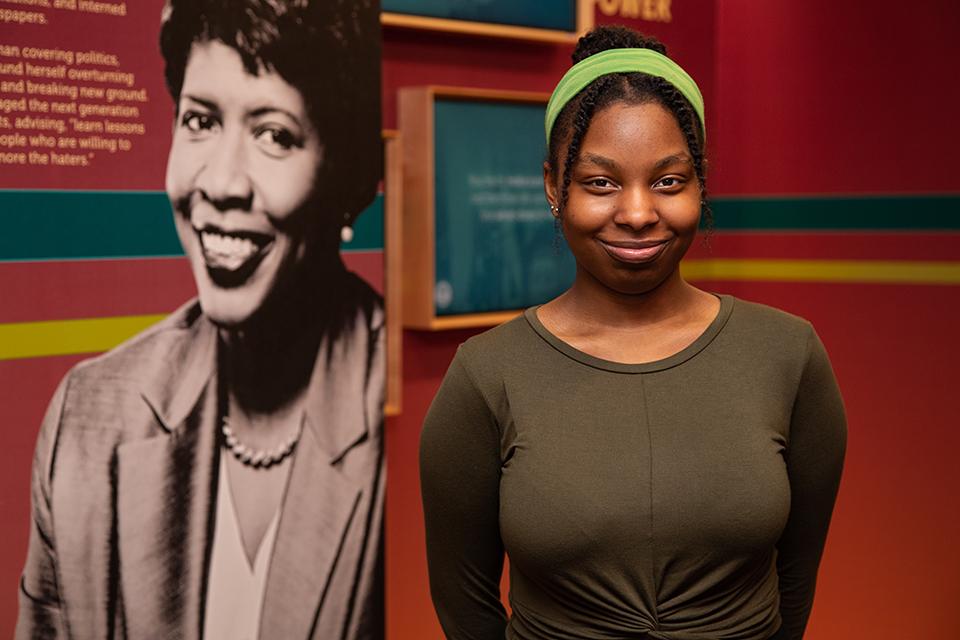 Gwen Ifill's legacy of perseverance is fundamental in how future students will impact the world.
What are you studying?
I'm majoring in Asian Studies and minoring in education because I want to be an English teacher in East Asia. I believe that it's important to know the history, culture, and language of the country I plan to travel to. 
Why did you choose to attend Simmons?
I chose Simmons because of how interactive the faculty is with their students. The class sizes are small, so students and professors are able to develop a close relationship. 
What professors have helped you reach your goals?
I give my thanks to Alister Inglis, Janet Chumley, Kristin Nelson, and the entire study abroad team. Alister Inglis helped me readjust to life in the U.S. after my study abroad experience. Without him, I would have no idea what credits counted and what remained incomplete in my major. Janet Chumley has helped me navigate my way through my minor. Kristin Nelson made me into a prospective teacher. Since my first year, she had slowly nurtured my passion to teach English. 
What does the Ifill Scholarship mean to you?
The Ifill Scholarship is an outstanding award that's had a huge impact on my self-esteem — it boosted my confidence in my ability to complete school. This scholarship has definitely cleared some of the doubts I've had as I prepare to wrap up my degree. 
How do you think students in the Gwen Ifill College will carry on her legacy and impact the world?
Gwen Ifill was a hard worker and persevered through many obstacles — breaking down barriers is her lasting legacy. Having such a strong role model will definitely motivate students to pursue their dream jobs. Even when students struggle, the Ifill College helps them achieve their aspirations. Gwen Ifill's legacy of perseverance is fundamental in how future students will impact the world.
As you look to the future, how do you hope to connect your passion to a lifelong purpose? 
My lifelong goal is to educate the next generation. The children are our future and, with the progressive wave of cultural blending, I would love to see a world with less prejudice and hate.