Student Story
Lauren Kaye '20 Lands Coveted HubSpot INBOUND Internship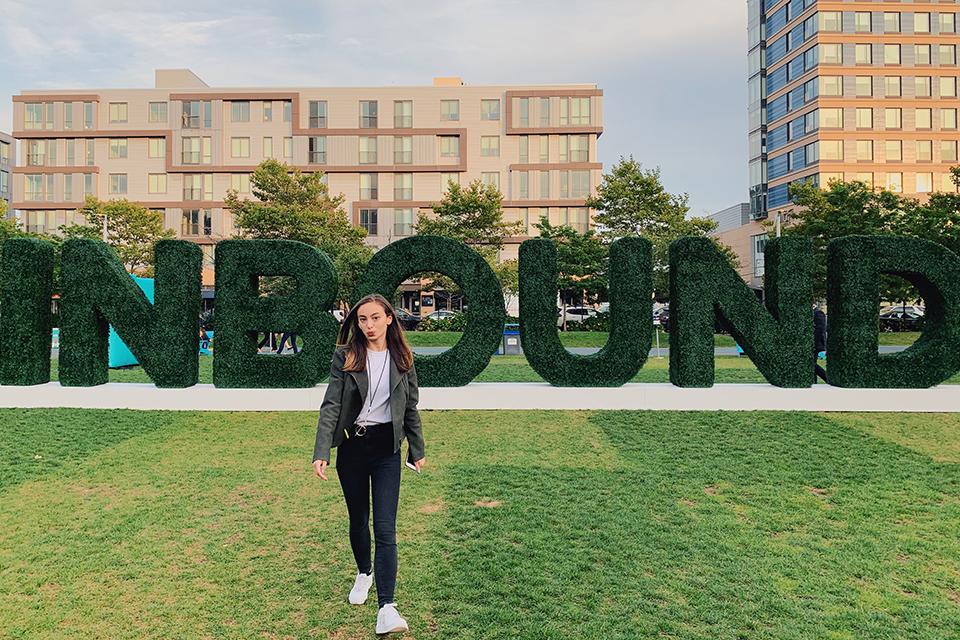 It can be nerve-wracking to be a student in a professional setting, but it's so important to realize that the uneasy feeling is okay and you're there to learn! If I didn't put myself out there and express interest in other projects, I wouldn't have had such a rewarding experience.
Why did you decide to come to Simmons?
When I was looking at colleges, I knew I wanted to be in Boston. I toured a lot of schools in the city, but Simmons really stuck out to me. I could tell there was a great community and the communications program seemed amazing. I felt like it was super customizable to my interests and was excited by all the different companies and organizations near Simmons that I could possibly intern with during my four years.
I ended up taking some classes about public relations and marketing and really enjoyed them! I felt like the double major gave me a huge mix of skill sets ranging from graphic design to illustration to social media. Because of this program, I feel like I'm prepared for a ton of different career paths after graduation!
Tell us about the process of getting the HubSpot internship. 
I first heard about HubSpot in my marketing classes here at Simmons. HubSpot is really well known for its blog, and we used some of their articles as resources in class. I remember one of my professors, Dr. Sampson, saying that HubSpot is a leader in marketing, so I decided to research them further and saw they had a summer internship program. I applied to a larger marketing internship bucket and ended up getting an interview! I was super nervous, so I met with my advisor, Andy Porter, to help with interview prep.
The process was three steps: a recorded video interview, phone interview, then a final stage two-hour-long interview with four different marketing managers at the HubSpot HQ in Cambridge. Before the in-person interview, the recruiter called me and said out of over 300 applications, I was in the final 10. After meeting with several different teams, the marketing managers each chose a candidate that has a skill set that best fit their team, and I ended up getting chosen for the INBOUND event team!
Tell us about INBOUND.
INBOUND is an annual event held right here in Boston that's hosted by HubSpot. It's all about learning, connecting, and getting inspired. We bring in big-name speakers like Katie Couric, Janelle Monae, Jennifer Garner, and Alexis Ohanian to give spotlight talks, and this year, there was a comedy show with Chelsea Handler and Jaboukie Young-White. Outside of the main stage, there are 250+ breakout speakers, artist workshops, and tons of Instagrammable moments.
During my summer on the INBOUND team, I was technically on the sponsorship and operations teams, but I wore a lot of different hats. I got a lot of project management experience and oversaw the event's merch shop and artist workshops. Another one of my main responsibilities was conducting research about potential sponsors. I also helped with marketing brainstorming, social media, and copywriting and editing.
The most exciting project I worked on was actually unplanned! At the event, we gave out sticker sheets at registration when attendees checked in. Even though I wasn't on the creative team, I had some experience with illustration and design from my coursework at Simmons. I ended up asking one of my managers if I could help design the sticker sheets, and she gave me the project! I was so nervous and excited to take it on, but it ended up being the most rewarding part of the job. 
What was it like seeing your hard work on display at the conference?
It was the best end of an internship I could have imagined! Walking around Club INBOUND (the main show floor of the event) and seeing thousands of people connect with one another and have a great time was amazing. One of the coolest things was seeing attendees decorate their badges with the stickers I designed and checking the #INBOUND19 hashtag on Twitter to find tons of people talking about them. Even the CPO of HubSpot tweeted about them!
What did you learn from this experience?
Where do I start!? One of the biggest things I learned was the importance of putting yourself out there and asking questions. It can be nerve-wracking to be a student in a professional setting, but it's so important to realize that the uneasy feeling is okay and you're there to learn! If I didn't put myself out there and express interest in other projects, I wouldn't have had such a rewarding experience. I also learned the importance of the company culture and people you surround yourself with. HubSpot and the INBOUND team were next-level. Not only did they put so much time and energy into planning the event, but they also showed an immense amount of support for me and made me feel like a part of the team even though I was only there for three months. Never underestimate the power of mentorship!
What advice would you give other students who are looking for internships?
One piece of advice I have is to apply everywhere and anywhere! Whether it's at a global company or a local business from your hometown, each experience is super valuable and will teach you different skills. 
I also always say to make your resume stand out! Hiring managers can get hundreds of resumes for a single position. It's super important to make yours stick out from the rest right off the bat. I ended up designing my own resume and adding a pop of color and easy-to-read layout. I've been told in interviews that they really liked the look of my resume and it stood out before they even read it.