Campus & Community
Know Your Staff: Dr. Renique Kersh, Vice President of Student Affairs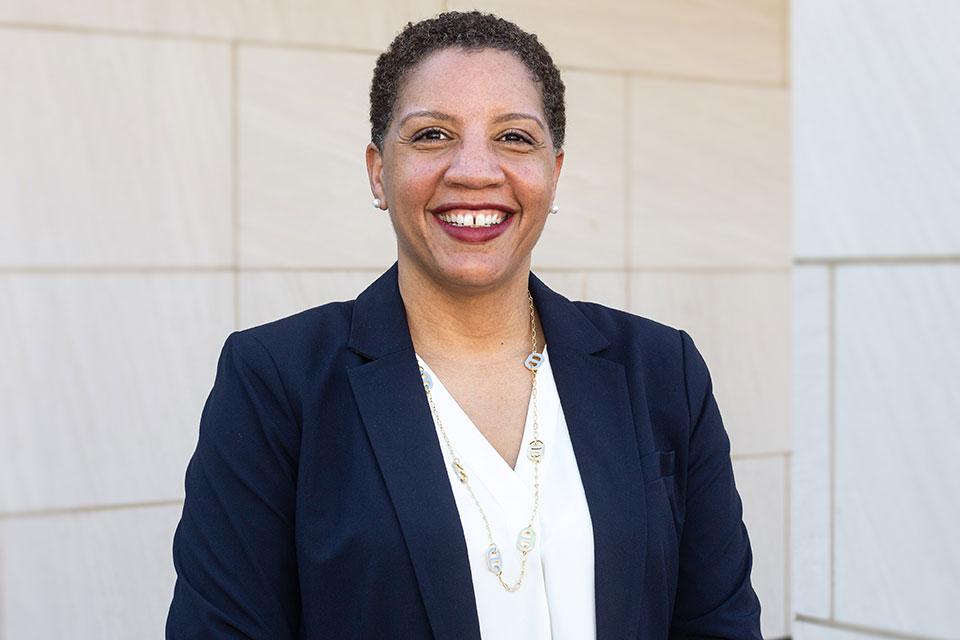 Our Student Affairs team works hard to provide students with an experience that allows them to feel at home at Simmons. We want every Simmons student to reach their potential, gain valuable skills, and be transformed as a result of their experience.
Where are you from?
I was born and raised in Michigan but moved here from Oswego, Illinois, which is a suburb west of Chicago.
Where did you attend college and what did you study?
Oakland University, BA in communications
University of Maryland, MEd in Counseling and Personnel Services, with an emphasis in College Student Personnel
University of Illinois, PhD in Community Health
Tell us about your role as Vice President of Student Affairs at Simmons.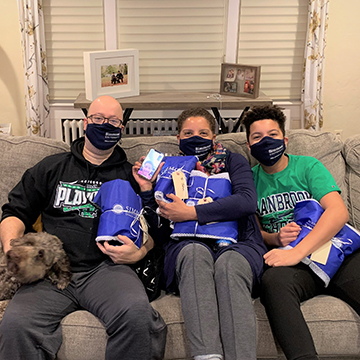 The primary focus of my role is the student experience. I oversee the staff in residential life, Orientation and first-year programs, community standards, student support, student leadership and activities, the Health Center, the Counseling Center, Spiritual Life, and athletics and recreation. One very important part of my role is adjusting our model to align with the needs of the diverse population of students we serve at Simmons, including undergraduate on-ground, undergraduate online, graduate on-ground and graduate online students.
What services does your position provide, and how can students benefit from utilizing your office?
The Student Affairs division is well known for providing student support on health and wellness issues, food and housing insecurity, and other out-of-class concerns. We empower students to be leaders through student organizations, student employment roles, and co-curricular experiences. Our Student Affairs team works hard to provide students with an experience that allows them to feel at home at Simmons. We want every Simmons student to reach their potential, gain valuable skills, and be transformed as a result of their experience.
What inspired you to work in student affairs?
I was a very involved student as an undergraduate. I studied the sciences until my senior year when I sat down with the Dean of Students at my undergraduate institution and asked him how I could do his job one day. He is the person that opened my eyes to the profession and steered me toward graduate programs in student affairs. I chose the University of Maryland because I loved the east coast, and I was impressed by their commitment to retention, social justice and equity.
What's your favorite part of your job?
Well, I'm only five weeks in, but so far, my favorite part has been meeting the students, faculty and staff across the University. Every conversation, every interaction, and every meeting gives me more insight into the Simmons experience.
Can you tell us about your plans to help enhance the Simmons student experience?
I want the Simmons experience to be a pivotal and transformative time that allows students to find their purpose. I want students to make meaning of their coursework and discover its connection to their out-of-class experiences. I also wish Simmons students to understand their coursework's relationship to their ability to be successful and engaged in their career beyond Simmons.
For our new students, I want them to have a sense of connection, community and pride as they enter Simmons, and I want our model to empower students to be self-efficacious, bold, and thoughtful in their pursuits.
This commitment requires our division to be innovative, collaborative and intentional in everything we do. In alignment with our leadership brand promise, I envision a thoughtful and engaging leadership experience that begins when students enter and is connected to their curricular experiences through PLAN. Our curriculum should prepare students to be integral as leaders not only throughout the Simmons student experience, but also the world beyond Simmons. I also want to ensure that we provide coordinated support for students who are on-ground and online, graduate or undergraduate, to ensure that ALL Simmons students feel supported and welcome.
In general, I believe we have the potential to be leaders in the field relative to the student experience, and I look forward to the journey of getting there.
If we visited your home office, what would we see?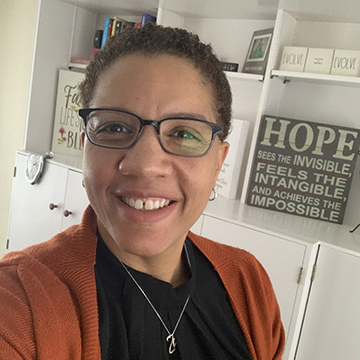 Quotes everywhere! I love quotes and short statements that remind me of important things.  You'll also see multiple dry erase boards because I'm a visual thinker, and I often spend evenings drawing out diagrams or writing out thoughts and trying to link them in real-time.
What's the last book you read?
How to be an Anti-Racist by Ibram X. Kendi and A Promised Land by Barack Obama.
Is there a TV show or podcast you're currently binging?
I recently did a feature on a podcast called Blk Womyn Voices on vulnerability and leadership and now I'm binging some of their other podcasts. My son and I just finished watching All American too.
Are there any blogs you've been following lately?
I recently started following The Simmons Voice and am really impressed by our student journalists and love the new logo!
Do you have any advice or words of encouragement for students this semester?
My mother always told me "it won't be as long as it's been!" I know this has been a long pandemic and a long academic year, but you are almost there. Keep the pace and when it's done, take a moment to reflect and unwind because you deserve it.
Tell us one fun fact about yourself!
My favorite fun fact to share is that my father is a former NBA player. He played for the Baltimore Bullets (which don't exist anymore) and the Detroit Pistons.