Student Story
Kaya Chou-Kudu '20 Creates an Inclusive Environment for STEM Students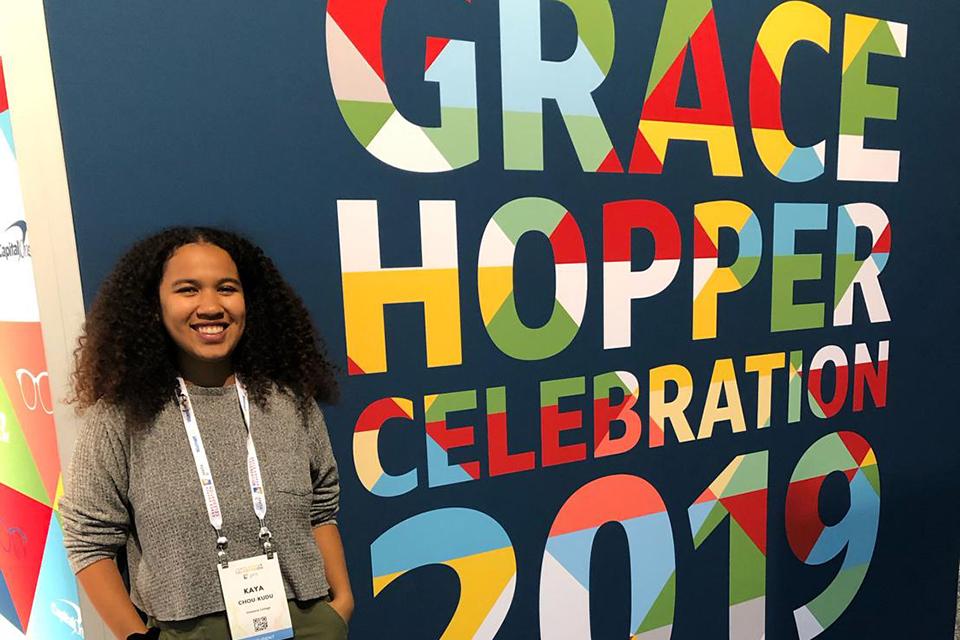 I often think about the fact that if I had not come to Simmons, it's very likely that I would have felt out of place in a programming class and chosen not to pursue computer science. 
What are you studying?
I'm majoring in computer science and minoring in web design and development! 
Why did you pursue your degree?
When I first came to Simmons, I was completely undecided about what I wanted to study. In my first-year, I took "Intro to Computer Science" with Nanette Veilleux and fell in love with coding. There's something so special about learning computer science in a room full of women, who could all see ourselves in our professor. Especially in a field like computer science which is so male-dominated, Simmons promotes a welcoming classroom atmosphere where I don't have to worry about being overshadowed or overlooked because of my gender.
In fact, studies show that women in STEM often switch to a non-STEM path in college because of a lack of support and representation in the field. I often think about the fact that if I had not come to Simmons, it's very likely that I would have felt out of place in a programming class and chosen not to pursue computer science. 
Tell us about SharkHack. 
This fall, I had the honor of hosting SharkHack along with five amazing co-organizers. SharkHack is Simmons University's annual hackathon, a 24-hour period where students brainstorm, design, and code any project of their choice. SharkHack welcomes students of all levels and focuses on creating an inclusive environment for women and nonbinary students.
This year, participants competed and won prizes from categories such as Best Social Good Hack, Best Machine Learning, and Best UI/UX Design. We also had a variety of exciting workshops focused on innovative technologies, internship and career advice, and even a late-night Zumba class! As a first time organizer, I learned how much work goes into an event in order to make sure the attendees have a good experience. Although organizing the event was not easy, it was all worth it when we got to see hackers demo their projects. 
Tell us about your internship experience with Clearly Innovative Inc. 
I first came across Clearly Innovative while completing a software engineering internship at a startup in DC. The company I interned at was working out of Clearly Innovative's Inclusive Innovation Incubator (IN3), a community space for startups, entrepreneurs, and technologists, providing office/event space and programming, and focusing on diversity and inclusion.
While working at IN3, I was able to sit in on pitches from entrepreneurs, participate in tech workshops, and even get involved in teaching a workshop of my own! I designed and taught a UI/UX workshop to middle schoolers, an experience that pushed me far out of my comfort zone, yet ended up being extremely fulfilling.
As an introvert, I've always struggled with public speaking. Getting in front of a room full of people is one of my biggest fears. With all of these fears in mind, I still kept coming back to the overall mission: make STEM accessible to marginalized communities and teach youth how to address social issues. I was able to build an engaging social-impact focused curriculum that guided the kids to conduct user research and prototype apps focused on food justice. Teaching this workshop was one of the most nerve-wracking endeavors I've ever taken on. The main lesson I've taken away is that doing work which has an impact beyond self, improving the lives of individuals and communities, allows you to overcome even your deepest fears. 
Do you have a favorite Simmons memory?
The summer after my first-year, I had the opportunity to go abroad with Professor Horn on a faculty-led travel course to Bali. The class focused on social entrepreneurship, and we spent a month working with Balinese college students to build socially impactful business models. The course was one of the most challenging yet profound experiences that I've had — we worked 9-5 every day brainstorming ideas, challenging assumptions, and surveying local community members.
My team was composed of two Americans and three Balinese students, and we learned a lot about communication in a team, cross-culturally but also across different personalities. These weeks really tested us, but I still remember the feeling of relief and reward after we presented our final project pitch to the local community. Looking back on the experience, I learned so much, made friends for life, and walked away with memories that I will cherish forever.