Alumnae/i Feature
Jillianna Farietta '16 on Applying Computer Science in the Non-Profit Sector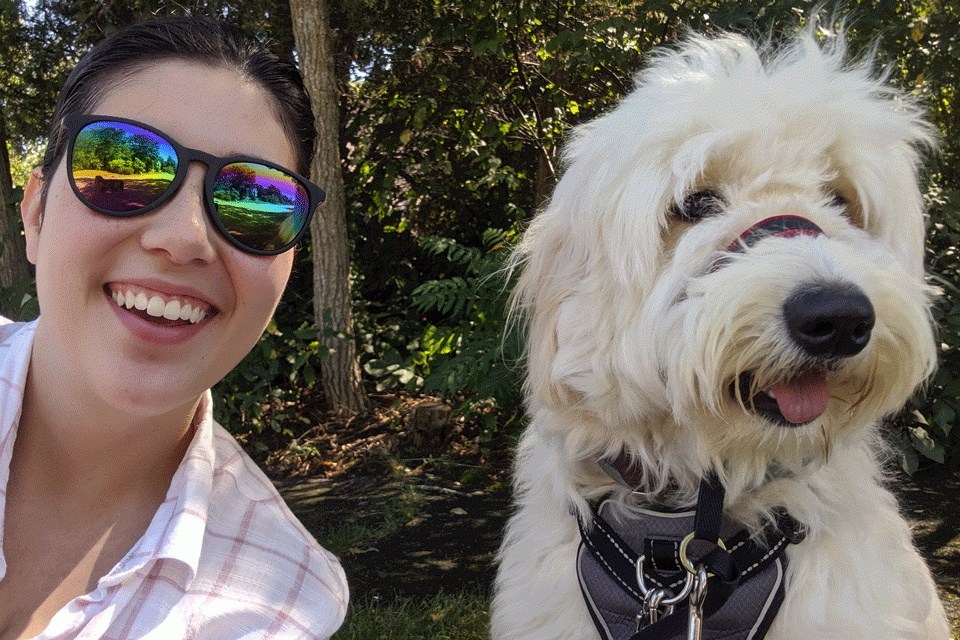 In the nonprofit world, sometimes all you have to fix a problem is duct tape and not much of a budget. The CS skills I learned at Simmons enable me to make things that shouldn't work together, work together!
Jillianna Farietta '16 has been a "computer geek" from a young age. "When I was five years old, I kept taking my older sister's computer. The battery was weak, so I would move it from one outlet to another." That same sister convinced her to take a computer science (CS) course while at Simmons. "I took CS 101 with Professor Nanette Veilleux and realized, oh, I love this!" In addition to CS, she majored in psychology and minored in web design & development.
She also learned leadership skills at Simmons. "My senior year, I became president of the Simmons Science Fiction and Fantasy Club. I had to find the balance between keeping older traditions the club had established and making new activities the current members would enjoy."
Leadership was also crucial in group research projects for Professor Veilleux. "We all learned how to communicate our primary interest and what we wanted to accomplish on those projects. My teammates and I made timelines for research and delegated the work according to people's strengths."
After graduating, her first job was at Computer Ally, a small local website design company. "The company was small — just me, the owner, and one other web developer — so the work was very self-directed. Without my background in CS from Simmons, I wouldn't have been prepared to learn so much on the job or to manage my time."
Now a Web Developer at Fenway Health, Farietta was hired just before COVID-19 led to the closure of on-site offices. Luckily, she was already accustomed to working remotely. "I think my co-workers miss having day-to-day interactions, but I'm comfortable working remotely — I like staying home with the dog." Aside from her interview and orientation, she met her co-workers at an in-person retreat early in July. "We've had three new hires since the pandemic started, so it was good to see everyone in person."
Fenway Health is a nonprofit company, and Farietta is the only web developer on staff. "I'm managing all of their websites, wrangling all of them into a similar platform to simplify things." Fenway Health has around 20 active websites, including fundraising platforms and educational sites. "We have different websites to fulfill backend needs and the day-to-day running of the company. I primarily use WordPress, but I highly customize it on the backend so that everything works and flows together with Elementor." She is also creating documentation on how to update the website and provide answers to common questions.
Farietta does a lot of work in HTML, CSS, and JavaScript and often needs to find creative solutions to problems. "In the nonprofit world, sometimes all you have to fix a problem is duct tape and not much of a budget. The CS skills I learned at Simmons enable me to make things that shouldn't work together, work together!"
She's learned the idiosyncrasies of WordPress and how to use HTML and CSS to fix things in the code. She has also learned how to manage the expectations of clients who don't appreciate the amount of time it takes to build a database on the backend. "A client may expect me to create a website in two hours — which I have done — but it took three years of practice to be able to do that. Now that I have all of these streamlining tools, they expect a confetti cannon on their homepage. It's not that I can't do it, but it will take more time and more money."
Though working remotely is a good fit for Farietta, she realizes it can be a struggle for some. "If you aren't particularly inclined to work well from home, figure out what you need to make it work." She suggests that everyone currently interviewing for new positions ask the hiring company what they are doing to support employees to work remotely, efficiently and ergonomically. "Any company worth its salt will offer resources to help their workers adapt, so take advantage."