Alumnae/i Feature
Geraldina Cruz '23 Presents Research at Brigham and Women's Radiology Research Symposium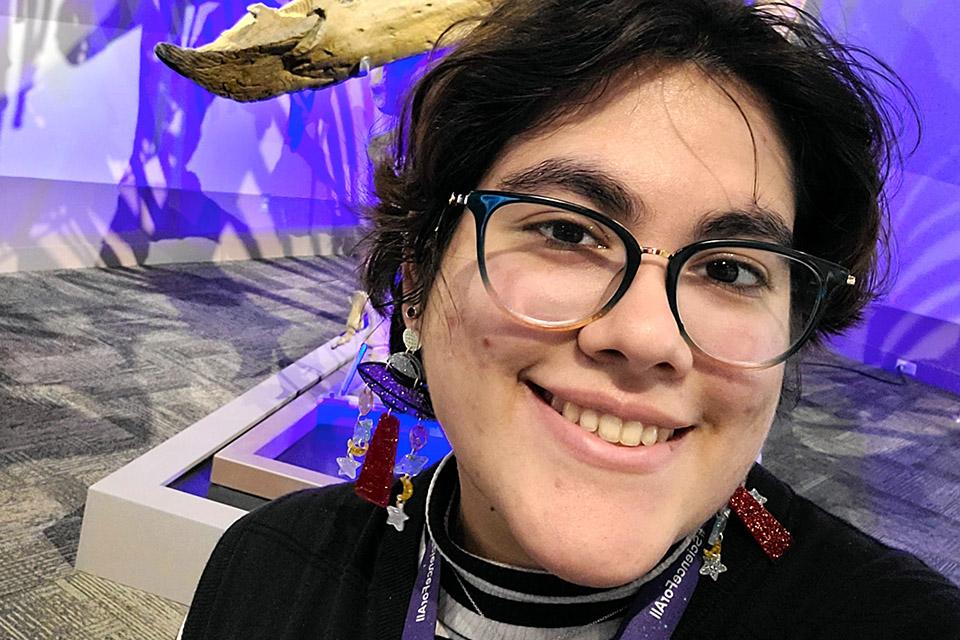 Physics major Geraldina Cruz '23 recently participated in the annual Radiology Research Symposium at Brigham and Women's Hospital (BWH) on May 25. Cruz was one of just two undergraduates who presented research alongside seasoned researchers at BWH. They spoke with us about their project, its intended impact, and why they chose Simmons.
Tell us about the research you presented at the Symposium.
My project is entitled "Using Ultrasound as a Guide for Performing Emergency Neurosurgeries," and is supervised by two faculty members in the Chemistry and Physics Department: Associate Professor of Practice Michael Jordan and Professor Jason White.
Overall, the project attempts to improve how ventriculostomies are performed. They are used to treat a condition called hydrocephalus, where excess cerebrospinal fluid (CSF) accumulates in the ventricles of the brain. When there is excess CSF in the brain, an increase in intracranial pressure can occur. The ventriculostomy can treat hydrocephalus by draining the excess fluid from the brain.
To perform a ventriculostomy, the physician drills a burr hole into the skull and inserts an extra ventricular drainage (EVD) catheter through the brain and into the ventricles to drain the excess cerebrospinal fluid. This procedure often requires multiple passes for the catheter to be inserted into the target location, causing unnecessary brain damage to occur to the patient. In other words, there is no definitive way to locate the ventricles in the brain for this surgery. A physician, therefore, may have to make several passes to access the ventricle.
Therefore, the goal of this extra ventricular drainage guide project (EVDGui) is to create an image-guided device for catheter insertion using ultrasound. Ultrasound, as an imaging tool, would allow for a real-time image of the brain to be generated, and subsequently allow for the physician performing the ventriculostomy to have an accurate location of the ventricles within the patient's brain. This would in turn allow for the drainage catheter to be inserted into the target location with precision, and on the first pass. Subsequently, this would improve the outcome of the patient undergoing the surgery.
My role in this research is particularly focused on the imaging process. In our lab we have ultrasound phantoms, which are materials we use for scans. So instead of using a real human brain, we have an artificial one that we can use in our laboratory research. Using these materials, I study what transducer frequency would be best to image the ventricles within the brain. I also helped create the designs for future guides for this project.
What motivated you to present this research at the Radiology Research Symposium?
I have been working on this project for the last two years, and we've had many trials and errors with the imaging and phantoms. My senior thesis expanded upon this research, and presenting it to the larger audience at BWH was a wonderful opportunity.
Giving a poster presentation at the Symposium was similar to participating in a science fair. All the different projects were lined up in a common space and attendees approached us with questions and comments.
Do you have any special memories or meaningful interactions from the event?
It was really meaningful for me to interact with BWH affiliates who asked me questions about my poster. The attendees were very surprised that I was an undergraduate conducting research at this level. The Symposium was a great way to showcase the kind of research that Simmons students are capable of doing.
Why did you choose to major in Physics?
I have always been interested in how things work, and for many years I thought I was going to go into astrophysics as a profession. While studying at Simmons, I became aware of how broad a field physics is, and I now plan to explore engineering, as well.
Why did you choose to attend Simmons?
I am very attracted to Simmons' Boston location, as I love being in an urban environment. I also liked that Simmons is a small school, which is what I wanted for my undergraduate experience. Moreover, it is wonderful to major in STEM at a women's-centered institution, as these specialties tend to be very White male-dominated. Simmons allows me to explore a STEM-related area within an inclusive space.
Being a small school, Simmons also allowed me to explore a range of subjects outside of my major. I loved having the opportunity to take art classes alongside my STEM curriculum that inspired me to look creatively at any problems I faced throughout my research. Despite STEM fields and art fields seeming very different, they work together hand in hand, and I was grateful to have had the opportunity at Simmons to earn a minor in Art History alongside my STEM coursework.
What are your plans for after graduation?
I am taking a gap year, during which I will continue my current job at the Museum of Science. I work at their Planetarium, where I present live shows to patrons on astronomy and related topics. I will also be starting a new position at a laboratory based out of Cambridge called Izentis LLC, where I will be working on diffraction grating fabrication [research related to optics and light].