Student Story
Charlotte Rivard '19 Lands Internship at NASA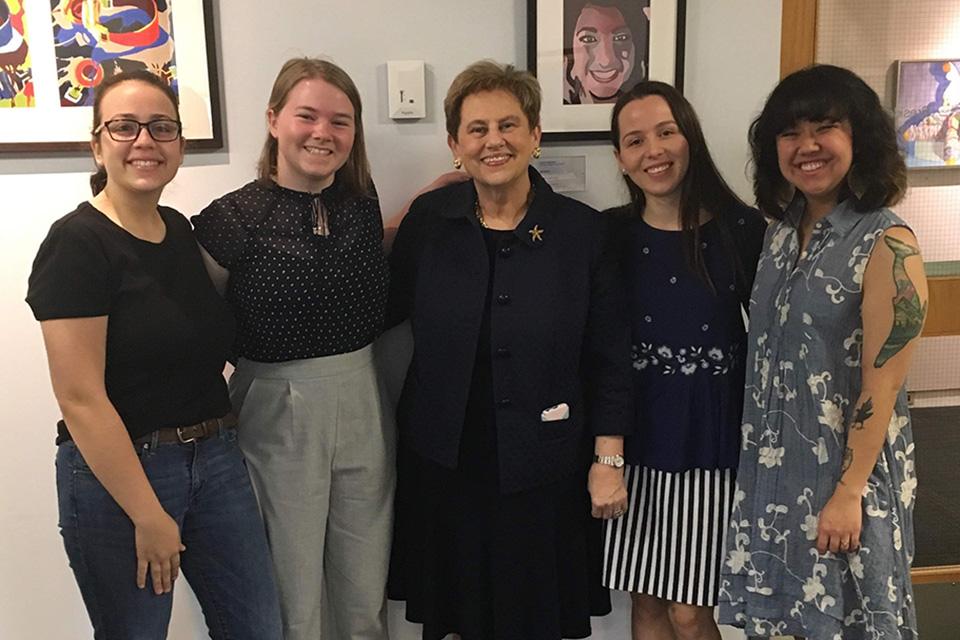 What made you choose your programs at Simmons?
I can actually remember the moment I decided I wanted to pursue data science and analytics. During the summer before my junior year, I had gotten into the habit of tracking various indicators of wellbeing like my water intake, sleep, and mood changes. There was one day I was plotting in my journal and I just thought, wait a second — I'm a data nerd! How did I not realize this sooner? 
I chose economics as my concentration since it has applications with data science and sustainability, and it's critical to understand when researching both the causes of our current environmental crisis and proposed policy solutions. 
Choosing the sustainability minor was really a no brainer for me and the courses involved were a joy!
Tell us about your internship at GreenChoice.
Last summer I interned at GreenChoice, a startup in Waltham, MA aimed at empowering consumers to make healthy and sustainable choices. I worked on developing their GreenScore scoring system, used to score grocery products in areas such as Health-Safety, Animal Welfare, and Environment. This involved researching the topic areas, finding data sources to incorporate into the score, designing how the product would be scored, and implementing this in code, using Python.
It was cool to be part of a project that allowed me to have a lot of creativity and autonomy in my work. This spring, GreenChoice launched the beta version of its app on the app store! Through this experience I improved my technical skills, but also learned lessons in project management and team management. These skills were easily transferrable to my work with the Sustainability Club, and inspired my strategies for planning events and maintaining healthy team dynamics. 
Tell us about the Sustainability Club.
Participating in Sustainability Club has been one of my favorite parts about Simmons! The club focuses on campus activism concerns and also hosts fun events like clothing swaps, hikes and reusable bag decorating, that appeal to a broader audience. In my first couple years at Simmons, I noticed that the majority of people I spoke with had an interest in sustainability, but the University lacked a strong commitment on the issue. To address this discrepancy, we created a committee of administrators, professors, staff and students, and have been working to get sustainability incorporated into the 2022 strategic plan.
Last February, the club participated in Climate Camp, a climate change themed retreat aimed at inspiring hope around the topic and promoting team bonding. For many people, the issue of climate change is so overwhelming that they feel a lack of control and don't even engage in the topic. But while climate change is inevitable at this point, our actions today will still have an impact on how much the temperature rises and how devastating the consequences are. To avoid these feelings of powerlessness, it is important to hear about the positive work that is being done, to engage with communities that support you, and to get involved in actionable ways. My goal in organizing Climate Camp was to help students overcome this emotional and psychological barrier of becoming a climate activist. 
What have you learned as the Sustainability Club President?
Being at Simmons and serving as the Sustainability Club President has been a great opportunity for me to develop my leadership skills. My passion for sustainability has driven me to be brave and adopt enough extroverted qualities to get the job done. I've come to embrace that I am not an activist who yells, but rather one who listens. It is in understanding the perspectives of our various stakeholders and assuming the best in people, that we are able to make progress on sustainability at Simmons. In terms of promoting student engagement, I've found that the more I can give club members ownership of our projects the better. Ideally all club members should feel that their presence at meetings is valuable and that they can be instigators of change. I found it very encouraging this year to see that when provided with opportunities to participate, Simmons students will step up as sustainability advocates.
What are you up to this summer?
This summer I was selected as an intern for the DEVELOP program through NASA, and will be placed at the Langley Research Center in Hampton, VA. The mission of DEVELOP is to use satellite data and GIS to address environmental issues — anything from finding adequate locations for solar panels, to analyzing how tree planting could help prevent flooding in the surrounding region. 
What is your favorite Simmons memory?
One of my favorite memories is when the swim team won NEISDAs (our championship meet), for the first time. Throughout the weekend a bunch of other teams cheered us on at the end of lanes and at one point the whole natatorium was chanting for Simmons. It was so much fun to be in that environment and compete with such positive energy. The experience of seeing teammates succeed when you know all the work they've put into it is really invaluable. I was and still am so proud of my team and what we were able to accomplish that weekend.