Alumnae/i Feature
Charles Daniels '12MSW Selected for Obama Foundation Fellowship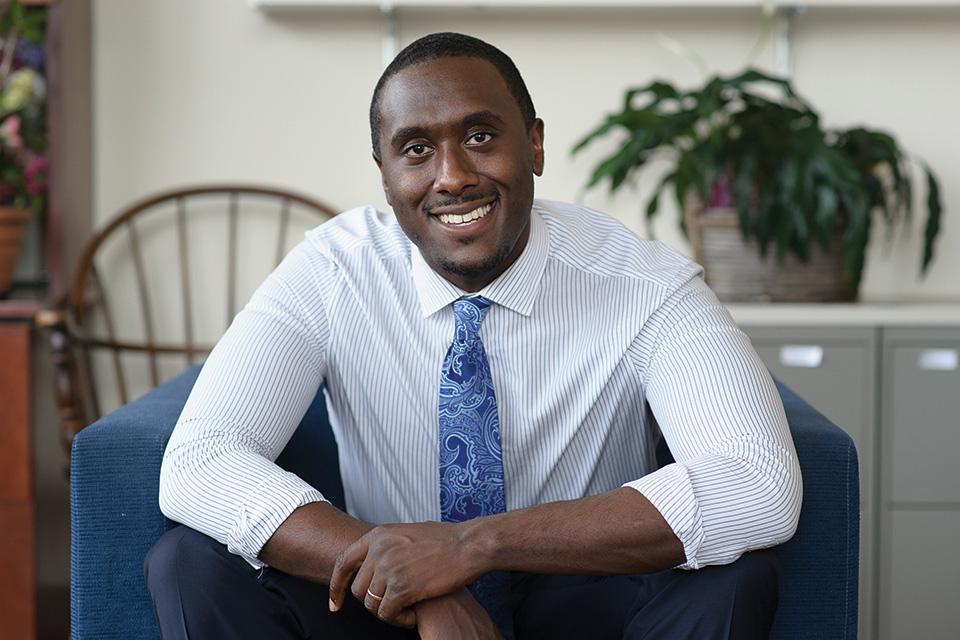 The Fathers' Uplift founder joins the 2019 class in the hopes of inspiring a wave of civic innovation.
The path to leadership for Simmons University School of Social Work alumnus Charles Clayton Daniels '12MSW is both exceptional and typical: after leaving Simmons with his MSW and a certificate in urban leadership, he co-founded and became president of Boston-based Fathers' UpLift, the country's first mental health and substance abuse treatment facility for fathers and families, helping fathers become and remain emotionally stable for their children.
On April 30, Daniels's deep commitment to community transformation was recognized when he was named a 2019 Obama Foundation Fellow. Selected among a global pool of applicants, Daniels will join a two-year, non-residential program that brings together 20 leaders representing 10 countries and five continents who are creating transformational change on many of the world's most pressing problems.
Like so many Simmons graduates, Daniels's professional accomplishments have come through the pursuit of lifelong passion and purpose. As a young man watching his mother struggle with single parenthood, he often thought about his father's absence. 
"I thought about the things he was going through that prevented him from remaining active in my life," Daniels wrote on the Fathers UpLift website. "Then I said to myself, 'What if someone had been there to help him?' It might have made a tremendous difference."
Founding the organization with his wife, Samantha Fils-Daniels, not only represented a realization of that passion and purpose, but an indelible professional achievement as well. 
"As a therapist, receiving the credentials to provide mental health services to fathers and their families was a major accomplishment for me," Daniels told the Obama Foundation. "When we received our license to operate as a treatment facility in Massachusetts, I knew we were on the verge of doing something great. The day we received our facility license in the mail will be a time in my life that I will always remember."
Today, Fathers Uplift uses peer coaching, father-child therapy, trainings, youth programs, and support for incarcerated and recently released fathers to honor and rehabilitate the relationship between thousands of fathers and families in the Boston area. In their outpatient clinic, over 800 fathers and families receive mental health services from clinicians trained in trauma who reflect the population being served. Outside of the clinic, Fathers' Uplift partners with community centers, substance abuse programs, and other agencies to help fathers rebuild their lives and their relationships with their families.
Over the course of the two-year program, Obama Foundation Fellows will participate in four multi-day gatherings to develop key skills, connect with thought leaders and potential partners, and collaborate with one another. 
Material from Obama Foundation releases and the Fathers' UpLift website was used in this report.