Alumnae/i Feature
Simmons Alumnus Launches Organization to Empower Fathers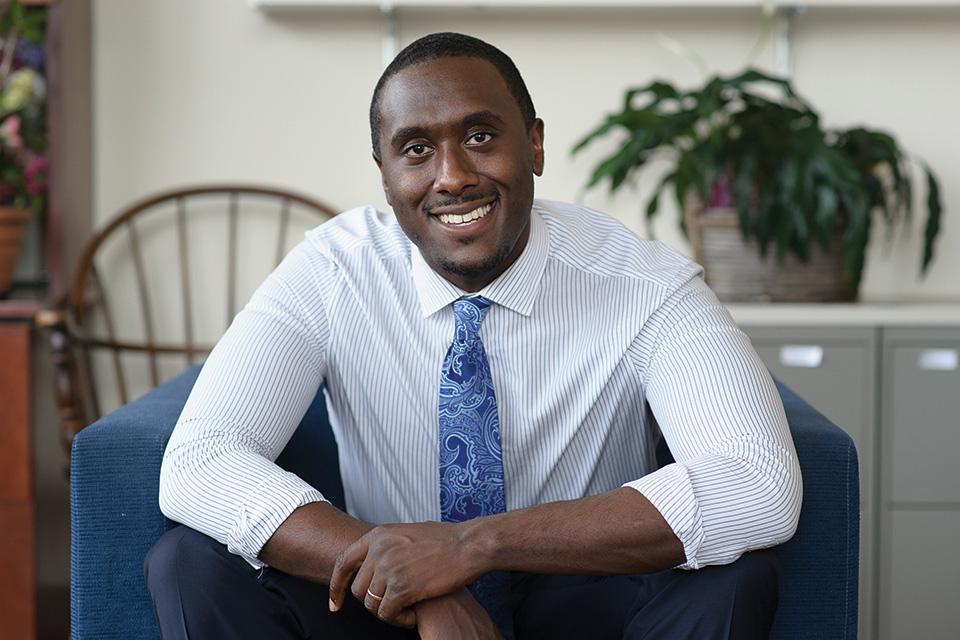 We caught up Charles Daniels '12MSW about founding Fathers' Uplift!

What program were you in at Simmons? What's your current job title?
I graduated with a Master's in Social Work. I am the CEO and Founder of Fathers' Uplift, a nonprofit based in Roxbury that works to assist fathers in overcoming barriers (financial barriers, addiction barriers, oppressive barriers, emotional barriers and traumatic barriers) that prevent them from remaining engaged in their children's lives. The goal of Fathers' Uplift is to provide low-income fathers with a place where they can receive support, guidance and encouragement around fatherhood.
How did Simmons help prepare you for your career?
Simmons gave me one of the most important gifts ever — the gift of acceptance. Simmons helped me embrace the pain from my past and use it to make a difference in the world. I'm not sure if I would have been able to start an organization without the experience and education I got at Simmons. I became a part of a community that helped me learn and grow both academically and personally. 
What's the mission of Fathers' Uplift?
Our mission is to assist fathers with overcoming barriers that can prevent them from remaining present in their children's lives. Traditionally, parental mental health services target mothers, especially during the prenatal and postpartum stages of parenthood. However, the mental health of fathers is often overlooked, even though the birth of a child presents significant life changes for them as well. 
Fathers' Uplift is the nation's first outpatient mental health center for child, paternal health and male engagement. It was established to provide fathers with the clinical mental health care to more easily adjust to the challenges, emotions and needs of becoming and being a father. Today, Fathers' Uplift offers services to guide both men and families through three stages of fatherhood: pre-father education, fatherhood preparation and fatherhood re-engagement. Our team's social work clinicians specialize in trauma, anger management, group counseling, individual counseling and child and family counseling.
What inspired you to found Fathers' Uplift?
In my father's absence, my mentor, Dr. Anthony Owens, dedicated his life to making sure I remained on the right track. His commitment to making sure that the problems I had at home did not outweigh my success changed my life for the best. He used to tell me, "don't let your negativity determine your future — keep pushing." That had a big impact on me.
I wanted to relay this same message — and this same support and therapeutic relationship building — to fathers in low income communities. Since embarking on this journey I have received many lessons of survival and success from them. I've noticed that many of the men with whom I have worked come from single-parent homes themselves or homes where their fathers were physically present but emotionally absent. Their resilience is powerful. Despite the obstacles they encounter they continue to be the best fathers they can be.
What is a typical day like at your job?
Every day is so different, but that's what keeps it fun and interesting. On any given day I'm either providing clinical guidance to fathers and families on an as-needed basis or helping support them in other ways — court appearances, for example. I also make sure to spend quality time with my team to support them and to strategically plan with them on how to intervene on a father's behalf. We've also started work on the shelter for fathers we are planning on building. It will be Boston's first residential and community safe haven for men and their families, so that takes up a lot of time too!
What is your favorite part of your job?
When I get to see a father connect to his child after not seeing them for an extended period of time, it gets me even more excited about the work that we do and really proud that we are able to make a difference.
What advice would you give the current Simmons students?
If you're looking for your purpose, stop running from your pain. Your purpose could be staring you right in the face. When you embrace your pain, it is a gift in disguise. My pain of growing up in a household without my father drove me to create Fathers' Uplift.
What's your Simmons moment?
I remember when I received the Albert Schweitzer Fellowship. It was an accomplishment that I am extremely proud of. My professors were so supportive. It made me grateful for the Simmons community and the opportunity to be there.