Student Story
Caitlin Curry '24 and Charlotte Rice '23 Co-present Research at the Eastern Psychology Association Annual Conference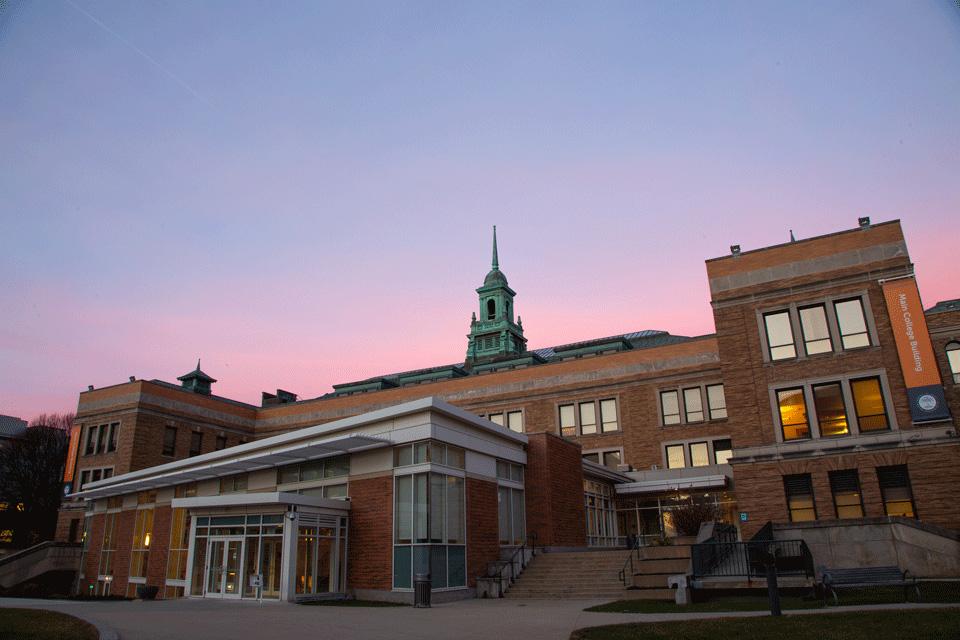 On March 3, Caitlin Curry '24 and Charlotte Rice '23 delivered a poster presentation, "A Qualitative Analysis of Parenting Young Children during the COVID-19 Pandemic," at the Eastern Psychology Association Annual Conference in Boston. Their research reveals how families were impacted by the pandemic, and, in doing so, underscores the value of understanding lived experience and the need for supportive resources and timely interventions.
"One of the biggest takeaways of this project is that we need resources to support parents," says Caitlin Curry, commenting on the research that she and Charlotte Rice co-presented at the Eastern Psychology Association Annual Conference. "Hopefully, we will not have another pandemic, but other scary events will happen and we will need a way to communicate them."
Curry is a Psychology major interested in chronic pain management. Rice, a Neuroscience and Behavior major, will attend a nurse practitioner program at the University of Massachusetts Medical School this fall, where she plans to specialize in acute care gerontology. Working under the direct supervision of Associate Professor of Psychology Elizabeth Donovan, who originated and leads this research project, as well as Professor of Psychology Gregory Feldman and Professor and Department Chair of Psychology Sarah Martin, Curry and Rice conducted qualitative research entitled "A Qualitative Analysis of Parenting Young Children during the COVID-19 Pandemic."
As Rice explains, "basically, we reviewed a total of 116 survey responses from parents of young children [ages 2-5], which detailed their experiences during the COVID-19 epidemic." By analyzing this data, Rice and Curry aimed to better understand parents' sources of stress, anxiety, and depression. They also identified how mental health practitioners can be better equipped to help people in these situations in the future.
While they did expect to uncover some negative mental health impacts of COVID on parents and children, the project also revealed some unexpected surprises of the pandemic. "One thing that especially surprised Charlotte and me is that parents were distraught over their children's loss of childhood experiences," says Curry. "For instance, they could not take their children to birthday parties, trick-or-treating on Halloween, and so forth, and they had a fear about losing these things."
This finding is also significant to Rice: "since most of us have not lived through a pandemic, parents did not have any idea how to explain to their children why they need to wear masks, why they can't see their friends, etc. Having some knowledge about how to communicate to children in a way that is easy to understand but does not scare children would have helped these parents."
At the conference, Curry and Rice delivered a poster presentation. "It's kind of like a science fair," says Rice. "We displayed our poster [detailing our research methods and findings] within a big hall, and conference attendees came up to us to discuss our project."
Professor Donovan, their research advisor, recommended that they attend the conference. "I have been working with Dr. Donovan, who is the lead on this project," says Rice. "It is great to work with her. She mentioned that there would be a regional conference in Boston this year. Because of her, I felt confident to attend the conference and present our work to the public."
For Curry, attending the conference provided her with a valuable networking opportunity. "When you do a poster presentation, you can see what other students are working on, and you get to talk to people from all over the country and hear about different graduate programs."
Conveying their research methods and findings to an informed public also invested Curry and Rice with a sense of achievement. "It was great seeing the project come full circle after working on it for so long," remarks Rice. "Moreover, many of our research meetings were on Zoom, so being there in person was really great. It was wonderful to meet so many researchers at the conference. Someone's grandpa attended, and he was really into our work, which I found very endearing ."
Curry adds, "our research provided a lot of validation to the parents who engaged with us at the event. They remarked that it was very moving to see their voices represented and understood."