Alumnae/i Feature
Anuja KC '12 on Saying Yes to Opportunities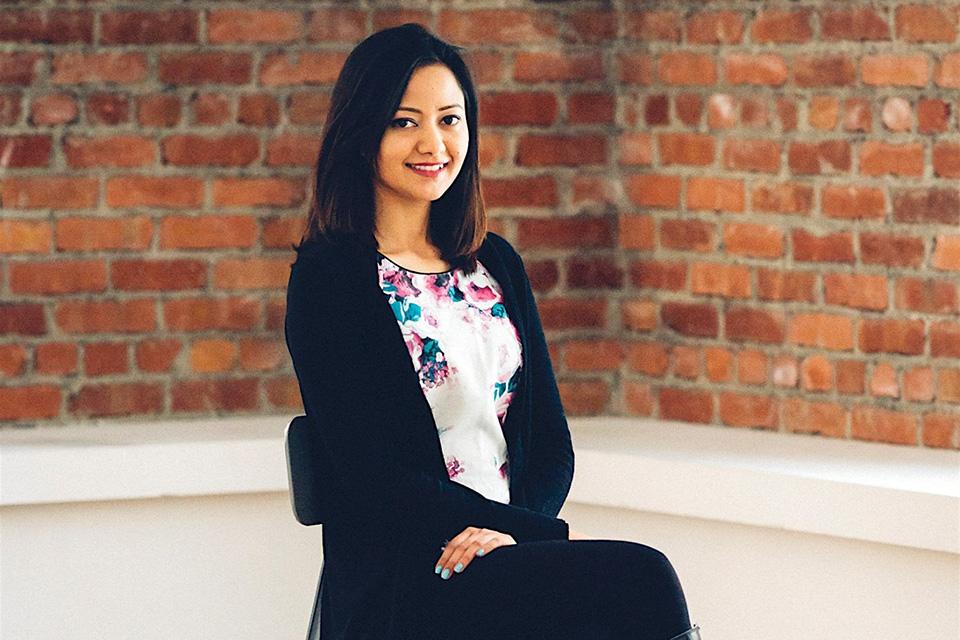 We caught up with Anuja, Digital Business Systems Analyst at JP Morgan, and learned how Simmons encourages leadership and entrepreneurship.

Tell us a little bit about your background.
When I was in high school, I had already made up my mind that I wanted to pursue a degree in business management and preferably at an all women's college. When I transferred to Simmons, things finally fell into place like I had planned and it just felt right. In my junior year, I got a scholarship from the Deborah K Natansohn Undergraduate Scholar in Entrepreneurship award from Simmons to complete an internship at a startup. That was a turning point in my college life because I discovered my love for business analysis, operations, and the digital world. After graduation, I tried several different roles in business operations and finally found my niche in the financial tech industry. That's how I was able to land my current role as a digital business systems analyst.
What has been your biggest "aha" moment up until this point in your career, life, or education?
One of the biggest "aha" moments in my career has been to always say "yes" to new opportunities no matter how daunting it may seem in the beginning. I am constantly challenged with new technical problems and project constraints at my work, so I no longer hesitate to accept the work even though I may not be an expert on it. It's the desire to learn new things and constantly stepping out of your comfort zone that will help you succeed in any career. Especially in the Information Technology (IT) industry, things move really fast, so this approach has helped me thrive in my current role.
What is your "one word" to describe Simmons?
Leadership. When I joined Simmons, every aspect of my student life was impacted by thought leadership. I grew up in an environment where authoritarian leadership was the norm and it was very restrictive. My college life was an enriching experience because Simmons encouraged students to define their own leadership and act on it. Also, one of my fondest memories during my college life was attending the Simmons Leadership Conference, so I automatically associate my Simmons experience with leadership.
Was there ever a time that you believed this was not the right path for you?
Oh yes! A few years ago I worked as a consultant in the healthcare industry, and I realized that it was not the right path for me. I even took 4 months off of work to travel and volunteer because I felt very demotivated and stuck in a career rut. I had to give myself some time off to get out the constant grind and reflect on my career trajectory with a clear head.
Who or what was helpful for you in order to push through and persevere?
I reached out to some of my mentors for career advice but most importantly I always looked up to successful leaders like Indra Nooyi (former CEO of PepsiCo), and Padmasree Warrior (former CTO of Cisco) and constantly watch their interviews to feel motivated. 
Looking back, what advice would you give your 21-year-old self to get to this point? 
It is not just your qualifications but your exposure to life that makes you who you are.