Student Story
Alternative Spring Break Takes Mary Soares '19 to South Carolina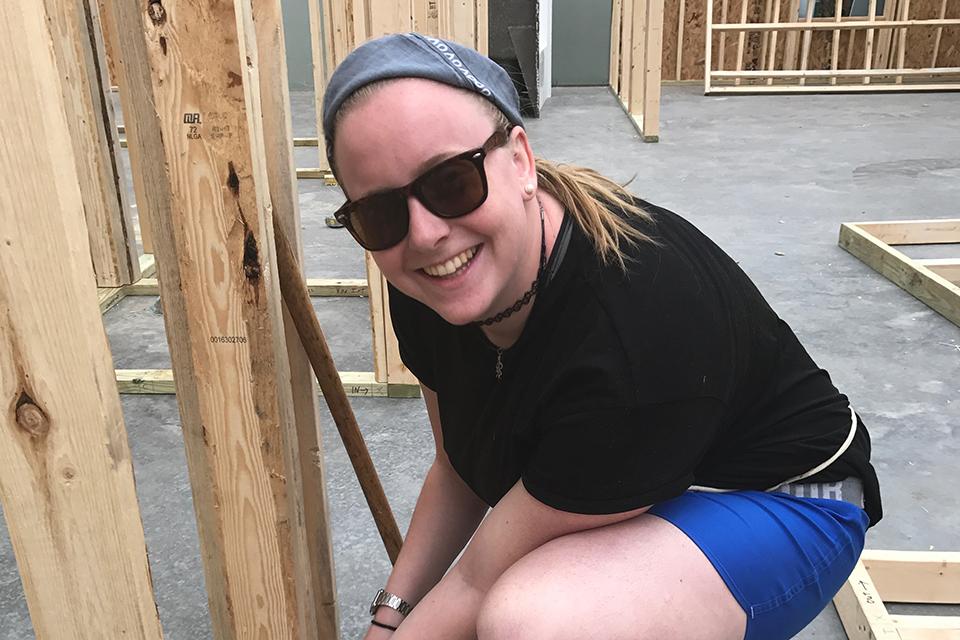 We caught up with Mary about her experience volunteering for Habitat for Humanity during spring break.

On pursuing nursing
For as long as I can remember I have wanted to be a nurse. My biggest role model is my mom and she's been a nurse for 25 years. I was diagnosed with Type 1 diabetes at a young age and vividly remember the commitment, compassion and honesty that I received from the nursing staff during my one week stay at the hospital. Following my discharge from the hospital, I met frequently with the school nurse, who became an integral part of my diabetes management. I knew then that providing that care for others and putting that passion and integrity into my work is what I'm meant to do.
On choosing Simmons
I chose to attend Simmons after visiting the campus during my senior year of high school. The Simmons nursing major is one of the top programs nationwide and the close proximity to Longwood Medical Center provides me with incredible clinical opportunities. I also love the small, supportive atmosphere and the way the building placement around each quad provides a safe, community and home-like feeling. 
On Alternative Spring Break 
Alternative Spring Break (ASB) is a student-led program that partners with Habitat for Humanity to provide students with opportunities to build and restore homes within the United States.
I started participating in ASB during my sophomore year. I was seeking an opportunity to become more involved on campus and wanted to meet people outside of my major and friend groups. I'd heard about previous trips through mutual friends, saw pictures around campus and was working in the Scott/Ross Center at the time. I applied and was chosen to be part of the 2017 team! My participation in ASB is truly the best decision I've made since attending Simmons. 
On her latest ASB experience
This year the team traveled to Clemson, South Carolina where we worked on a reconstruction project for the Pickens County Habitat Chapter. During our time on site, we did minor demolition projects, interior painting, placement of hard wood floors, and some singing and dancing too!
ASB has taught me so many incredible life lessons. It's provided me with opportunities to grow as a person and make friendships that will last a lifetime. This year we had the chance to meet Habitat homeowners and view the interior of their homes. It was really powerful to see how the work we're doing is impacting individuals and their families. All of the homeowners were welcoming and expressed the upmost appreciation to our team.
On her favorite ASB memory
My first Habitat experience traveling to Valdosta, Georgia in 2017 is my favorite ASB memory. I felt myself step out of my comfort zone, learn new tasks, grow individually and make many new friendships. During our week of building, we completed all of the interior and exterior walls and placed them on the foundation of the home. It was incredible to obtain new skills and submerge myself in a new community and culture.

On how to get involved with ASB
The application process begins in early October when the trip leaders will advertise around campus and on social media. Written applications are then accepted in the Scott Ross Center. Following the written application process, the leaders will conduct group interviews and the team will be chosen. Keep an eye out for flyers regarding the trip and our applications next fall!