Student Story
A Queer History of Simmons
History major Kaz Gebhardt '25 has an affinity for Simmons-related history. One year into his studies, Gebhardt has contributed to the Mary Eliza Project and the Simmons Memory Project, which included a special May Day Exhibit. In addition to transcribing and digitizing the diaries of John Quincy Adams at the Massachusetts Historical Society, Gebhardt has conducted research closer to his academic home.
"I was interested in patterns I was seeing in these expressions of queerness on campus," notes Gebhardt, particularly about his work for the Simmons Memory Project. "Simmons residential campus is a little oasis, and I imagined it formed a safe space for that [self-expression of identity]."
Simmons traditions are the focus of Gebhardt's research, including the Freshmen-Junior wedding, held annually from 1914 to 1945. "This was a symbolic marriage between the freshman and junior classes, with the president of the junior class as the groom, and president of the freshman class as the bride," he explains. "The grooms wore full tuxedos and mustaches. This was a pattern of cross-dressing that went on for decades at Simmons, fully sanctioned by the college president." Bancroft Beatley (1933-1955) often attended to play the role of parent for the bride or groom.
The 1920s, Gebhardt reports, was a heyday for college traditions, as well as the so-called lesbian scare. "People were afraid that women's colleges would turn students into lesbians," Gebhardt explains. "A rule was added to the student handbook that two students couldn't share a bed, but at the same time they were acting out a wedding of two women." The tradition ended in 1945, likely because of World War II, which brought an end to this and other light-hearted traditions. "But the cross-dressing didn't stop," says Gebhardt, referring to May Day traditions at Simmons that lasted until the 1960s. "There was a May court with a May King and Queen. They held a strawberry breakfast where they would feed each other strawberry shortcake, like at a wedding. There was always something kind of queer going on!"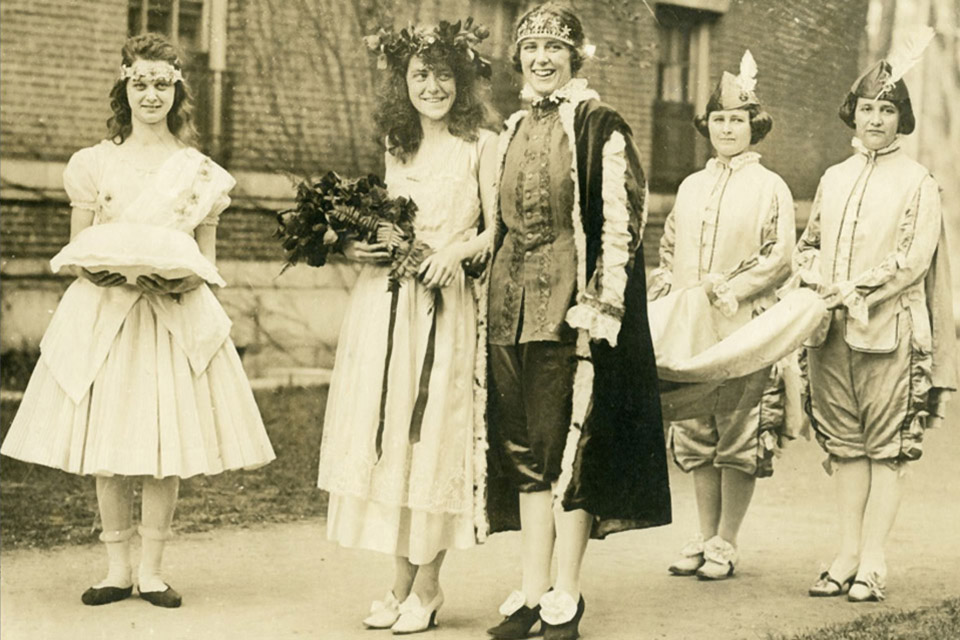 Other traditions include the Olde English Dinner, at which students dressed as men and women in medieval garb, ate roasted pig and put on plays. That tradition also died out in the mid-60s, likely because of the imposed hierarchy: members of student government were nobility, and the rest of the student body were peasants. In the late 70s, there was a shift. "There were certainly groups for gay and lesbian students on campus [at that time], though less so for students who may be exploring a trans identity." Gebhardt found an article in a student newspaper from the late 1980s revealing a transphobic viewpoint, decrying the "secret men on our campus."
Luckily, that has changed. "Even though there have been some hiccups in Simmons' history with acceptance along the queer spectrum, there is a long history of exploration, gender play and queer activism here that shouldn't be overlooked," says Gebhardt. "Simmons is accepting of non-cisgender students. It's part of the reason I chose to come here."
Gebhardt cites the Gender Inclusive Housing Statement, which makes clear that students may be living with people who identify with different genders, or who were assigned a different sex at birth. Students are also given the option to live in the Trans & Non-Binary Living-Learning Community, "not to segregate ourselves, but to feel safe," explains Gebhardt. "When we think of Simmons as a historically women's-centered institution, it's important to acknowledge that history, which has formed Simmons into the accepting community it is today."
Main image: May Queen, May King, and their court outside North Hall, 1920. APC001_02898, Simmons University Archival Photograph Collection 001, courtesy of Simmons University Archives