Campus & Community
The Mary Eliza Project Recognizes Boston's First Women Voters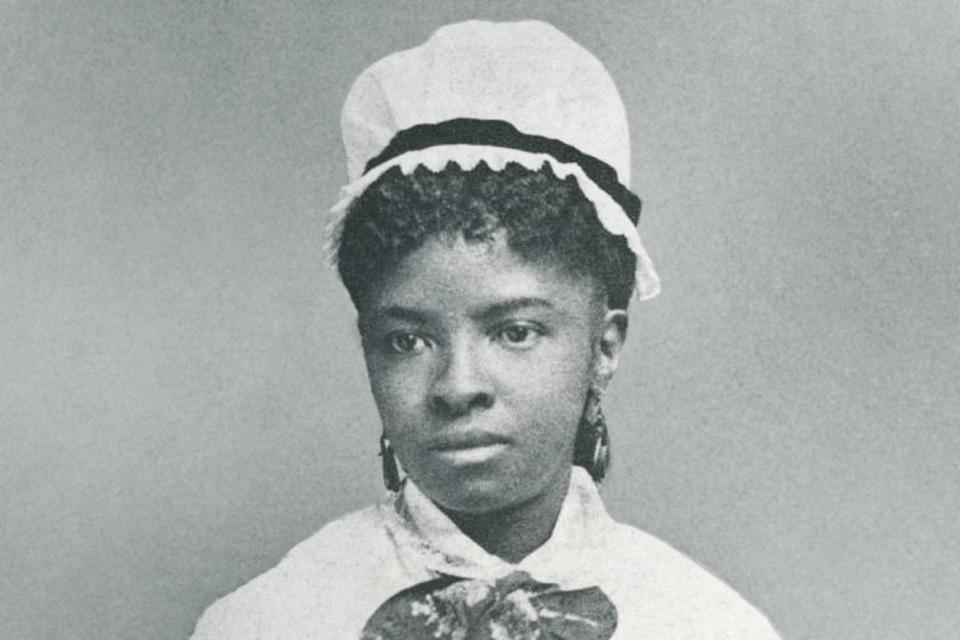 Faculty and students at Simmons have joined to create the Mary Eliza Project, transcribing voter registers to create a searchable database of the more than 50,000 women who registered to vote in Boston in the months following the Nineteenth Amendment (1920). The Project is named for Mary Eliza Mahoney, the first Black woman to graduate from a nursing program in the United States, who registered to vote in Boston's Ward 13 on August 18, 1920. We spoke with Professor and Alumni Chair Laura Prieto, Adjunct Professor Marta Crilly '11MAMS (archives/history); recent alumni Molly Copeland '22MAMS (archives/history) and Erin Wiebe '22MAMS (archives/history); and current students Anna Boyles '22 '25MAMS (archives/history), Daniela Gil Veras '24, Kaz Gebhardt '25, and Coco Lynch '22MS '24MA (archives/history) about the Project.
"We are all interested in expanding the story of women's suffrage in America," says Erin Wiebe '22MAMS. "These registers record women of color, immigrant women, and working class women who aren't discussed as much as the more famous leaders of the movement. Working women in the city who signed their names to the [register] deserve to be called suffragists, too."
The idea to turn the women voter registers into a data set came from Adjunct Professor Marta Crilly '11MAMS, the Archivist for Reference and Outreach at the Boston City Archives, and Professor and Alumni Chair in Public Humanities Laura Prieto. The two made a plan for transforming the registers into a dataset and won approval for the project from the City of Boston data analytics team in 2021. "Connecting to Archives and History students at Simmons who could transcribe the handwritten registers was key," says Crilly.
"When you look at these volumes, at first glance they may seem static — big, old, dusty books," says Coco Lynch '22MS '24MA. "But it's amazing how much detail can be extruded from these volumes, and the strong sense of dynamism they contain. I can picture the city clerks scrambling to get everything in place to register these women voters, especially when so much of this chaos is captured by these books and other extant documents. For instance, several local newspapers printed articles to inform women about the voting process. Above all, these volumes are an incredible way that this history has been preserved, and I'm thankful that our work will make this information more widely available and accessible to folks."
Prieto developed the project with Crilly, directed the students' research, and provided seed money for the initial transcriptions. The Public Humanities initiative in the Ifill College will fund interpretation of the findings and a full exhibit once this work is complete. Prieto was awarded Faculty-Student Collaborative Fellowship grants from Simmons in 2021 and 2022, to bring undergraduates onto the team (Anna Boyles in 2021-2022, Daniela Gil Veras and Kaz Gebhardt in 2022-2023). "Now a graduate student, Anna Boyles is currently my Mary Eliza Project Research Fellow," says Prieto. "I direct her research and writing on blog posts connected to the project."
Prieto looks at the data from a historian's point of view. "I like to place myself in the moment," she says. "You look at adjacent entries and ask, was this a group of friends, relatives, coming together? Some entries were crossed out — those people came to register but were refused. What was it like to try to register to vote? What did it take for these women to put themselves forward in a way that they hadn't before?"
For Anna Boyles '22 '25MAMS, the occupation field is her favorite detail. "There were department store workers, hairdressers, and shoe factory workers," she says. "I found two sisters who worked at a tennis shoe factory." Erin Wiebe '22MAMS also notes that the register shows groups of women who registered together. "Dozens of women who worked in the Jordan Marsh department store registered to vote in the fall of 1920," says Wiebe. Wiebe wrote a blog post about South End's Franklin Square House, where over 100 residents registered to vote. "There are multiple, ongoing blog posts about our findings on the project," says Prieto. "Each blog post is individually authored, and edited by Marta and me."
Daniela Gil Veras '24 joined the project in fall 2022 to transcribe the records between 1879 and 1920, when women in Massachusetts could vote in school elections. "I can see the dedication these women had to making sure that they were registered," says Gil Veras. "Women show up several times to make sure that they were registered in the correct ward after moving. Or they married men who were born in the U.S. and then, as naturalized citizens, immediately registered to vote." As for school elections, Gil Veras suspects that the act of voting itself was the focus. "They made sure to register to have access to that right."
Molly Copeland '22MAMS, who began the transcription project as a student, has been intrigued by the history of immigration to and migration within the United States that the registers reveal. "The differences between the neighborhoods gives an image of the demographics of the city," she says. Having recently transcribed East Boston registers, Copeland has been researching Eastern European history, given the number of immigrants from Russia and the surrounding area. "Generally it is difficult for scholars to find information about single working women in the historical record," notes Copeland. "The voter registers are special in that they directly gather information about these subjects. All of the scholarship that's been done about these women will be expanded with this information."
"Neighborhood demographics are not what we assumed they were," Crilly notes. "A significant group of women born in Sweden lived in East Boston. I was not aware of this, and I live in East Boston and work with the neighborhood historical society." They've also found that occupations change by neighborhood. "South Boston women were more likely to work in their neighborhood than to commute to jobs downtown. In other neighborhoods, women voters were more likely to work in downtown department stores and other businesses. The data makes it possible to map and visualize these connections. We can look at specific stories of specific women, and look at the larger immigration and occupational trends."
Prieto brings a scholarly expertise in American women's history and suffrage history in particular. She appreciates the public-facing and collaborative aspects of the project, which make this experience very different from most academic research. "I like working collaboratively with a team of people. Everyone brings in different interests and insights to the same data set." And usage varies widely. "People may wonder, was the person who lived at my address a woman registering to vote? Were my ancestors registered to vote?"
Now, they may be able to find out.
To learn more about what the registers reveal, sign up for the Mary Eliza Project newsletter, "Between the Lines."