Campus & Community
Simmons' 2023 May Day Ushers in Spring with Spirit of Inclusivity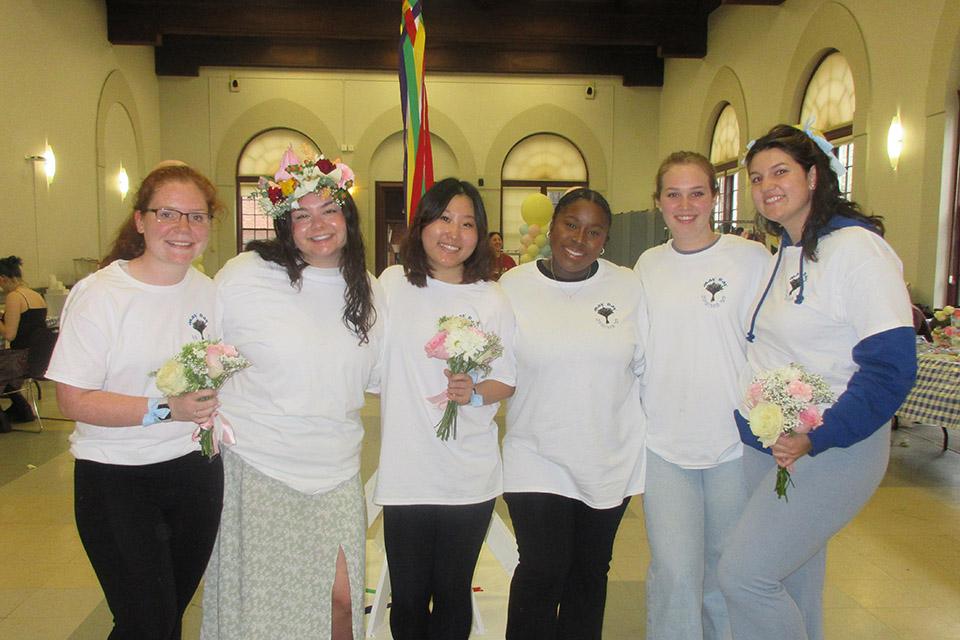 On April 30, Simmons students gathered at the residential campus to celebrate May Day, a longstanding tradition at Simmons. Attendees enjoyed complimentary food and gifts, live performances, and more. While the event has shifted and evolved over the years, it continues to honor the unique and supportive community at Simmons.
"May Day at Simmons is about camaraderie and celebrating the diverse individuals who are a part of our institution," says Madeline Sim '25, a Psychology major who served on this year's May Day organizing committee. "It's also a time for the community to come together after enduring a stressful year. This year, we wanted to focus on providing a fun, community-building experience for every Simmons student."
Simmons has celebrated May Day for over a century, but the historical roots of this springtime festival are much older. Many scholars concur that May Day originated in pre-Christian Europe, most likely in ancient Rome. It was typically associated with goddess worship and fertility, and the festivities included dances, floral garlands, and bonfires. May Day celebrations continued into the Christian era, and often focused on heterosexual courtship. According to a medieval legend, Dante met his beloved Beatrice at a Calendimaggio (May Day) feast in Florence, Italy, in 1274.
First implemented in 1912, May Day remains the oldest continuing tradition at Simmons. History major Kaz Gebhardt '25 remembers hearing stories about this event from his mother, who is a class of 1982 Simmons alumna. Gebhardt is now conducting archival research on May Day at Simmons: "the Simmons Memory Project allowed me the opportunity and time to research this sacred Simmons tradition in depth and learn how it has evolved from the very first year to today. The archives are truly a treasure trove of information and pictures." Indeed, a digital library exhibition, "May [email protected]," provides fascinating photographs and documents that shed light on this long-standing tradition.
In 1912, sophomores organized May Day to honor their senior sisters. The festivities included a strawberry shortcake breakfast, singing, and dancing. In the 2003 film Mona Lisa Smile, Simmons students performed as extras during a brief segment showing a college Maypole dance, which was a signature element in those early celebrations.
Nowadays, May Day begins with a complimentary breakfast at Bartol Hall. The organizing committee rented a Bouncy House so that students can access their inner child. Students who are small business owners and artisans were invited to sell their crafts and jewelry to the Simmons community. As Sim explains, "we are celebrating the closing of a chapter for seniors, and we want to end the year on a high note and show them that they are important. All families, friends, and alumnae/i are welcome to attend."
Student-led arts organizations are a staple at May Day. This year, the Simmons Chamber Choir, the Sirens (a Colleges of the Fenway acapella group based at Simmons), and the Simmons University Dance Company (SUDC) delivered spirited performances.
Helena Greenslit '24, a 4+1 Nutrition and Dietetics student and President of the Sirens, expressed her delight at participating in May Day with her fellow singers. "Besides our concert on campus [held earlier in April], May Day is one of the few opportunities for us to perform for the students. It helps draw people in and show them what our group is all about. We bring a really fun energy to the event."
A particularly iconic performance tradition is the Maypole dance, usually performed by members of the SUDC. The Maypole is a fixture at Simmons' May Day and, like the event itself, emerged in pre-Christian religious and folk festivals. Indeed, these tall wooden poles may have played a role in ancient Germanic and Celtic rites, and became particularly popular in medieval England.
As Vibhuti Naik '23, a Biology major and Co-President of the SUDC explains, the Simmons May Day dancers revolve around the Maypole while weaving in and out of one another with streamers. The dance company invites seniors to choreograph this dance, as it may be their last chance to contribute to a Simmons tradition.
"Our rehearsal environment was nice because it was just a small group of people dancing," recalls Naik. "The choreographer chose a song that featured male and female vocalists and our movements played around with different genders. Thus, our Maypole dance retains some traditional elements while highlighting new, contemporary choreography."
May Day's commitment to inclusivity and diversity coincides with the overall ethos at SUDC. Trained in Bharatanatyam (a form of Indian classical dance) since the age of four, Naik has now expanded her repertoire by learning Bollywood, musical theater, hip-hop, and contemporary forms of dance. Like Naik, some members of SUDC integrate different dance backgrounds, whereas others may be experiencing dance for the first time. "Our dance company is all-inclusive and we welcome untrained dancers. We try to create a safe, non-toxic space where everyone can come audition and explore their bodies," says Naik.
In addition to DEI, community, and springtime renewal, May Day at Simmons also honors advocacy and activism. In 1899, May 1 became International Workers' Day, celebrating the labor movement around the world. Over the years, Simmons has embraced this cause. According to Naik, "May Day is a nice combination of welcoming spring and also being able to stand up for laborers' rights. Simmons is in a unique position to uphold these values because many of us are active in advocating for peoples' rights." In recent years, Simmons students have selected timely themes for May Day, including "Sustainability" (2015) and "Bee Beautiful" (2016).
May Day at Simmons has evolved over time, responding to changes in the socio-political climate. Greenslit explains that "in the past, there have been religious influences. People used to wear white dresses for purity, but we have moved away from that. We are fostering an inclusive event for everyone."
The history of Simmons' May Day celebration also reflects the flexibility of gender roles and identities. In his research, Gebhardt was particularly taken with the May Day Court and its gendered significance. "For many years, there was a May Queen and King, (the senior and sophomore class presidents, respectively)," notes Gebhardt, "and the two would ceremonially feed each other strawberry shortcake. Not only did this allow students to safely experiment with masculinity, it also broke down some of the heterosexual norms surrounding school traditions. . . . To me, this aspect of May Day was quite emblematic of Simmons's queer history."
The many facets of May Day demonstrate that this festival is both timeless and ever-evolving. "The event means something different for everyone," says Greenslit. "There are people in the Simmons community who don't identify as a woman or with feminism, so it is left up for interpretation. I think today May Day is more about inclusivity. It's a celebration of all the diverse people that make up the Simmons community, and there is something very wholesome about that."