Announcement
2019 Commencement to Feature Three Prominent Speakers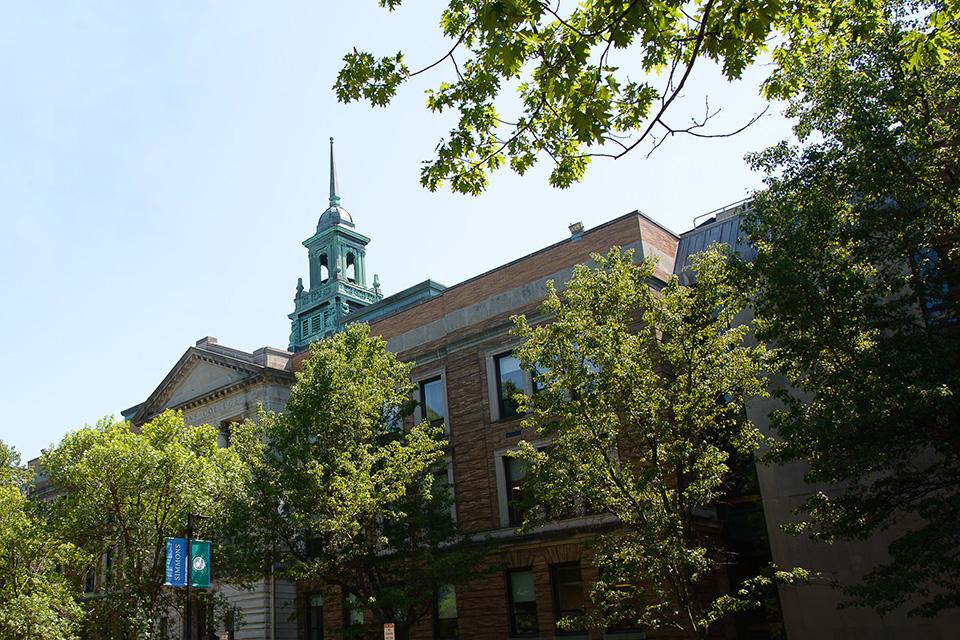 Tiffany Dufu, Hafsat Abiola–Costello, Amb. William Bellamy to highlight daylong celebration.
Simmons University is proud to announce author, motivational speaker, and women's leadership catalyst Tiffany Dufu; one of the world's leading pro-democracy advocates Hafsat Abiola-Costello; and former U.S. diplomat and leading authority on African affairs William Bellamy will keynote its 114th Commencement ceremonies Friday, May 17 at the Blue Hills Pavilion in Boston.
Dufu is the speaker for the undergraduate ceremony, Abiola-Costello is the speaker for master's and doctoral students of the College of Natural, Behavioral, and Health Sciences, and Bellamy is the speaker for master's and doctoral students of the Gwen Ifill College of Media, Arts, and Humanities, the College of Organizational, Computational, and Information Sciences, and the College of Social Sciences, Policy, and Practice.
"We are fortunate to be welcoming such distinguished advocates for social justice to our stage at Commencement this year," said Simmons University President Helen Drinan. "Tiffany Dufu is a tremendous talent with an important message of women empowerment that I know will inspire our graduates and their families. Hafsat Abiola-Costello is a remarkably courageous woman, who has turned personal tragedy into the motivation behind her accomplishments as a driving force for women's rights in her native Africa. Ambassador Bellamy is a leading scholar on Africa, having served in our nation's Diplomatic corps for three decades. It will be an extraordinary day for Simmons."
Tiffany Dufu is a self-described catalyst-at-large in the world of women's leadership. Founder and CEO of The Cru, a peer coaching platform for women looking to accelerate their professional and personal growth, she was also a launch team member to Lean In and Chief Leadership Officer at Levo, one of the fastest growing millennial professional networks. She also served as President of The White House Project. Dufu recently published Drop the Ball, a memoir and manifesto that shows women how to cultivate the single skill they really need in order to thrive: the ability to let go. Named to Fast Company's League of Extraordinary Women, Dufu was also named as one of 19 "women who are leading the way" in the Huffington Post. She serves on the Board of Trustees of Simmons University and of Girls Who Code, is a member of Women's Forum New York, Delta Sigma Theta, Sorority, Inc., and is a Lifetime Girl Scouts.
Hafsat Abiola-Costello is one of the world's leading pro-democracy advocates, who is fostering women's leadership in her native Nigeria and throughout Africa. Her unparalleled determination is borne from personal tragedy. After 10 years of military rule, in 1993 her father Moshood Abiola won a landslide victory, setting in motion a pro-democracy movement that the military had not anticipated. The election was quickly annulled, Moshood was imprisoned, and he subsequently died the day before he was to be released.
Abiola-Costello's mother, Kudirat, had boldly campaigned for her husband's release, rallying support across the United States. Three years later, Kudirat was assassinated for her efforts. Today, Abiola-Costello courageously fights for the rights of women to be full participants in the development of Africa, having founded the Kudirat Initiative for Democracy (KIND) and as President/CEO of Women in Africa. Abiola-Costello will be presented with an Honorary Doctor of Public Service degree.
William M. Bellamy is the Warburg Professor of International Relations at Simmons and a senior adviser to the Africa Program at the Center for Strategic & International Studies. Ambassador Bellamy is a leading authority on African affairs, following a distinguished 30-year career as a diplomat. Among his posts as a U.S. diplomat was service as political counselor in Pretoria and Cape Town from 1991 to 1993, when he was closely engaged in U.S. diplomatic efforts to promote a peaceful transition from apartheid to democratic rule. Ambassador Bellamy will be presented with an Honorary Doctor of Laws degree.
Learn more about our Commencement speakers and honorary degree recipients.
Follow Simmons University and #Sims19 on Facebook, Twitter, and Instagram for live updates from Commencement.