Kristina Markos
Associate Professor of Practice and Online Program Director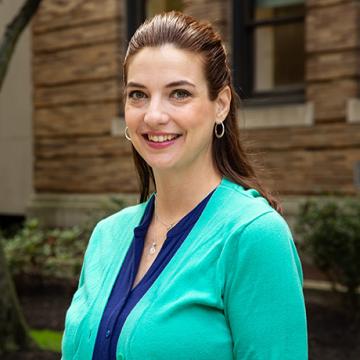 Education
Bowling Green State University (Bachelor of Science in Journalism) 2006
University of Toledo (Master of Liberal Studies) 2010
About Me
I have been a communication- industry professional for over a decade, working in major US markets such as: Chicago, Miami, New York and Boston. I have been fortunate enough to work in agencies that focus on delivering marketing, advertising, digital communication, social media and public relations services to both professional services and consumer clients. Through my work, I've become well-versed in navigating complex and changing industry dynamics and as a result, bring these real world lessons to the classroom.
In terms of my instruction experience, I have taught at Indiana University Northwest in Gary, IN, Lasell College in Newton, Bentley University in Waltham and now at Simmons University. Over the years, I have been offered opportunities to teach Communication courses and advise student-ran clubs, but additionally, I've instructed business communication and career readiness courses as well. This combination has allowed me to focus on delivering sound career advice for young professionals on the precipice of entering the field, and I regularly conduct career coaching and education for students at all stages of their college careers.
As an instructor, I explore the value of meaningful storytelling and producing results-oriented work in an effort to demonstrate how communications activities tie to larger business objectives. It is because of my work as an industry professional and instructor that I believe I can act as a mentor to Simmons students and prepare them for their future careers.
Further, in today's era of "fake news" I am passionate about Media Literacy and have been a speaker at 2018's Northeast Regional Media Literacy Conference focusing on climate change's representation in mainstream media. I am always looking to talk about recent headlines and news stories and their implications on society, so never hesitate to bring up the morning's news with me as it's a welcomed conversation!
What I Teach
COMM 186: Intro to PR
COMM 286: Intro to Advertising
COMM 325: PR Seminar
Simmons PLAN Boston Course: Writing Seminar
Research/Creative Activities
I have always been fascinated by creativity and what it means to be a creative person. I truly believe that most communication professionals have an extraordinary ability to be creative, and watching those professionals in action further sparked my curiosity in creativity as subject to study.
That said, for my thesis work in 2010, I looked to answer the question: What qualities of Mind, Personality and Environment affect Creation and Innovation? Through this research, I discovered that creativity is not genetic, but rather attributed to a series of external factors that can help an individual use more creative parts of his/her/their personality. 
Full Thesis here:
http://rave.ohiolink.edu/etdc/view?acc_num=toledo1289938315
License/Certifications
Graduate Certificate in Communication
Professional Affiliations & Memberships
I belong to the PRSA Faculty Forum in Boston