Student Story
Ifill Scholar Anek Yen '24 Finds her Passion in Arts Administration from a PR Perspective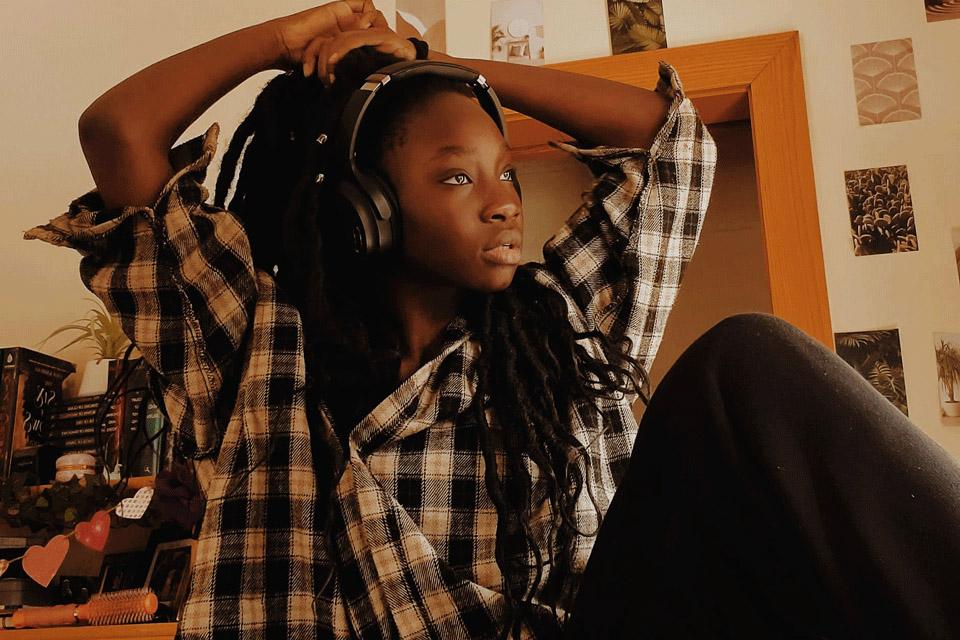 Congratulations to Anek Yen '24, recipient of the Ifill Scholarship! We spoke with Anek about how she plans to use her PR skills to support her passion for art and art museums.
What are you studying at Simmons?
I'm studying art administration at Simmons. I'm also a gallery assistant at the Trustman gallery and an ambassador at the MFA Boston. My position at the gallery is more hands-on, curating events, speaking with artists, supporting installations, and helping the directors of the gallery decide what to do next. At the MFA, being an ambassador is less hands-on, but I get to talk to visitors every day about different art and artists, and I've met people from different backgrounds surrounded by beautiful art. As an art administration major, it's the perfect place to be!
What professors have helped you reach your goals?
I always had an interest in art but didn't think I would be able to pursue it. I like to think long term, and I couldn't envision a career in art as stable until I spoke to my current faculty advisor, Associate Professor and Director Arts Administration Program Heather Hole. She showed me a whole new world, that there was more to art than just creating it. For my own art, Assistant Teaching Professor Michael Zachary was able to challenge me and made me think beyond the techniques I knew.
My freshman year, Associate Professor of Practice Kristina Markos introduced me to PR and made me realize that I do have a thing for PR. Our final project was to design a campaign for a company, and her guidance was amazing. She was very patient and supportive at each step, providing real life examples and allowing us to have a conversation and ask questions. My two majors, Art Administration and PR/Marketing Communications go really well together. I can still dabble in art, and help a company as well.
How do you think students in the Gwen Ifill College will carry on her legacy and impact the world?
With everything this generation has been through, I think we really have this desire to make an impact and change the world by doing something we're passionate about. We want to push the boundaries and change what restricts us. Gwen's story makes me imagine that I can also accomplish things. For me, her legacy makes me able to start the conversation that causes a ripple effect in the world. Get someone thinking about what is happening now and what needs to change. Most of the time when it comes to change, you need to do something that makes people question if what we have set up in society is right.
What does the Ifill Scholarship mean to you?
I didn't expect to get this scholarship! I'm naturally very hard on myself, so it was insane to think that someone brought my name up, that they could see that I'm accomplishing things and that I have potential. It has allowed me to see myself in a different light. I often second guess myself, but now I tell myself, you're an Ifill Scholar! Before the scholarship, I wasn't sure if I was doing the right thing. This makes me feel more confident in my abilities as a student and as a person. Now, anything is possible. I can keep pursuing what makes me happy.
As you look to the future, how do you hope to connect your passion to a lifelong purpose?
I want to start a new conversation in the art community. Maybe it's time to take a step back and change how we do things, change what an art museum is supposed to look like. I hope to connect my passion to a lifelong purpose — I don't know exactly what it is yet, but I know I want to change how we view art. It's more than just a canvas, it can change someone's life.
What is your favorite spot in the MFA?
There is a large room on the second level for the Great Masters of Europe. I'm obsessed with European artists, so I visit that gallery and stare at the paintings in awe. There is also a new section for Ancient Greek, Roman, and Byzantine art, and I love the art and history of that time period. It's insane to think that way of life actually existed! The art offers a way to go back to the past.