Campus Dining
Simmons offers a variety of dining options and meal plans for students. There are full-service dining halls and cafes on both the residence and the academic campuses, and students can choose from several full-service meal plans, point meal plans, or a la carte cash options. Pick the one that's right for you!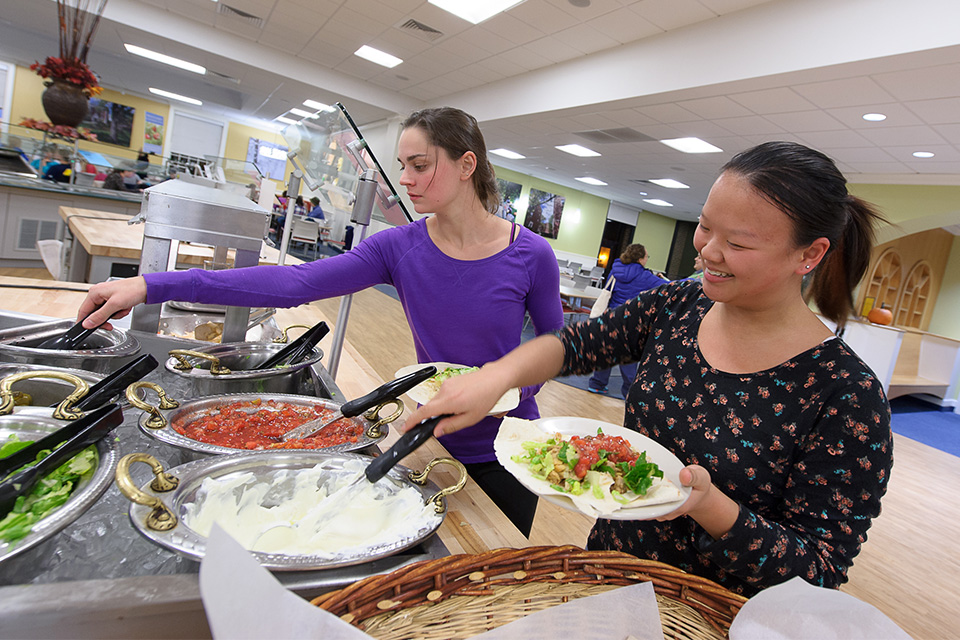 Residence Campus Dining
Bartol Dining Hall, our all-you-care-to-eat dining facility on the residence campus, offers vegetarian options, salad bars, sautes, pizza, smoothies, and more. Or you can make your own meal, just choose from a wide array of ingredients and have our culinary team prepare them right in front of your eyes.
Bartol Late Night, located in Bartol Dining Hall,is open late nights Thursday thru Sunday,and offers a snack bar within a convenience store.
Academic Campus Dining
The Fens Cafe is located in the Main Campus Building on the academic campus. Here you can find just what you're looking for in the middle of your busy class schedule. The Fens offers favorites like grilled steak tips, chicken quesadillas, pizza, veggie calzones, a deli, and an extensive salad bar. Don't have time to wait? The Fens Cafe has a great selection of grab-and-go items to hit the spot even when you're on the run!
Meyers Cafe, located on the ground floor of Lefavour Hall on the academic campus, offers We Proudly Serve Starbucks coffee as well as fresh pastries, sandwiches, sushi, frozen yogurt, and a variety of snacks and bottled beverages.
Common Grounds Cafe, located in the College Center of the Main Campus Building, offers coffee, teas, lattés, espresso, coffee specialty drinks as well as fresh pastries, made-to-order breakfast sandwiches, warm paninis and sushi. Grab a coffee and bagel on the way to class or curl up in one of the many couches with a latte and your study materials. The area surrounding Common Grounds features computers with free wireless access for the students' use throughout the day.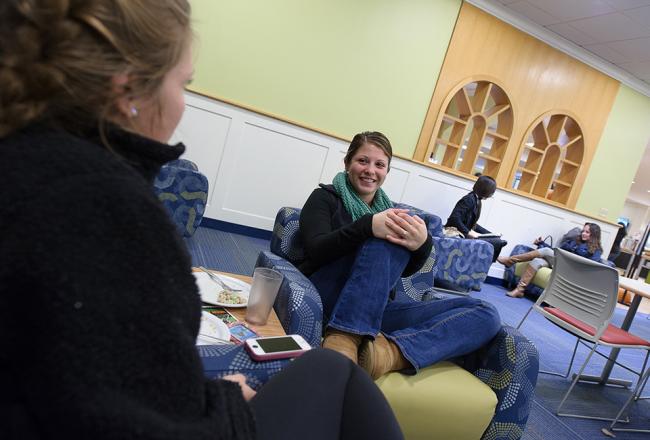 Dining at Simmons
Dining on campus isn't one size fits all. Our meal plans were designed with you in mind. If you are looking to enjoy a meal with friends or just a snack on the go – we've got a plan to fit every appetite.
Dining at Simmons