Gary Bailey
Professor of Practice and MSW Program Director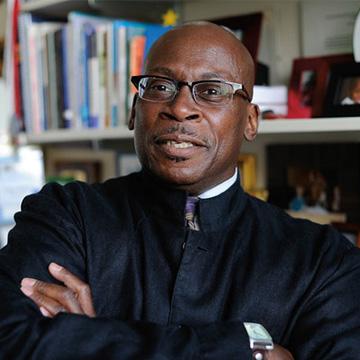 License/Certification
About Me
Dr. Gary Bailey is the MSW Program Director for the School of Social Work at Simmons University. He is also a Professor of Practice in Simmons's Schools of Social Work and Nursing and Health Sciences. Professor Bailey has devoted his career to sharing his deep knowledge, expertise, and leadership in the fields of Social Work, Public Health, Youth Education, and Affordable Housing.
He currently serves as President of the NASW-Assurance Services, Inc; he is a past president of the International Federation of Social Workers based in Bern, Switzerland—the first person of color to hold this post. He is a past president of both the Massachusetts Chapter of NASW, and of NASW National-Washington D.C. He was the Chairperson of the National Social Work Public Education Campaign. He was a member of the Council on Social Work Educations Commission on Global Social Work Education and its Committee on Human Rights. He held advisory and board roles with the North American and Caribbean Association of Schools of Social Work's Council on Social Work Education.
In May 2009 Professor Bailey was selected as a Fulbright Specialist for the United States-Israel Educational Foundation (USIEF), where he gave a series of workshops and speeches throughout Israel as a part of the Funds outreach to African American leaders to visit Israel.
At Boston University School of Public Health Maternal and Child Health Center for Excellence, Professor Bailey serves as a mentor in the Diversity Scholars Leadership Program. His advocacy for youth education includes serving as President of the Board for the Fenway High School and as a member of the board of the South End Library. He is also vice-chair of the board at the Massachusetts Educational Financing Authority (MEFA). In 2017 he was appointed by Massachusetts Governor Charlie Baker as a member of the Massachusetts LGBT-Q Youth Commission.
He was a member of the AIDS Action Committees (AAC), Inc. Advisory Council; and the AIDS Action Committees Program Committee.
He is a member of the Blue Cross Blue Shield Health Equity Council. His commitment to advancing the availability of affordable housing includes leadership roles FOR Our CommUnitieS, Inc. (FOCUS, Inc.) and is on the board of United South End Settlements (USES).
He was a member of the Leadership Council, Success by 6 campaign - United Way of Massachusetts Bay; and was the co-chair, Boston Children's Hospital Community Advisory Board.  He is a past member of the Commissioner's Professional Advisory Committee at the Massachusetts Department of Social Services (DSS, now DCF); and he was a member of the Massachusetts Department of Mental Health Professional Advisory Committee for Child and Adolescent Services.
Professor Bailey is a longstanding member of Boston's historic Union United Methodist Church, where he is the chair of the Church Council and a member of its Leadership Team.
Gary Bailey's Curriculum Vitae
What I Teach
SW 401 - Social Policy and Services
SW 409 - Realities of Racism and Oppression in Today's World
SW 523 - Advocacy and Social Action for Professional Social Workers
SW 583 - Social Action and Gerontological Practice
Professional Affiliations & Memberships
Member of the Community Advisory Board for the Fenway Institutes National Institute of Minority Health and Health Disparities (NIMHD) Grant to Reduce Health Disparities in LGBTQ Youth of Color