Campus & Community
Year in Review: The Biggest Moments of 2020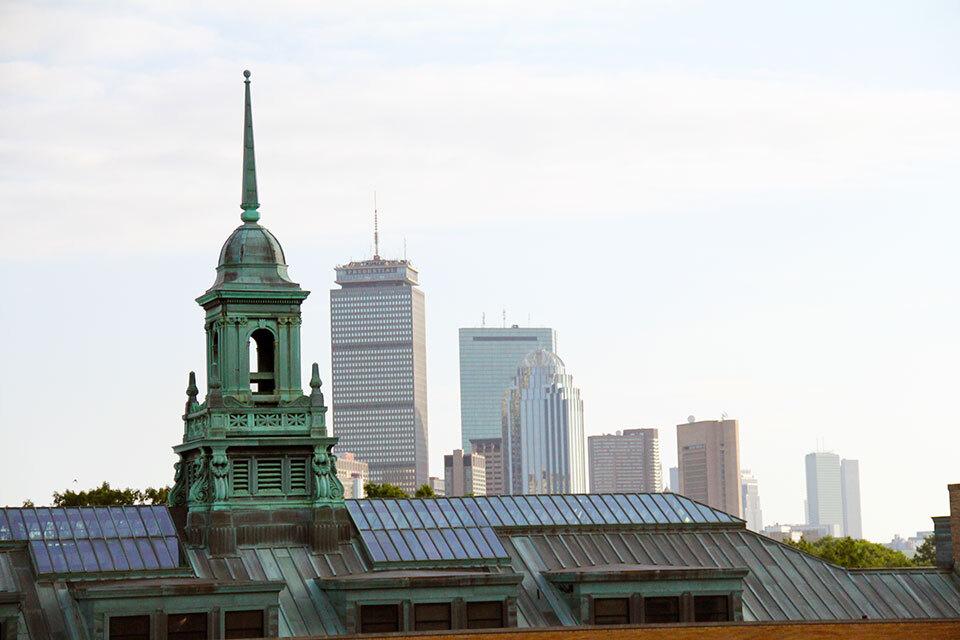 Although 2020 was not the year we were expecting, it was still a year of transformation for Simmons. From welcoming Lynn Perry Wooten as our new president to announcing new programs — it's been a busy year. As we prepare for 2021, we're taking a look at our biggest moments and stories from 2020.
1. Simmons University Announces Comprehensive Online Undergraduate Experience Available for All New and Returning Students in Fall 2020
The new program will accelerate Simmons' digital transformation strategy and mission to educate the next century of learners, while also enhancing access. Hundreds of courses from the existing Simmons catalog will be intentionally redesigned for online delivery with a blend of synchronous and asynchronous coursework, in partnership with global education technology leader 2U, Inc.
Key quote: "The fully online undergraduate program will provide students with the option to enroll in hundreds of online courses from the Simmons catalog intentionally redesigned to provide an engaging, high-quality digital experience."
Full story: Online Undergraduate Experience
2. Simmons University Names Lynn Perry Wooten as Ninth President
Simmons University's Board of Trustees announced that Dr. Lynn Perry Wooten has been unanimously selected to serve as Simmons' ninth president, effective July 1, 2020. Dr. Wooten succeeded Helen G. Drinan, who ended her term in June after serving as Simmons' president for the past 12 years.
Key quote: "After a comprehensive, nationwide search that attracted significant interest from a diverse group of impressive candidates, we're delighted to announce Dr. Wooten as the ninth president of Simmons University."
- Regina M. Pisa, Chair of the Simmons Board of Trustees.
Full Story: Simmons names Ninth President
3. School of Social Work Launches New Domestic and Sexual Violence Training for Massachusetts Licensed Health Professionals
Simmons University's School of Social Work announced that it is now offering a comprehensive online domestic violence and sexual violence (DV/SV) training to educate Massachusetts-based health professionals and prepare them for work with survivors, children exposed to violence, and people who engage in violence.
Key quote: "This new training is a crucial resource that provides essential knowledge and tools to social workers, nurses, physicians and other health professionals so they can enhance care and better serve their patients impacted by sexual and domestic violence." - Dr. Kristie Thomas, Associate Professor of Social Work
Full story: Domestic and sexual violence training
4. Remembering Head Crew Coach Nikolay Kurmakov
President Lynn Perry Wooten shared the news of the passing of Coach Kurmakov, a beloved coach, mentor and friend known for his tremendous work ethic and kind spirit. Under his leadership, Simmons' crew program grew and became one of the best in the region – achieving national rankings and earning medals at the New England Fours Championship and world-renowned Head of the Charles Regatta.
Key quote: "He was a true Simmons Shark, and we are so grateful for his passion, dedication and service." - President Lynn Perry Wooten
Full story: Remembering Coach Kurmakov
5. Red's Good Vibes: Meghan McGrath '21MSN Launches Nonprofit in Time for COVID-19
Together with her sister Caitlin McGrath-Levesque and brother Michael Dupont, family nurse practitioner student Meghan McGrath '21MSN founded Red's Good Vibes, a Portsmouth nonprofit to help less-fortunate members of the community.
Key quote: "While this crisis is horrible, we do get to see the positive side of humanity, which is awesome." - Meghan McGrath '21MSN
6. 10 Questions with President Lynn Perry Wooten
President Wooten shared her thoughts on the state of higher education, the global pandemic, systemic racism, and more.
Key quote: "I have a strong desire to be an inclusive leader. When you grow up being different in society, you go out of your way to include people from all different types of backgrounds and experiences, to learn from them, to celebrate from them, and to make sure they feel that they belong." - President Lynn Perry Wooten
Full story: 10 Questions with President Wooten
7. Simmons University Responds to COVID-19
Moving a university from a real campus to a virtual one isn't easy, but Simmons' decade-plus of experience in online graduate education helped the University and its students ease the transition.
Key quote: "To successfully move from teaching in a traditional classroom setting to entirely online in a matter of weeks is a testament to the talent, professionalism, and commitment of the Simmons faculty. It also speaks to the strength of educational infrastructure and support that Simmons has developed over the years." - Deputy Provost Catherine Paden
Full story: Responding to COVID-19
8. Assistant Professor of Practice Rachel Gans-Boriskin: Look for the Experts
How do we know what news is real? Assistant Professor of Practice Rachel Gans-Boriskin offers practical tips to combat the sea of misinformation surrounding COVID-19.
Key quote: "The COVID-19 pandemic is made much worse by another pandemic — one of misinformation and disinformation. This pathogen takes the form of half-truths, misstatements, propaganda, and lies and is spread over the air by reckless leaders and broadcasters and through social media networks by regular people." - Assistant Professor Rachel Gans-Boriskin
Full story: Look for the Experts
9. From Business to Medical School: Shreya Arumugam '12 on the Value of Perseverance
Shreya tells us about her journey of rediscovering her passion for medicine and how her Simmons community helped her get there.
Key quote: "There will be people who will advise you to take an easier route, but there are also amazing people who will lift you up and help you every step of the way. I do not think I could have made it to medical school without my professors at Simmons." - Shreya Arumugam '12
Full story: Shreya Arumugam '12
10. Simmons University to Host 'Gwen Ifill USPS Stamp Celebration: Honor and Action' Event on Campus
Simmons honored the trailblazing journalist with a postage stamp unveiling and a 'Reasons to Write' postcard writing session with the campus community
Key quote: "Gwen Ifill's curiosity, integrity and commitment to learning and truth telling exemplifies the very best of Simmons University, and we're thrilled to bring the community together for this exciting event." - Dean Brian Norman