Student Story
What Are You Doing After Graduation? Nicole Gauthier '19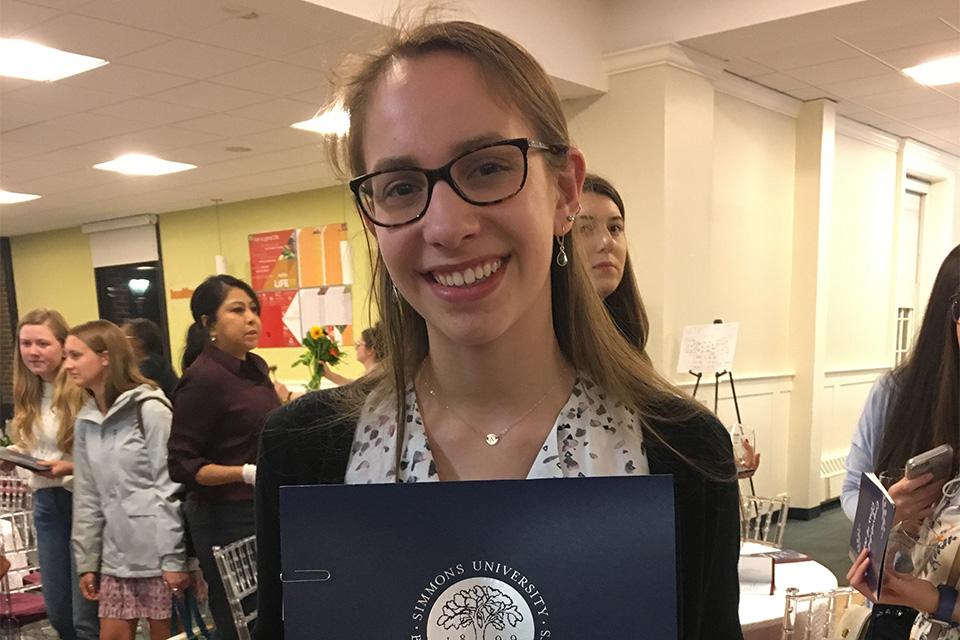 After graduation I will be working as a Curation Assistant at the Schlesinger Library, part of the Radcliffe Institute for Advanced Study at Harvard University.
What made you choose your program at Simmons?
I really loved all of the faculty I spoke with when I was touring, and how student-focused the programs are. Every faculty member I spoke with, or have worked with in my time at Simmons, has been passionate about helping me achieve my goals and preparing me to succeed, even if they weren't my professor or advisor.
I love the history department at Simmons, it is truly my home here. All of the faculty members are excellent and they have continuously challenged me to do my best work, and to chase the opportunities I wanted.
What is the best aspect of the history program?
The history major at Simmons is very flexible. There are a few mandatory courses, but I was able to choose from a variety of courses to fulfill my requirements. I was never forced to take a class I didn't want to take because it fulfilled a requirement — instead, I was always allowed great flexibility. 
Tell us about your internship at the Gibson House Museum.
My advisor, Professor Stephen Berry, forwarded an email from my  (now) supervisor at the museum to all undergraduate history students about their search for Curation Interns. My primary responsibilities have been cataloging and photographing the Gibson House Museum's collection of women's clothing, which they call costumes. In total, I cataloged 36 pieces from their collection, and photographed about 100 items.
I've also been responsible for conducting research on the costumes, including research on what was in style in the 1870s -1890s, the time period most of the museum's costumes come from. I used this research for my final paper for my internship course, Humanities 370. I also wrote a blog post on one of the dresses I cataloged for their blog. I also helped my supervisor plan the Fashion Open House, an event during Boston's Art Week.
I've learned a lot about museum work and curation, including how to write item descriptions, how to handle historical textiles, how to catalog artifacts, and how to upload documents into the museum software.
What are you doing after graduation?
After graduation I will be working as a Curation Assistant at the Schlesinger Library, part of the Radcliffe Institute for Advanced Study at Harvard University. I want to continue working in curation either in a museum or archival setting, because I love the research and organization components of the work. In two to three years, I would like to get my master's degree in history.
What's your favorite Simmons memory?
I have two! One of my favorite memories is when I took Professor Slowik's "The Imperial Legacy of Music in Austria" course to Vienna — it was such an incredible experience. My favorite memory from this trip was traveling with my classmates on the Viennese subway to visit Schönbrunn Palace as a class excursion. It was really a pinch-me moment, because that's when I truly realized that I was abroad and I was so thankful for this opportunity to live in Vienna for two weeks. The entire trip and experience was the ultimate highlight of my time at Simmons because of the incredible experiential learning.
My favorite memory on campus was attending Honors Convocation. I'm graduating a year early and most of my friends are in the class of 2020. All my friends came out to support me and I got to celebrate the upcoming graduation with the people I started my Simmons journey with. It was incredibly surreal to sit and listen to President Drinan in my regalia: it really hit me that I was going to graduate!