Campus & Community
Trustman Art Gallery Enters its 38th Season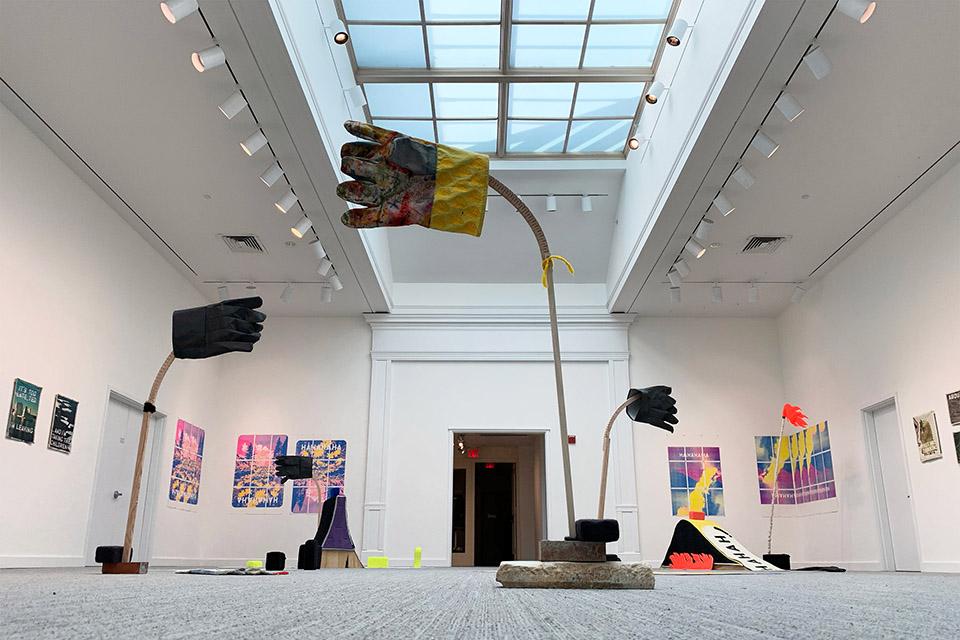 Our mission is to present diverse and engaging art and programming that really supports the academic and curricular goals, not only of the Department of Art and Music...
but also curricular goals across the University.
- Helen Popinchalk '03, Interim Director
The Trustman Art Gallery on the top floor of the Main College Building has long offered the Simmons community and campus visitors a calm haven for visual and intellectual stimulation. Now, with the campus effectively closed for the duration to all but essential personnel due to the coronavirus, the Trustman is developing a virtual tour to share its current exhibit. The move reflects a can-do commitment to fulfilling the Gallery's purpose under unprecedented circumstances.
"Our mission is to present diverse and engaging art and programming that really supports the academic and curricular goals, not only of the Department of Art and Music in the Gwen Ifill College of Media, Arts, and Humanities, but also curricular goals across the University," says the Trustman's Interim Director, Helen Popinchalk '03. "Another core part of our mission is to provide professional opportunities for students."
The Trustman features the work of professional artists and an annual exhibition of art by current students. Popinchalk surveys the local art scene for artists who would be a good fit for the Gallery, now in its 38th season. 
"I'm looking for artists who are making innovative work who could really benefit from a show at a university gallery—and someone who is going to inspire our students," says Popinchalk, an alumna who majored in studio art and arts administration; she now teaches screen printing and printmaking. "I'm constantly looking at the work my colleagues are doing, making sure the art I'm bringing in supports some of the ideas and concepts they're exploring in their studio classes."
By mid-March, Popinchalk was installing the current exhibit: "The Gardener and the Gardened." It features the work of Melanie Bernier, whom Popinchalk says is known for fiber-based works but also has experimented with site-specific installations and performance art. "She has this zero-waste lifestyle, and her work uses all kinds of found and recycled materials," explains Popinchalk.
I always want to see the Trustman Gallery as part of the Fenway cultural and arts district.
Popinchalk also looks for artists who have an interest or concern "outside of their artistic practice." An excellent example, she says, is "Ghost Forests," originally scheduled for April 20 – June 5. As conceived, the art and design installation by David Buckley Borden would be exhibited in the Trustman and elsewhere around campus. Popinchalk is working with the artist to reschedule his show for the 2020/2021 season.
"David is a wonderful collaborator, and he's been working with at least eight other artists on creating pieces for this particular show," says Popinchalk. "It's designed to be an immersive installation that really focuses on some of North America's dying ecosystems and our human response to this accelerating environmental crisis."
Students in a capstone arts administration class taught by Associate Professor Heather Hole, director of the Arts Administration Program, had been participating in publicizing "Ghost Forests" and preparing an exhibition catalogue. Now, these students are pivoting to creating online material that will support the Gallery and its mission. Other professional development opportunities that the Trustman typically offers students include installing and uninstalling exhibits, photographing them, and engaging with the artists in classes or public talks.
In addition to overseeing the Trustman Gallery itself, Popinchalk programs the adjacent and much smaller Project Space. "It's perfect for an artist who's looking to experiment on an idea or project that they are interested in. I call it a little art 'test kitchen.'" It now features an exhibit by Soyoung Kim whose work includes drawing, painting, and sculpture. Kim finished her installation right before Simmons closed the campus for the semester.
Under normal circumstances, the Trustman has stayed open until 7 p.m. on Thursday evenings, coinciding with extended gallery-hopping hours offered by the Museum of Fine Arts, the Isabella Stewart Gardner Museum, and other nearby venues—prior to the coronavirus crisis. "I always want to see the Trustman Gallery as part of the Fenway cultural and arts district."
That would no doubt please the late Julie Myerson Trustman '24 and her husband, the late Benjamin Trustman, who gave the Trustman Gallery to Simmons in her honor.