Campus & Community
Ten Demands Update: May 2018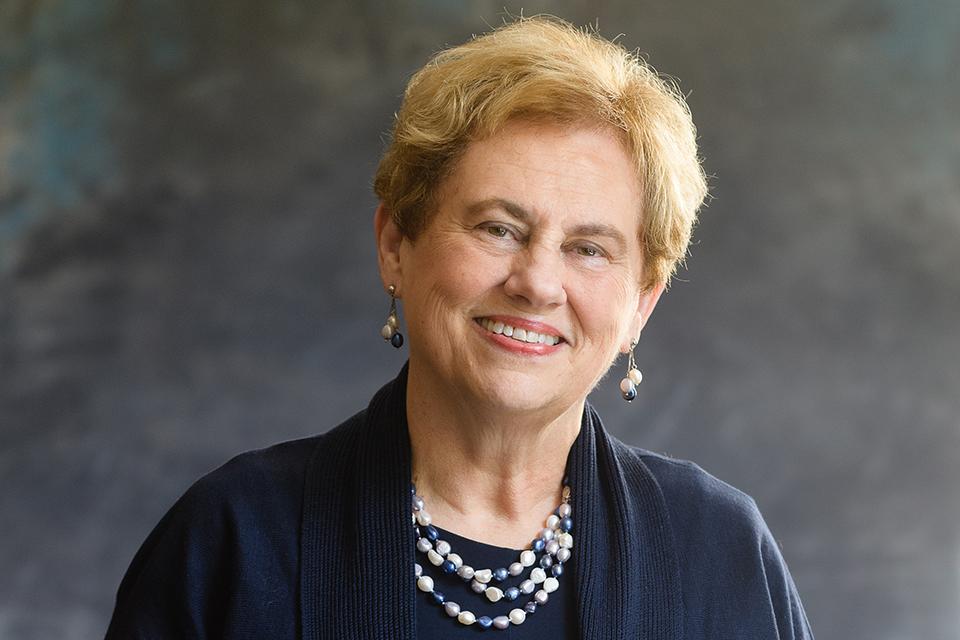 A message from President Helen Drinan
Throughout this academic year, we have shared detailed updates on the progress we are making on diversity, equity, and inclusion at Simmons. We hope you have read the three reports:
September 28, 2017 – Inclusive Excellence Update #1
December 1, 2017 – Inclusive Excellence Update #2
April 12, 2018 – Inclusive Excellence Update #3
We remain very appreciative of the courageous students in the Class of 2016 who asked the College to take a good hard look at our campus culture. We are grateful for their activism and we thank all students, faculty, administration, staff, and alumnae/I who have helped ensure progress on making Simmons a more inclusive community.
Many people have approached this work with passion and energy because they recognize the importance of diversity, equity, and inclusion at Simmons. We believe, and hope, everyone can agree that we are on a path to being the Simmons community we all know we can be.
Yet, we will be first to acknowledge that there is a great deal more work to be done at Simmons, as there is at virtually every college and university in this country.
We cannot achieve everything in the ten demands in just one or two years. This year, we dedicated time and resources to the following Simmons College FY17/18 Diversity, Equity & Inclusion goals; these goals support the 2015 Ten Demands and benefit the entire Simmons community.
Simmons College FY17/18 Diversity & Inclusion Goals

Goal Supports

Goal #1 Implement Professional Development for Faculty, Staff, Students, Trustees

Goal #2 Manage the Bias Response Protocol Process

Goal #3 Plan & Implement Curriculum Enhancements

Goal #4 Hire and Retain Diverse Faculty and Staff

Goal #5 Implement a new Simmons Multicultural Center

Goal #6 Recruit and Retain Diverse Students

Goal #7 Plan and Host Strong Programming

Goal #8 Make DE&I Prominent in the Strategic Plan - Strategy 2022

Demand #3

Demand #3

Demand #4

Demand #8

Demand #7

Demands #6 & #9

Demand #2 & #5

Demand #10
---
Simmons College FY 17/18 DE&I Goal #1: Implement Professional Development/Training for Faculty, Staff, Students and Trustees
Supports 2015 Demand #3 - We demand that all faculty and staff of Simmons College be put through rigorous diversity training that emphasizes the requirement that they address micro-aggressions and mis- information in class. As part of this, we also demand that faculty are incentivized to participate in racial justice work as part of the tenure and promotion processes. That the FACES/FYS provide ample training for student facilitators, development curriculum that reflects the history of Boston.
Leads: Provost Katie Conboy; Assistant Vice President, Diversity, Equity & Inclusion Lisa Smith-McQueenie; Assistant Vice President, Talent and Human Capital Strategy Sarah Miller
Actions Taken:
Faculty Professional Development – Diversity, Equity & Inclusion
Dr. Patricia Romney of Romney & Associates, Inc. in partnership with the Center for Excellence in Teaching's Dr. Jennifer Herman have provided professional development for tenure and tenure-stream faculty for the past two years. In one-day sessions, faculty have explored diversity, equity and inclusion in their pedagogy and learning environment, utilizing AAC&U's Teaching for Inclusive Excellence framework.
A full day seminar, Teaching for Inclusive Excellence Seminar (TIES I), was offered ten times starting in the fall of 2016 and concluding on October 13, 2017. 206 faculty members (over 90% of Simmons College full-time tenure/tenure stream faculty) participated in the seminar, greatly exceeding the participation goal. Seminar evaluations have been strong and we are pleased to see such interest and commitment from faculty to engage in this critical work. TIES I will be offered for all new faculty in September/October 2018.
In November 2017, Drs. Romney and Herman introduced Teaching for Inclusive Excellence II (TIES II), expanding the focus to equity and excellence in teaching and learning. The new seminar has been offered throughout the 2017-2018 academic year in eight sessions. The goal is to have 75 - 80 faculty members participate by June 2018. TIES II will resume in fall 2018 and run through spring 2019, enabling up to 90% participation, once again.
Staff Training – Diversity, Equity & Inclusion
As a follow-up to the required online training modules last year, we are now offering an all-day Inclusive Excellence Seminar for staff. Since February 2018, we have held three sessions with 70 staff participating. There are three additional sessions planned through June 2018 and we hope to have a total of 150 staff members trained by that time. Sessions will continue in the summer and fall in order to accommodate as many staff as possible.
The seminar was developed with assistance from the Diversity and Inclusion Action Council (DIAC). It addresses diversity, equity, and inclusion; deepening awareness, understanding, and comfort with integrating these concepts into the work that we do. Using a social justice framework, the session explores multiple identities, intersections among identities and experiences of privilege/oppression, and their impact on our lives and work.
Student Training – Diversity, Equity & Inclusion
Building on the success of last year's initiative, the offices of Student Affairs and Diversity, Equity & Inclusion have partnered, again, to create a multiple-session, undergraduate student leader training series. Aspiring student leaders were required to participate in the Student Multicultural Leadership Conference in late January 2018 held over two days. Simmons staff and external experts facilitated these sessions.
Additionally, student leaders will remain on campus after finals in May 2018 to participate in training designed to address inter/intrapersonal awareness, cultural humility, and inclusive excellence. The third (and traditional) training opportunity occurs in August, annually. Kudos to all the RAs, OLs, and organization leaders who have or will participate!
Soon, graduate students will have the opportunity to participate in a DE&I learning and development program designed by members of the Diversity and Inclusion Action Council (DIAC). This will be available to our campus and online graduate students.
Board of Trustees Training– Diversity, Equity & Inclusion
At the October 2017 Board meeting, the Trustees, Operating Team, and Deans spent the better part of a day engaged in facilitated activities to deepen awareness and understanding of diversity, equity, and inclusion. The session also included discussion of the Board's role in supporting the work of the College to integrate inclusive excellence in our mission and institutional operations.
Alumnae Association Training – Diversity, Equity & Inclusion
In November 2017, the Alumnae/i Association Executive Board and the Alumnae/i Association Diversity Committee convened to explore social identity, social location and the impact in various environments and interactions. This included a review of cultural intelligence and the mindset that encourages thoughtful dialogue across differences.
---
Simmons College FY17/18 DE&I Goal #2: Manage Bias Response Protocol Process
Supports 2015 Ten Demand #3 - We would like to see repercussions for racist actions performed by professors and administrators or staff. Our micro- and macro-aggressions should be taken seriously and met with the highest level of urgency and care.
Lead: Assistant Vice President, Diversity, Equity & Inclusion Lisa Smith-McQueenie
Actions Taken:
Bias Response Protocol Use
The Bias Response Protocol (BRP) was created to inform, instruct, and support those who have been affected by bias. Additionally, the BPR was designed to educate and to raise awareness in our community about bias and hate incidents that detract from our goal of an inclusive community that is affirming of all members.
After completing a six-month pilot implementation of the Bias Response Protocol in FY 16/17, the protocol was formally launched at the start of this year. About two dozen reports have been received through the online Bias Response Report form or the online EthicsPoint Report form. The issues raised in the reports include matters of racial/ethnic, gender, and ability bias. Our Community Advocates have met regularly to ensure that all reports and involved persons are being given the attention they deserve.
---
Simmons College FY17/18 DE&I Goal #3: Plan and Implement Curriculum Enhancements
Supports 2015 Ten Demand #4 - We demand an overhaul of the curriculum that includes and highlights the contributions of people of color across all disciplines. We also demand that this curricular overhaul be student-centered by actively including students of color in the voting, negotiation and decision-making process in academic curriculum committees.
Leads: Provost Katie Conboy, Academic Deans, Director, Center for Excellence in Teaching (CET)
Actions Taken:
The Center for Excellence in Teaching (CET) and the Office of DEI have been collaborating to lay a foundation for continuing work on DEI-focused curriculum revisions, and specifically, to (1) prepare to collaborate with the incoming, four inaugural deans of the four colleges, and (2) to identify processes and policies to ensure that a focus on DEI in the curriculum is embedded within ongoing, regular work at Simmons, rather than an "add on" or one-time initiative. We have:
Reviewed best practices and national models for DEI curricular work, including a framework from AAC&U, and identified of evidence-based approaches to inform Simmons's work going forward.
Discussed and identified opportunities to embed DEI curricular work within existing processes and procedures, such as aligning the curriculum revision process with the program review cycle.
Developed draft processes, and identified possible approaches for assessment, for future curricular revision work as a "starting place" for work with the new inaugural deans.
TIES I and TIES II faculty seminars have put emphasis on curriculum enhancement strategies as follows:
Teaching for Inclusive Excellence Seminar II (TIES II)
Faculty participants in the TIES II seminar have:
Discussed the implications of and how to operationalize equity in teaching, advising, and service.
Identified current, evidence-based pedagogies, equitable practices, and opportunities for equitable practices for teaching and student support.
Teaching for Inclusive Excellence Seminar I (TIES I)
Topics addressed in the TIES I seminar included:
Description of a framework for designing an inclusive course/curriculum, with the aim of designing an "explicitly centralizing" course as part of the Inclusive Excellence Framework.
Strategies to operationalize the concept of a "curricular thread" related to inclusion and equity in program learning objectives and curriculum maps.
Creation of diversity-focused learning outcomes for each course.
Understanding what "diversifying course content" means:

Considering both the content itself and the diversity of the authors.
Selecting examples, metaphors, case studies, project topics, etc. that incorporate diversity.
Creating assignments that integrate diversity concepts; creating.

Discussing/Identifying
Curricular Work by Schools
Schools have been engaged in curricular review processes. Examples include:
The School of Library and Information Science's Dean's Fellow for Diversity and Inclusion reviewed the syllabi for the required courses and many of the electives and noted the inclusion of diversity and inclusion topics in each. Those teaching core courses have been working together to ensure that students are exposed to these courses in all sections of the core courses. The complete draft document mapping D&I to the curriculum is ready for review, discussion and action.
The College of Arts and Sciences have continued their departmental review of curriculum, has included a new question on new course proposal forms that require discussion of diversity, equity, and inclusion in the course, and all of this information will be given to the new deans as the departments become members of new colleges this fall.
The School of Social Work is continuing to review new and existing courses by application of two questions on diversity content: How does the course integrate diversity, oppression and cultural issues? How does the course content require students to apply knowledge about diverse populations? The Curriculum Committee includes a student member who attends, as available. Leadership of SSW student affinity groups worked together to sponsor a micro - aggression project for the entire school. The project generated considerable dialog and led to a meeting with the dean to discuss strategies for students to have a greater voice in identifying strategies by which to address the experiences of students in the classroom and in field settings. Engagement with students and a response to the project are continuing.
Finally, CET programs from 2017-18 have focused on DEI in the design of or teaching individual courses A variety of individual teaching consultations focused on DEI
The Leadership Course Design Institute includes a half-day focused on DEI.
An overview of DEI at Simmons is included in the New Faculty Orientation content
The 2017-18 Faculty Learning Community's topic is "Teaching Strategies to Engage Students of all
Cultural Backgrounds"
Lunchtime Dialogues include:

Trigger Warning and Content Warnings: Balancing Student Mental Health with Course Learning Outcomes and Academic Freedom
Supporting Students with Special Needs: Understanding and Incorporating Teaching Accommodations
Promoting Equitable Engagement in Small Group Projects
Rewarding Student Growth Mindset to Enhance Learning
Teaching Students with Mental Health Concerns - A Question and Answer Session

Lunch Dialogue with Dr. Joyce Bell on "The Importance of Race-Critical Perspective at a Primarily White Institution" (co-led event)
Faculty Book Discussion with Dr. Beverly Tatum on Why Are All of the Black Kids Sitting Together in the Cafeteria? (and collaboration on Keynote and other events during her visit)
"Creating Accessible Courses for All Students" Accessibility Workshops (four sessions in late May)
---
Simmons College FY17/18 DE & I Goal #4: Hire Diverse Faculty and Staff
Supports 2015 Demand #8 - We demand an increase in the number of Faculty of Color and Staff of Color at Simmons across all academic disciplines and administrative roles. This increase should meet a 30% minimum representation across all colleges, matching the ratio of students of color in the student body. We also demand institutional support and mentorship for staff of color.
Leads: Provost Conboy and Academic Deans (faculty); Amy White, Senior Vice President, Institutional Advancement (staff and administration)
Hiring Training:
To reinforce best practices when recruiting for faculty and staff, the College continued its partnership with Campus Answers, a Division of Workplace Answers, to provide online training required for all faculty and staff who are, or who will be, supporting a hiring process. The modules are:
Interviewing for Higher Education Hiring Committees
Interviewing for Higher Education Staff Candidates
New this year, the College contracted with EverFi (new parent company to Campus Answers) in FY19 to leverage their additional resources for Diversity, Equity & Inclusion training offerings for employees. The training programming will be configured and rolled out in FY19.
Job Advertisements/Postings:
In an effort to broaden our ability to attract diverse pools of candidates, we used nine diverse job advertising platforms, adding three new platforms for externally posted faculty and staff jobs over last year's listings. They are:
Increasing Diverse Hires:
In the ongoing effort to support the advancement of the key hiring objectives, below are key actions taken, outcomes and planning from this year.
Staff:
The Human Resources department has piloted a "talent business partner" operating model, which pairs HR professionals with managers for recruiting and retention. As a result, we ensure hiring managers have a recruitment strategy that includes developing diverse talent pools, using best practices to qualify and interview candidates, and to develop inclusive onboarding agendas for new hires.
Impact: Over the last year (May 2017– May 2018), the percentage of new staff hires who chose to self-disclose through the new hire onboarding process, and who self-identified as 'Non White'*, was 33%. This is an increase, for the second year in a row, of at least 2 percentage points from the prior year (May 2016– May 2017).
To further advance these efforts, the College recently hired a Talent Recruiter, certified in diverse hiring, to build on the `talent business partner' model and expand the diverse recruiting best practices support for hiring managers. This includes the continuation of in-depth intake meetings with hiring managers to identify department diversity and equity goals, identify and facilitate strategic approaches to proactively developing diverse talent pools and comprehensive and inclusive onboarding plans.
Faculty:
Over the last year (May 2017– May 2018), the percentage of new (non-adjunct) faculty hires who chose to self-disclose through the new hire onboarding process, and who self-identified as 'Non White', was 36%. This is an increase of 5 percentage points from the prior year (May 2016 - May 2017).

Last year, the Provost office launched a national multi-dean search for the inaugural appointments of new leadership for our newly structured colleges. The Search Committee(s), made up of over fifteen faculty and staff, were dedicated to finding the most qualified leaders who embody our community values, and who have demonstrated a commitment to diversity, equity and inclusion. The candidate pool of finalists invited to campus represented a 44% diverse demographic. With the recent announcements of the new Dean appointments, we have a unique opportunity for this new dean "cohort" to introduce additional ideas, efforts and goals to increase and develop the diverse talent among the faculty and, with the support of Human Resources, design meaningful and inclusive onboarding programming for faculty.
*Non-White defined as one or more of the following: American Indian, Alaska Native, Asian, Black or African American, Hispanic or Latino, Native Hawaiian or Other Pacific Islander, or two or more races.
---
Simmons College FY17/18 DE & I Goal #5: Open a New Multicultural Center
Supports 2015 Ten Demand #7 - We demand a Multicultural Student Office in the Student Activities Center on the Academic campus as a safe community space where we as students of color can gather and support each other. As part of this initiative, we demand that there be increased staff to support the Assistant Provost for Diversity and Inclusion.
Lead: Assistant Vice President, Diversity & Inclusion Lisa Smith-McQueenie and Director of Multicultural Student Affairs Noha Edmohands
Actions Taken: Increased Staffing to Support AVP Smith-McQueenie
A new Director of Multicultural Student Affairs, Noha Edmohands, was hired in August 2017. Noha has contributed substantially to multicultural student affairs since her arrival. She began her tenure by creating four major goals for her first year - 1) student relationship 2) building the new Multicultural Center 3) intersectional programming and 4) DEI trainings.
A new Graduate Intern for Diversity, Equity, & Inclusion, Mellyssa De Paiva, was hired in July 2017. Mellyssa is a 2017 Simmons graduate majoring in international relations and political science. She is currently enrolled in the Public Policy (MA) Program here in preparation for a career in international politics.
Celina Fernando is the Diversity, Equity & Inclusion Officer for the Student Government Association. Celina is a junior at Simmons studying Sociology and Political Science. She also serves as Chair of the Like Minds Coalition and Resident Advisor for the Arts & Activism Community.
Action Taken: New Multicultural Center
Opening on January 30, 2018, the new Multicultural Center has become a hub of activity and social interactions, already becoming the affirming space we all envisioned.
The Picture Project:
Using the accent wall in the Center, there is a photo display designed to highlight students and their diverse multicultural backgrounds. The photo project is an opportunity to speak to the individual experiences of students, as well as to bring forward the great talent of student artists behind the camera capturing the images.
Changing gallery displays in the Center will serve as inspiration and validation of the multitude of student experiences and will communicate through quotes and pictures that students' identities and expressions are rich, diverse, and should be celebrated.
---
Simmons College FY17/18 DE& I Goal #6: Student Recruiting
Supports 2015 Demand #6 - We demand an overhaul of the office of admissions at Simmons College which includes: We want an honest portrayal of the demographics of people of color on this campus. While we understand that the MOST program is a crucial part of multicultural student recruitment, it provides unrealistic expectations for prospective students regarding the level of representation of people of color at the College. We also demand an increase in the resources allocated for the recruitment of students of color, including having more people of color working in the office of admissions. There should be at least one staff member focused on managing and creating events for the mentorships in the MOST program.
Supports Demand #9 - We demand that the college meet the financial needs of students of color through merit and need-based scholarships, giving special consideration for first-generation students of color.
Lead: VP for Enrollment Management John Dolan
Each spring, Simmons provides a select group of accepted students with the opportunity to learn about the diverse and inclusive environment at Simmons. MOST (Multicultural Overnight Student Travel) program participants get to know current students and experience firsthand what makes the Simmons community so special. Simmons hosted the program on Friday, March 16th 2018 and brought 32 prospective students to campus!
This year's MOST program included some new and exciting features such as a formal partnership with Multicultural Student Affairs and an evening outing at Lucky Strike bowling. In working with Noha Elmohands, Director of Multicultural Student Affairs, the program became much more exciting and robust. First, Noha hosted our Multicultural Open House, which was a great way to highlight this new space on campus. Secondly, there was the introduction of MOST mentors. In the past, all admitted students were matched with an overnight host. This year, mentors were given a group of admitted students (and their hosts) they worked with for the entire program. MOST mentors acted as leaders and facilitated the evening program at Lucky Strike and on campus, which included a current student panel and a fun evening of karaoke. The goal is to continue this mentor relationship once students matriculate at Simmons. A meeting is scheduled in late May 2018 to come up with a plan to implement this formalized mentorship program for multicultural students.
The Admission team continued its successful track-record of recruiting students of color. The incoming class for Fall 2018 is diverse with 34% of domestic students self-identifying as African American or Latinex or Asian or Native American. This is an increase in ALANA students from 30% in the incoming class of 2017.
There are seven International students, 12 US Dual Citizen students, 9 US Permanent Resident students, and two US Citizen students who grew up abroad. There are 27 states and five countries represented. Additionally, 10% of our class will be the first in their family to attend college. Simmons College remains one of the most accessible, private institutions in the region as measured by the socio-economics of our entering classes.
Unfortunately, Simmons College does not have the financial wherewithal to meet the full financial needs of all students of color. We remain committed to helping all students find additional financial assistance.
We have just received funding for the creation of a position for student employment within Student Financial Services for the coming year (FY 18/19). Our intention is to have this individual meet regularly with members of student activities so all students are aware of who they are and their role in assisting with both work-study opportunities and managing a database of outside scholarship opportunities.
We were unable to complete another #SimsMatch event given staffing difficulties, however, we continue to regularly update the Scholarships@Simmons twitter account with outside scholarship opportunities that are available and applicable to our student population.
---
Simmons College FY17/18 DE&I Goal #7: Develop Strong Programming
Supports 2015 Ten Demand #2 - Simmons College has a culture of tokenizing students of color. We recognize that this makes students relive the trauma that they experience on a daily basis, sometimes at the hands of their peers and professors, which is why we demand institutional support for students of color, especially black students, in the face of trauma and other racial events on campus, nationally and in the world at large. This includes timely response to these events that facilitates healing for our communities.
Leads: Assistant Vice President, Diversity & Inclusion Lisa Smith-McQueenie, Director Multicultural Student Affairs Noha Edmohands, Chair of the Alumnae Association Diversity Committee Theresa Brewer and President of the AAAA Chanel Peters
Actions Taken:
We have offered many opportunities for community engagement around issues that involve diversity, equity and inclusion. They were:
Whose Streets?
This collaborative program included documentary screening and panel discussion of the Ferguson uprising following the murder of Mike Brown. Panelists from the Boston community led this important conversation about what democracy and justice look like.
Three Lies and a Truth: Toward a Just Democracy
Sayu Bhojwani, founder and president New American Leaders, based in New York City works across the country to build the power and potential of first second-generation Americans. This Friars Leaders Program:
Revolutionary Inheritance: Black Professionals and the Black Power Movement
Dr. Joyce Bell's talk examined the Black Power Movement in the U.S. looking at how Black Power shaped the professions and created frameworks and provided templates for challenging institutionalized racism.
Recognizing and Uniting Against Systemic Oppression: The Work Starts Here
The AAEB Diversity Committee in collaboration with SGA, hosted this workshop facilitated by Rebecca Jackson, MSW '09, Director of Community Learning and Racial Equity at the Trinity Boston Foundation. It was an opportunity for the Simmons ALANA community to engage in a discussion of issues of social justice and racism in a safe and liberated environment, and strategies to move toward dismantling injustices through action-oriented processes.
Understanding Implicit Bias
Presented by Christopher Dial of Harvard University, this educational seminar explored the science behind the unintentional mistakes that our brains make even when making big, important decisions, and how – without realizing it – our minds can lead us to behave in ways that don't align with our personal values.
Dr. Beverly Daniel Tatum Visit
Author of "Why Are All the Black Kids Sitting Together in the Cafeteria? And Other Campus Conversations about Race in the 21st Century." A full day of activities included a Student Lunch and Reception in the Multicultural Center; a Faculty Book Discussion; a Community Keynote, Book Signing, and Reception and a Dinner with college leadership.
Simmons Alumnae-ALANA Mentoring (SAAM) Program
The Diversity Committee of the Alumnae Association and the African American Alumnae Association recently launched a pilot-mentoring program for students of color (juniors). The program was developed with the goal of building and fostering meaningful and structured relationships between ALANA-identified
alumnae/i and ALANA-identified students.
The Black Alumnae/I Symposium
"The Power of our Presence: Celebrating the Greatness within Us" took place in April with more than 150 alumnae/I joined by students, faculty and staff participating in a weekend of renewal, enrichment, connection and celebration.
---
Simmons College DE&I Goal #8: Make D & I Prominent in Strategy 2022
Supports 2015 Demand #10 - We demand that all of these requests be addressed in the strategic planning for the college with a concrete timeline that is before the end of the Fall 2015 semester.
Leads: Provost Katie Conboy and Assistant Vice President, Diversity & Inclusion Lisa Smith-McQueenie
Actions Taken:
Simmons Strategic Plan - Strategy 2022
One of the five strategic goals in the Simmons College 2022 Strategic Plan is to make our community a warm, welcoming, inclusive place that appreciates, values, and respects the humanity, dignity, diversity, and contributions of all its members.
Many D E & I goals and tactics are identified in the Strategy 2022. We have made some notable progress on this goal this year with the help and commitment from faculty, staff, students, and administrators.
Here is D E & I content from Strategy 2022:
Foster a diverse, welcoming, and inclusive community. (Community Culture Redesign)
3.1. Establish leadership and responsibility for fostering diversity, inclusion and equity at Simmons College.
Establish and articulate a College diversity and inclusion philosophy, mission, and vision.
Develop a formal, universally accepted definition for diversity, inclusion, equity, and inclusive excellence at Simmons College.
Develop and finalize elements of the Diversity Strategic Plan as a part of Strategy 2022.
3.2. Create a campus climate, a welcoming culture, and clear policies to ensure that each member of our community experiences regard for their humanity, diversity, dignity, and contributions—and that there are clear protocols for action when policies are violated.
Clearly define diversity goals for faculty and staff hiring and for student recruitment.
Develop and implement a bias protocol for the College utilizing a bias response team structure.
Prepare and submit a proposal for Simmons Multicultural Center reflecting private university best practices.
3.3. Increase the knowledge and skills of faculty, staff, and students to meet the challenges and seek opportunities to build and sustain a diverse and inclusive community.
Decide on a shared baseline of knowledge about diversity and inclusion across the community and create appropriate educational training and experiential opportunities for faculty, staff, and students.
3.4. Review the curriculum and co-curriculum in order to enhance, develop, and implement programs and activities designed to foster inclusive excellence for all constituencies and enhance diversity in various forms.
Implement comprehensive approaches to address diversity and inclusion in the classroom and school experiences of students. Fill curricular gaps.
Revise student course evaluations to include feedback about the inclusion of D&I content and the student experience in the classroom environment.
3.5. Design and implement a comprehensive and collective system of responsibility, accountability, and recognition for all diversity and inclusion efforts to sustain a campus culture that promotes our values and mission.
Develop and implement an ongoing communication plan including updates to key constituencies.
Assess and track the progress of the College's goals for diversity and inclusion; evaluate the impact of initiatives as a part of the College's strategic plan and implementation.