Campus & Community
Technology, History, Art, Gender, and Class: Students Re-Envision Modern America (and the World) at the Simmons Undergraduate Symposium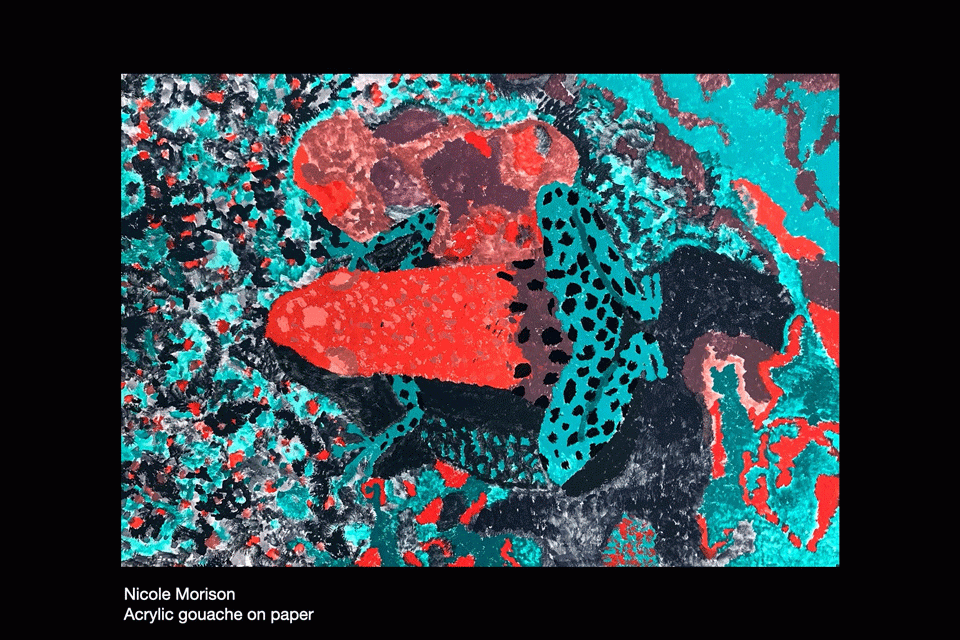 Undergraduate students across Simmons presented research projects and creative works in a dynamic day of live Zoom panel sessions and pre-recorded video presentations.
In a live presentation, Computer Science students  Chelsea Hua '24, Livic Inoa '22, Melat Ali '22, Nardos Alemu '24, Wanjing Li '22, Samin Charepoo '22, Ismah Ahmed '22, Tabitha Miles '22, Julia Hartnett '22, and Megan Willis '22 presented "Breaking Down Barriers in Human-Computer Interactions." Their projects ranged from creating a Siri/Alexa-like program able to automatically transcribe Amharic and Vietnamese; using technology to explore prosody (timing, intonation, tone, and other characteristics of human speech); and exploring Coding bootcamps as an alternative pathway to the Computer Science profession. 
Students Beatrice Crocker '24 and Georgia Harper '22 presented their research in French, exploring themes of violence, identity, sexuality, and power in Francophone literature. Presenting in Spanish, Julia Wilen '24, Chloe Crelia '22, and Estela Raya-Fouts '24 explored themes of exploitation and overcoming in contemporary Spanish literature and film. 
Winners of the 2022 Senior Keynote Speaker Awards were selected on the basis of compelling research demonstrating scholarly and imaginative engagement, representing an original contribution to the discipline with broader social, cultural, or human-centered implications.
Eliot Stanton '22 (Data Science), Binaries in Binary: Harmful Consequences and Radical Possibilities of Technology for Trans Liberation
Sara Mitchell '22 (Economics, Sociology), Access, Success, and Social Mobility: Rethinking Low-Income Student Access to Different Tiers of the Higher Education Market Following the Great Recession
Sumeya Ali '22 (Sociology), Nexus of Blackqueerness & Anti-Muslim Racism
Undergraduate students re-envisioned modern America with a series of historical research capstones, spanning from the late 19th century through the 1970's, focused on issues of gender and class. Anna Boyles '22 shared her research on the history of Jackson, Mississippi's Red-Light District; Maggie Clancy '22 focused on the importance of the country's National Parks; Lauren Howard '22 presented the perception vs reality of the use of tranquilizers by the middle class in the 1950's; Miranda Leclerc '23 researched the queer identity and Victorian aesthetic of Charlie Gibson in the 19th and early 20th centuries; and Madeline Short '22 explored the gender wage gap of teachers in Hillsborough County, New Hampshire in 1878-1890. 
Students presented the results of their Passionate Leaders Projects, which provides funding for global experiences, research, internships, service projects, and creative endeavors. Emma Keeling '22 explored approaches to domestic violence work; Beyza Erdem '22 reported on her experiments with focused ultrasound; Henna Haque '22 focused on the technology of food preservation; Maggie Clancy '22 researched methods for reusing laboratory plastic in biology experiments; Lauren Howard '22 researched party conflict in the Adams administration; and Shania Ambros '22 shared cultural knowledge through art.
The Symposium closed with two panel discussions. The first, "Pan-Africanist Women in History and Politics," emerged from the honors Learning Community on Black Transnationalism. Students April Beatty '25, Danielle Donovan '25, Kaz Gebhardt '25, Nyree Skye White '25 conducted final research papers on Pan-African women, drawing on their own original primary- and secondary-source research. These presentations shed light on a history and political-science scene too often dominated by men. The second panel, "Kids, College, and Costs: An Interdisciplinary Approach to Education in the 21st Century," presented by students Lauren Lanseigne '22, Sara Mitchell '22, Madison Poshkus '22, focused on the changes the 21st century has wrought upon American education, from financial crises, racial reckoning, and a global pandemic. These projects consider the ramifications of educational inequality, funding disparities, and significant cultural and economic events in schools across the country.