Student Story
Students Enter the Business World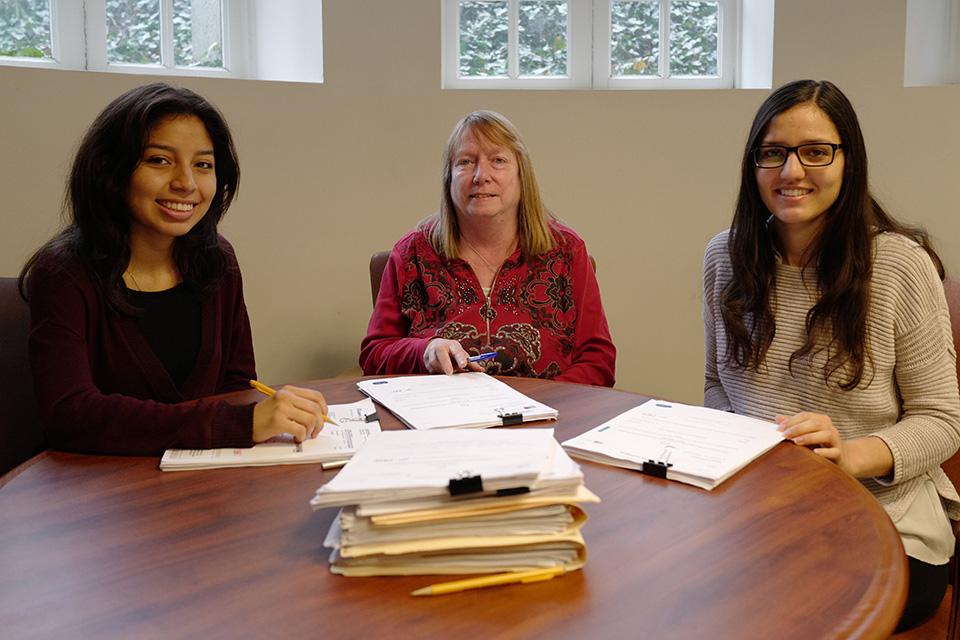 Simmons undergrads get early career experience with for-credit internships.
On the ground experience is vital for success — to ensure this, School of Business students are required to engage in an internship, and given the perfect opportunity to do so. Students register for the MGMT 370 Internship course to receive credit for their internships. In addition to 20 hours per week at their internships, Professor of Practice Cynthia Ingols teaches a course in career management principles and guides them to create a career e-portfolio.
Professor Ingols often introduces students to internship opportunities. Communities for People (CFP) has hosted at least one School of Business student each semester for the past several years. 
"I sit down and talk with a student," Ingols says. "If a student is a finance major and seems like a good fit with CFP, I'll introduce her to Mary Gregory." Ingols suggests students interview with Ms. Gregory at CFP, to make sure it's a good fit. "I like for students to consider what they expect they'll like or dislike about the work, the environment, and the people with whom they will work. I want the students to think about what they want before they accept an internship."
Mary Gregory, a manager at CFP, has worked with a number of Simmons students. "We have had a great experience working with Simmons students," Gregory says. "I have high praise for what Professor Ingols and all the faculty have done working with these students." When asked what makes Simmons students unique, Gregory reports, "They have a very strong work ethic. They have a great attitude about getting the most out of their internship. They are grateful when we teach them something new and they value our time."
Most students do two or three internships, starting with the for-credit internship in their junior year and another internship over the following summer. Ingols says, "Summer internships are almost always paid — which I think is important and companies are selective about whom they hire. In consequence, students get the experience of interviewing, negotiating, and working in a significant way."
What should students expect at their first internship?
In Fall 2018, finance/accounting major Mai Driesen '20 had an internship at CFP, working with Mary Gregory. She now has a paid internship at Marchon Partners. We asked Driesen about her first internship experience.
Can you tell us about your internship at CFP? What were your duties?
At CFP, my primary duties were assisting the accounting department as well as helping the CFO with tasks that were prioritized by urgency as well as seniority. Most of the time I was using Microsoft Excel, Microsoft Dynamics Great Plains, and Quickbooks to help with accounts payable, billings, accounts receivables, payroll, deferred revenue, general ledger and financial statements. I also helped them with their fall 2018 audit.
How did your coursework at the School of Business prepare you for this internship?
The School of Business helped me along the way. By supplementally taking the Internship course, Prof. Cynthia Ingols provided me with some great insight on what to expect in a new internship.
What are the most valuable lessons you learned from the experience at CFP?
That everything you learn can have an impact on your career. Specifically, when I entered CFP they told me that the software "Great Plains" was something nobody really knew about. I assumed it was pretty rare, and pretty niche, but it worked for me in a positive way. Learning Microsoft Dynamics Great Plains was one of the key factors that led to my current internship at Marchon Partners. I had a wonderful time at CFP, and the hands-on environment fostered my learning and proficiency with Great Plains, which led to a higher level, highly paid internship.
Will you do another internship before graduating?
Yes I plan on doing another internship before graduating. But for now, I'm most likely staying at Marchon Partners at least throughout the summer.
What is your advice to current and prospective students?
My biggest piece of advice for students is to make connections with anyone professionally — from professors, to career fair exchanges. And don't be afraid to use your connections when you're looking for your next opportunity.