Campus & Community
A Spotlight on Student Accomplishments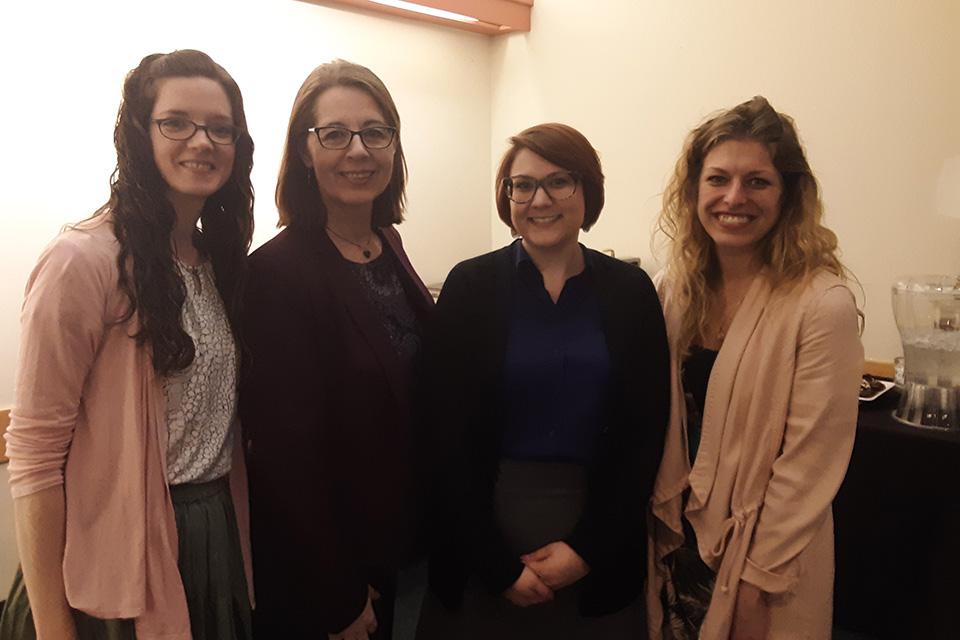 The School of Library and Information Science presented commencement awards to outstanding graduates.
On Wednesday, May 15, the faculty of the School of Library and Information Science (SLIS) celebrated the following outstanding students, chosen as recipients of the 2019 Commencement Awards. Faculty and staff were present to celebrate the accomplishments of these students.
 
Lindsay Christine Olson received the 2019 Kenneth R. Shaffer Outstanding Student Award. The award is given each year to a student whom the faculty has identified as outstanding and possessing great leadership potential. It honors Dr. Shaffer who served as director of the School for almost thirty years. In her role as the 2019 LISSA president, Lindsay has inspired others to get things done. She met with the leadership of each student organization to ensure they were getting the information and support they needed. Lindsay worked diligently to meet with the SLIS Alumni board to represent students, and to plan and promote the Jane Sanchez program. On top of this, Lindsay has maintained a strong grade point average and taken internships during her time as a student, thus preparing herself to be a true asset for any future employer. As an Archives Management concentrator, she is respected by faculty and colleagues. Her name has been imprinted on the Shaffer plaque that will be a part of the School indefinitely.  
Megan Piemonte received the 2019 Estelle Jussim Award for the Visual Arts. The Estelle Jussim Award is given each year to a graduating SLIS student who has demonstrated great promise in the visual arts. It honors Dr. Estelle Jussim, a faculty member who was a distinguished photographic historian and scholar. Megan received a B.A. in 2013 from the College of Wooster, with a double major in Art History and French. After several years in the workforce, Megan decided to pursue a degree in LIS with a focus on digital services and metadata management, particularly for non-traditional items encountered in the arts. These interests led to coursework at SLIS in such areas as Digital Libraries, Art Documentation, and a number of advanced courses in information organization. Megan currently works as a library assistant at Boston Architectural College, and as an Assistant Librarian at North Shore Community College.
Melinda "Molly" Wallner received of the 2019 Daniel Fleming Award for the Outstanding School Library Teacher Student. It is awarded to a Simmons graduate student enrolled in the School Library Teacher Program who has demonstrated academic excellence, outstanding achievement in the school library teacher practicum experiences, leadership, and service — all qualities associated with its beloved and highly esteemed dedicatee, Daniel Fleming. Molly was described as an obvious choice for the award by Associate Professor Melanie Kimball, who cited her excellent assignments and valuable contributions to class discussion. Molly was lauded for her intellectual curiosity, ability to problem-solve, and passion for working with children.    
Megan Ondricek received the Terry Plum SLIS West Leadership Award. This award, previously called the LIS West Campus Leadership Award, was first presented in 2004 by the LIS faculty and administration at SLIS West to an outstanding student in the SLIS west campus who best exemplifies the leadership values of academic excellence, community building, services, and commitment to the success of other students and the program. The award is now named in honor of former LIS West Director Terry Plum, whose kind and thoughtful leadership guided the program for over ten years. As the first winner of this award since it was named for Terry, Megan Ondricek exemplifies these traits. A high achiever academically, Ondricek always went out of her way to ensure that new students felt welcomed and part of our community. She has also completed an internship and presented at the Connecticut Library Association Conference and the Massachusetts Library Association Conference.
Philip Coombs received the 2019 Outstanding Information Science Student Award. The Simmons Student Chapter of the Association for Information Science & Technology awards an annual prize for service to the chapter and academic achievement in information science. As the co-chair of the Simmons ASIS&T student chapter during 2017-2019, Philip coordinated several successful events and connected Simmons ASIS&T to the local community by donating a part of the budget to the Tufts Girls of Code, a local nonprofit organization founded by a Simmons alum. The donation supported a workshop for girls and other individuals who are frequently underrepresented in computer science.