Campus & Community
Speaking Up and Out: Women Reshaping the Media Narrative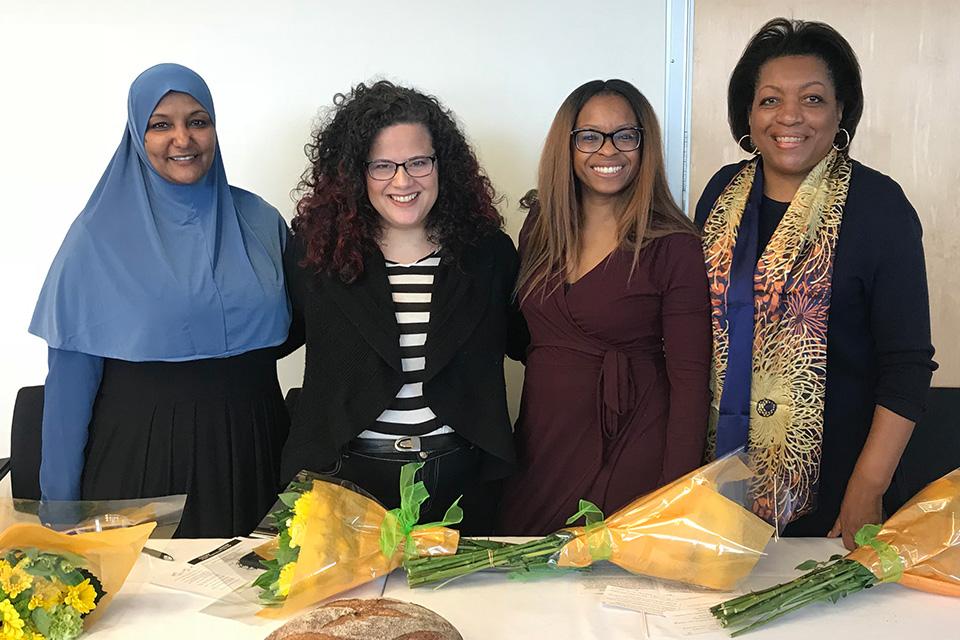 At Simmons we are raising the voices of women and ensuring that these voices are heard.
Simmons Community Engagement hosts the 21st Annual International Women's Day Celebration.
On Friday, March 16, Simmons Community Engagement hosted the panel discussion, "Speaking Up and Out: Women Reshaping the Media Narrative" in honor of International Women's Day. 
"At Simmons we are raising the voices of women and ensuring that these voices are heard," said Diane Hammer, Director of Community Engagement, as she kicked off the event. This apt statement laid the foundation of the overall discussion, which focused on the challenges that women continue to face in today's media and the increased need for female change agents within the industry. 
Karen Holmes Ward, Director of Public Affairs and Community Services as well as host and executive producer of WCVB-TV's CityLine, moderated the discussion. A well-known journalist and community advocate, Ward stressed the importance of becoming an "informed consumer" of the news, rather than a "passive viewer." 
Other panelists included Dr. Nada Mustafa Ali, Visiting Associate Professor in the Women's, Gender, and Sexuality Studies Department at the University of Massachusetts Boston; Jaclyn Friedman, a veteran activist, author and founder of Women, Action & the Media (WAM!); and Danielle Johnson, Broadcast Manager at GRLZ Radio, a Dorchester based program for middle and high school girls where broadcast journalism is used as a catalyst for social change. 
Dr. Ali, author of Gender, Race and Sudan Exile Politics: 'Do We All Belong to this Country?, spoke about the need for diverse female representation in all aspects of the media industry, from onscreen portrayals to the technology behind it. She also stressed the importance of thinking critically about these portrayals in order to become fully informed about the spaces women inhabit within the media. 
Friedman echoed Dr. Ali's statements and urged consumers to "give your attention purposefully." She explained that media mergers are becoming increasingly prevalent, therefore only a small number companies control the outgoing messages. In order to ensure that all voices are heard, Friedman encouraged attendees to push for a more balanced media ecosystem. "Your clicks [online] are your vote," she said. "Are you giving your attention to the thing you want to see more of?"
In addition to consuming media with purpose, Johnson recommended that women create their own content. "Young voices are shaping today and tomorrow's media," she explained. "By encouraging women to continue to create the content on their own platform, they will have full control." 
As the event came to a close, Friedman offered attendees a practical application of the event's discussion: "If reshaping the media seems too large, narrow it down until you have a small slice that doesn't feel overwhelming. Movements need followers too. Paralysis is the enemy here."