Campus & Community
Singing the Song of Simmons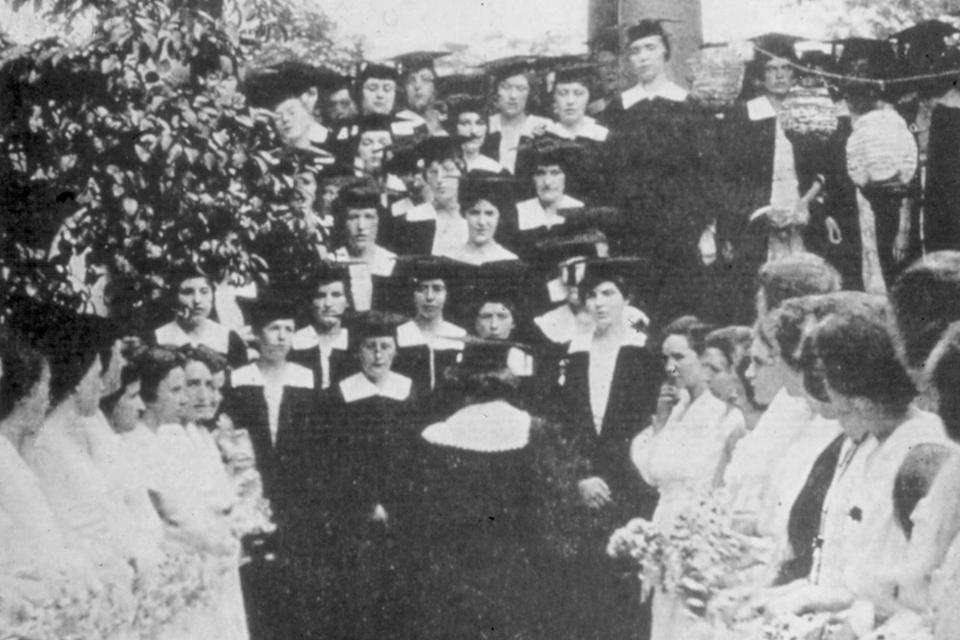 Do you know the lyrics to this iconic Simmons tune?
As Simmons seniors prepare to graduate this week, one Commencement tradition is waiting to be heard once again: the song "Forward, Ever Forward," by Beatrice L. Gilman and Ruth Scully, Class of 1920. Simmons faculty, students and many proud family members will sing this unique Simmons song as they celebrate the milestone of graduation. 
Celebrating through song is not a new tradition to the Simmons community. Pictured above is the Class of 1918 singing on the steps of the Colonnade — 100 years ago!
In the 1935 Simmons Songbook, Simmons President Bancroft Beatley said it best, "We all sing because we must, and especially when we gather together. In this way we express our feeling and pass on our love to the newer members of the group. It is fortunate for Simmons that she has students and alumnae who prize her songs and have the will to preserve them. To them we are deeply indebted. We shall often express our gratitude by singing because we must."
How well do you know the words to "Forward, Ever Forward"? 
Forward, ever forward, gaily swing along.

Ev'ry heart quick pulsing with a love for Simmons strong.

Tread your troubles underfoot and leave them all behind,

with ideals of service glad ever in your mind.

Forward, ever forward, backward never turn.

Life and love and hope before us, brighter fame to earn.

Cast your doubts and fears far from you, full of courage high.

Keeping Simmons in your hearts as you're marching by.