Campus & Community
Simmons University's 117th Commencement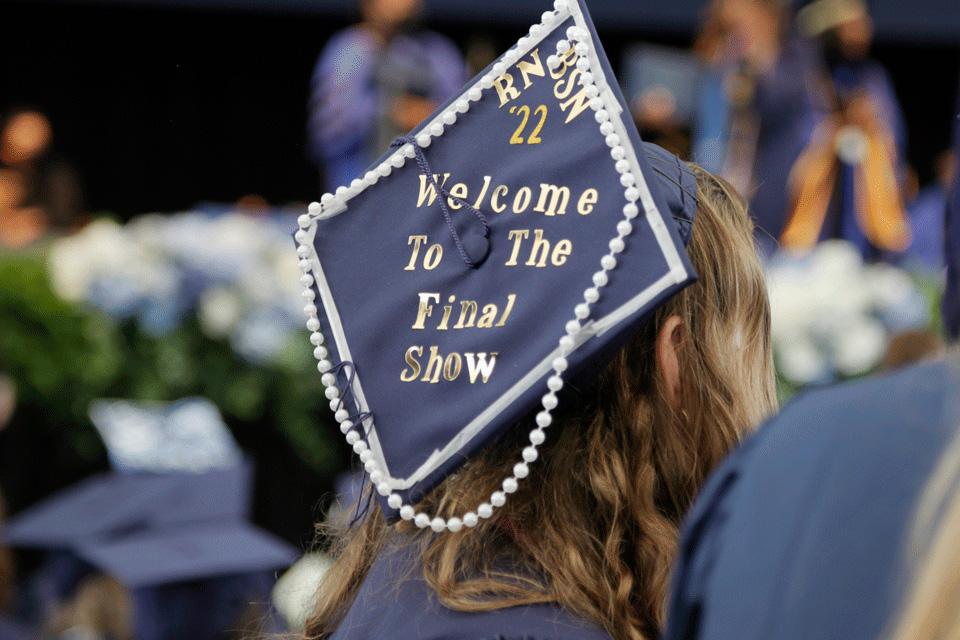 Congratulations to the Class of 2022!
On Friday, May 20, 2022, Simmons University celebrated the 117th Commencement Ceremony at the Leader Bank Pavilion in Boston's Seaport District. The many accomplishments of the Class of 2022 were celebrated at the annual undergraduate and graduate ceremonies–the first in-person ceremonies since 2019. Simmons awarded more than 350 baccalaureate degrees today and will have awarded nearly 1,800 graduate and undergraduate degrees during this academic year.
Undergraduates waved to family and friends as they processed into the Pavilion, many wearing mortar boards wreathed with flowers and decorated with messages: "Nurse Emily BSN" and "Welcome to the final show." They were followed by the faculty, in robes of black, blue, red, brown.
Initial greetings were offered by Bert Ifill, Vice Chair of the Board of Trustees at Simmons, who remarked on the wonderful history of 117 years of Simmons graduates, and the unique challenges faced in recent years. "The class of 2022 did not have the college experience that we all planned or expected. But your perseverance, your grit, your leadership in the face of a global pandemic, that was unprecedented – yes, not just in your lifetimes, but in the lifetimes of all of us together. Your leadership, your example, has made Simmons work better. And as you go out into the world for your adventures, you will help the world work better. So we salute you."
Simmons University President Lynn Perry Wooten recognized students for their scholarship, service, and enthusiasm. "You are smart, idealistic and successful," Wooten said. "Each of you demonstrates everyday leadership, and you know what I say, the world needs you right now. Those characteristics, combined with your Simmons degree, will serve you well as you continue your studies or begin your careers. I know you will do well, do good, and be part of the change you want to see, and create a better future for all of us."
The ceremony also featured a student address delivered by Emma Keeling '22 and a spoken word performance by Hailey Tran '22. Honorary degrees were awarded to Professor Emeritus Dana Chandler and Boston human rights icon Mel King, who thanked the assembled crowd in pre-recorded messages.
The commencement address was offered by documentary filmmaker Dawn Porter, who was granted an Honorary Doctor of Public Arts. Porter began by recalling the mix of excitement and sadness that she experienced upon her own graduation from Swarthmore College, encouraging the Class of 2022 to lean into the uncertainty of the future. "So I want to begin by saying you can all breathe out, even in your masks, you can breathe out," Porter said. "Whatever you are going to do tomorrow is not necessarily the thing that you will do for the rest of your life, so enjoy whatever it is you are going to do after this marvelous day."
Sharing her experiences creating documentary films that cover topics from mental illness to civil rights to the U.S. Presidency, she encouraged graduates to tell their own stories. "You all have stories and I'd encourage you to share them, to share the real parts of yourself that you may not put on TikTok, but you know is the real you. Because when you share that real vulnerable person, that is where true connections are made. We need those connections to sustain us when things are difficult."
She shared the words of John Lewis, reminding the audience that "we can't just look toward our politicians and our leaders to make the change that we want. It's incumbent upon all of us. And change is hard and calling out things that make you uncomfortable is hard, but that's the responsibility we bear to the people that we love, so I hope that you all will find your ways, large and small, to get into some good trouble whenever you can." She noted that there are ways to contribute to issues that matter to you, beyond physical protests. "Whatever feeling you have, whatever contribution you make, I hope you will take the time to make it."
Simmons University, which offers the only women-centered undergraduate program in Boston and numerous nationally recognized graduate programs open to all, also presented several awards in the events leading up to Commencement, and the ceremony itself.
The Joan Melber Warburg, '45 Leadership Award, which recognizes a member of the senior class who exemplifies the highest ideals of leadership, was awarded to Cassidy Clark '22, in recognition of her extensive service-oriented leadership during her studies at Simmons. In addition, the 2022 Alumnae Honor Award was presented to Sarah Mitchell '22 in an earlier Senior Week celebration.