Announcement
Simmons University School of Social Work Faculty Member Named Distinguished Educator of the Year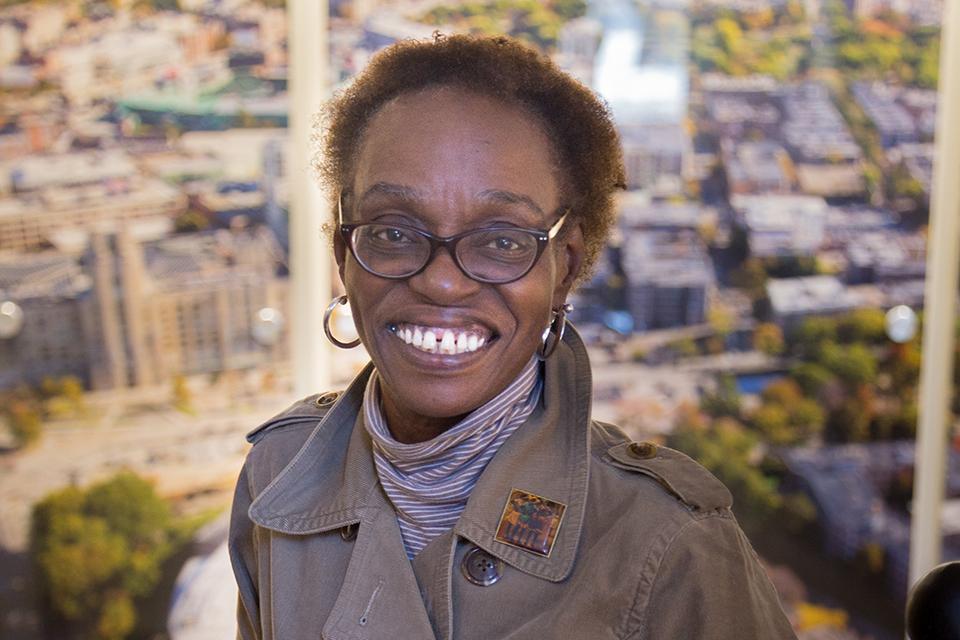 National Association of Black Social Workers recognizes Dr. Johnnie Hamilton-Mason with Distinguished Educator of the Year award.
Simmons University proudly announced today that Dr. Johnnie Hamilton-Mason has been presented with the Distinguished Educator of the Year award by the National Association of Black Social Workers.
Dr. Hamilton-Mason, Ph.D., MSW, is a professor and Eva Whiting White Endowed Chair at Simmons University's School of Social Work, where she teaches a variety of courses – from "Advanced Clinical Practice" and "Political Strategies for Clinical Social Workers Practice" – to "Practice with Immigrants and Refugees," and "Realities of Racism and Oppression" and "Qualitative Research."
"Dr. Hamilton-Mason is a tremendous scholar, researcher and educator, and I can't think of anyone more deserving of this honor," said Dr. Stephanie Berzin, Dean of Simmons University's College of Social Sciences, Policy, and Practice. "At Simmons University, we're proud of our leadership in offering a world-class education rooted in the latest research and best practices, and we're grateful to be able to draw upon such as a talented, passionate and committed group of faculty members."
As a practitioner, researcher and scholar, Dr. Hamilton-Mason's passion lies with serving underrepresented populations and communities. Her scholarship and research interests center on African American women and families, the intersection of cross cultural theory and practice, and HIV/AIDS prevention and treatment. She has more than two decades of full-time teaching experience, and continues to enhance her teaching through clinical practice in urban agencies, as well as through consultation and education locally and internationally.
Dr. Hamilton-Mason is a reviewer for Health and Social Work and the Journal of Social Work Education. She is also a Board of Trustees member for Research Education Collaborative for Al Quds University and the Heritage Guild. Previously she served as the Co-Chair of the Council on Social Work Education's (CSWE) Council on the Role and Status of Women in Higher Education. She was also co-Chair of the HIV/AIDS Task force for the National Association of Black Social Workers, and was a Harvard University W.E.B. DuBois Institute non-resident fellow in African American research. In addition, she has served as a researcher at the University of Texas's Hurricane Katrina Researcher Collaborative.
Dr. Hamilton-Mason presents papers regularly at national and international conferences on a variety of topics, including teaching and learning issues related to diversity, HIV/AIDS prevention and treatment in the United States and Africa, urban practice and urban leadership educational outcomes, and cross- cultural competency and racial identity theory in clinical work. She is the author of numerous publications, including "Systemic Racism in the United States: Scaffolding as Social Construction," "Working with African American Families," "Hope Floats: African American Women's Survival Experiences after Katrina," "Black Women Talk about Workplace Stress and How They Cope," "Using the Color of Fear as a Racial Identity Catalyst," and "Children and Urban Poverty," among many others.
Past recognitions include the Feminist Scholar Award from the Women's Council of CSWE, the Sankofa Award for Community Development from the Greater Boston ABSW, and Massachusetts NASW Social Work Educator of the Year Award.
From 2004 to 2007, Dr. Hamilton-Mason served as Director of the Doctoral Program at the Simmons School of Social Work. In 2005 she co-founded the Simmons School of Social Work's Pharnal Longus Academy for Undoing Racism. She currently resides in Hyde Park, Massachusetts.
Home to the oldest school of clinical social work in the country, Simmons has more than a century of experience educating social workers who are equipped to serve urban, suburban, and rural communities and assist individuals and families in working to overcome the barriers to health and well-being. Simmons also offers the only MSW program in Massachusetts with a required course in substance use disorders for all first-year students. In addition, the Simmons MSW is the only program in New England to use hired actors as part of its innovative Simmons Clinical Simulation curriculum.