Announcement
Simmons University Celebrates the Class of 2021 with Commencement Speaker US Representative Ayanna Pressley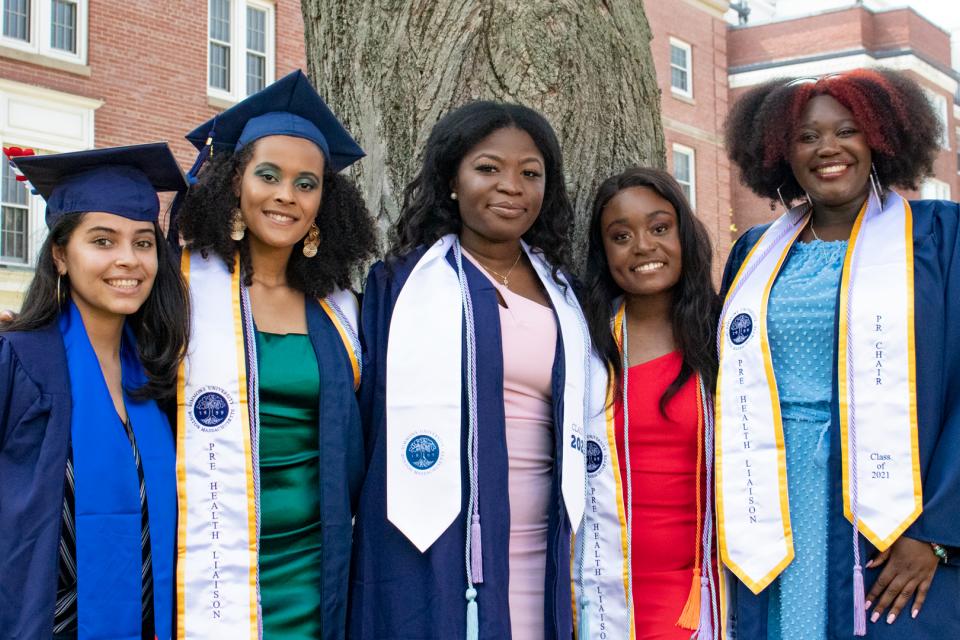 I hope your time at Simmons has challenged you, emboldened you, supported you, cultivated your genius, affirmed your beauty, and helped you settle deeply into your purpose and convictions as you head into the next chapter of your journey.

- US Representative Ayanna Pressley
Congratulations to the Class of 2021!
Simmons University today celebrated the many accomplishments of the Class of 2021 during annual undergraduate and graduate commencement ceremonies. The institution will award nearly 400 baccalaureate degrees this month and more than 2,000 graduate and undergraduate degrees this academic year.
On Friday, hundreds of students and their families participated in the livestreamed undergraduate and graduate commencement ceremonies – the 116th commencement in Simmons history. Students wore regalia, turned on their camera feeds, and celebrated with family and friends, and pets as their names were read.
Simmons University President Lynn Perry Wooten recognized students for their hard work, resiliency, and perseverance during one of the most challenging periods in recent history and expressed optimism about the future.
"It takes a tremendous amount of passion, determination, and courage to carve out a career and a life's path that has purpose and meaning," Wooten said. "The Class of 2021 has a strong sense of purpose, sharpened and strengthened even more during this unprecedented time. I hope that you will embrace the potential of the unknown and take advantage of the unexpected opportunities that will most surely arise as a result of your hard work and dedication."
The ceremony also featured inspirational remarks from US Representative Ayanna Pressley (MA-07), who was granted an Honorary Doctor of Laws and gave the commencement address. She commended students for the strong, caring, and inclusive community they built during their time at Simmons. She also urged graduates to enjoy this moment of joy and accomplishment, and then continue the work of building a better future together.
"I hope your time at Simmons has challenged you, emboldened you, supported you, cultivated your genius, affirmed your beauty, and helped you settle deeply into your purpose and convictions as you head into the next chapter of your journey," Representative Pressley said. "The greatest deficit in this country is not measured in dollars and cents, but in our ability to empathize with our neighbors. Your lived experiences and your instruction here at Simmons have prepared you to exert your moral influence – regardless of the career you pursue. As we grapple with this country's legacy of racial injustice and the long road of recovery from this global pandemic, we need all of you."
Simmons University Board of Trustees Chair Regina M. Pisa congratulated graduating students and recognized members of the community who have lost loved ones to COVID-19.
"Even in these difficult days, where social distancing means that the handshakes, hugs, and claps on the back we'd like to be sharing today are not possible, we feel those personal connections," Pisa said. "The spirit of celebration has carried across one hundred and sixteen years of Simmons graduates. It is a wonderful history."
Simmons University, which offers the only undergraduate program for women in Boston and numerous nationally recognized graduate programs open to all, also presented several awards during commencement.
The Joan Melber Warburg, '45 Leadership Award, which recognizes a member of the senior class who exemplifies the highest ideals of leadership, was awarded to Chiara Beauvais. In addition, the 2020 Alumnae Honor Award was presented to Sarah Carlon. Sixteen students received 2020-2021 President's Recognition Awards that included scholarship grants up to $10,000.