Campus & Community
Simmons Professors Confront Fake News with Misinformation Symposium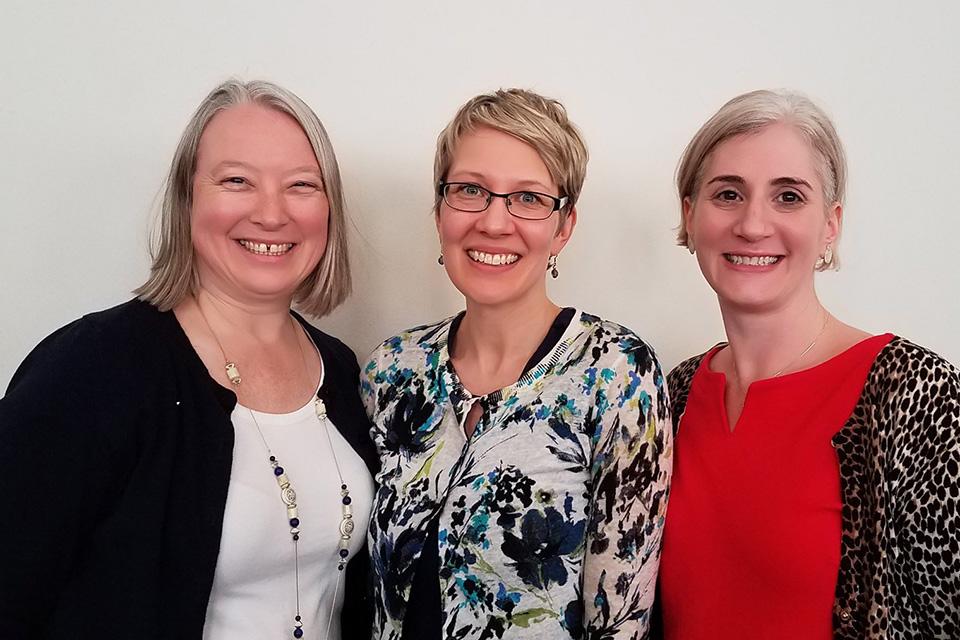 Associate Professor Laura Saunders and Senior Lecturer Rachel Gans-Boriskin convene a symposium for their research project.
On April 21-22, a Symposium of nearly 80 academics and professionals from library science and the allied fields of journalism, communications, and education gathered at Simmons to confront the challenges of mis- and disinformation in an era of fake news and post-truth. Symposium participants analyzed and compared the practices, values, standards and research across the professions related to questions of authority and trust, and discussed the role of the library as a living laboratory to integrate best practices across fields for collective impact to support patrons in engaging with, evaluating, and understanding mis- and disinformation. 
The Symposium was funded by a National Forum grant from the Institute of Museum and Library Services, granted to School of Library and Information Science Associate Professor Laura Saunders '01MS, '10PhD, Communications Lecturer Rachel Gans-Boriskin, and Professor Lisa Janicke Hinchliffe (University of Illinois at Urbana Champaign) for their research project, "Know News: Understanding and Engaging with Mis- and Disinformation." We asked Prof. Saunders some questions after the successful symposium.
How can LIS Professionals respond to "mis- and disinformation"?
Librarians can use their expertise in research and evaluating sources to help identify trustworthy information, to create guides to trusted sources, and to teach people how to evaluate information for themselves by helping them learn news and media literacy skills. We don't have to work alone—part of the point of the symposium was to think about how we can work across fields including journalism, education, and the tech sector to find solutions. My new saying is that the solution has to be "neither just the human nor the bot"—I think it makes sense to find some algorithmic and AI developments to help with the problem, but we can't let that replace critical thinking, which has to be taught and practiced at all levels.
How much of this type of information do you imagine we each encounter in a day?
It depends on what sources we tend to follow but, especially if rely a lot on social media platforms, we're running into fake news, and mis- and disinformation all of the time.  According to some recent articles: 
"Craig Silverman of Buzzfeed News tracked the engagement on social media of the top fake news stories against the top stories from established news outlets like the New York Times and the Washington Post in the final 3 months of the 2016 election to show just how deeply the fake news stories penetrated (Silverman, 2016). According to his analysis, the top 20 fake news stories generated 8,711,000 likes, shares, comments and other reactions on Facebook, while the top 20 major news outlet stories garnered 7,367,000 reactions, showing that the fake news stories well out-performed stories from major news outlets. According to one estimate, as many as 126 million Americans may have been exposed to fake news content created by Russian hackers in the two years around the 2016 election (Volz & Ingram, 2018)."
Who attended the symposium? 
The symposium included 79 librarians, journalists, faculty from both fields, and "allied professionals" which included researchers, museum educators and people from the tech sector. You can see the Bio book profiling who attended on the project website. 
How will the ideas generated at the symposium be shared?
The White Paper has been posted to the Know News website. We'll be doing conference presentations, including one at LOEX on May 5th, and possibly also submitting articles for publication. We are also exploring creating an online group for symposium attendees to connect and continue conversations, and possibly hosting monthly Twitter chats.
Do you foresee any next steps for implementation?
The symposium resulted in nine specific idea proposals. Part of the next steps will be to decide which proposal(s) we want to follow up on, who wants to be involved in implementing them, and then looking for funding.
Recent media coverage of the symposium: