Announcement
Simmons Hosts Inaugural University Advisory Council Meeting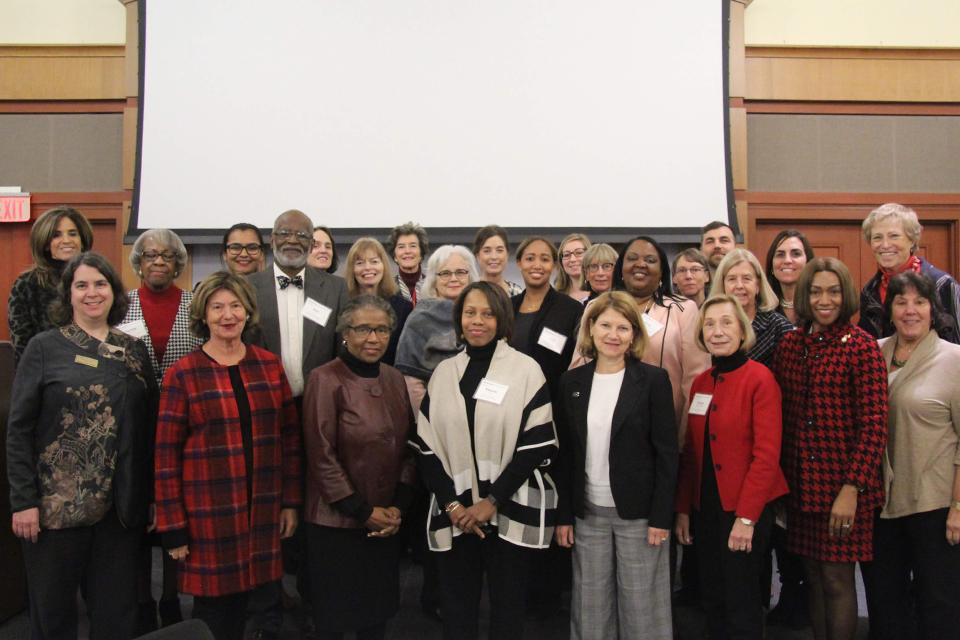 Simmons recently welcomed alumnae/i and other interested, influential leaders to campus for the inaugural meetings of the newly launched Deans' Advisory Councils for each of the University's four Colleges. They collectively serve as the University's Advisory Council.
Advisory Council members have been invited to help the University and its Colleges expand and further enhance Simmons' programs and their reach. As envisioned, each Dean's Council will include 10 to 25 members, according to Krissy Raposa, director of alumnae/i and volunteer engagement in the Office of Advancement. The Councils will meet on campus each fall and spring.
"Members of the Councils bring to Simmons professional expertise and leadership experience that will help shape the future direction of our Colleges and the University as a whole as well as the impact we continue to have on society," says President Helen Drinan '75MS(LIS), '78MBA.
In welcoming remarks at the December 5 University Council meeting, President Drinan described how council members are carrying forward Simmons' founding mission. Provost and Senior Vice President Katie Conboy highlighted how they can contribute to new interdisciplinary and interprofessional possibilities created by Simmons' recent academic redesign. Research presentations by faculty/student pairs from each of the Colleges demonstrated the potential.
Earlier in the day, the Advisory Councils for the four Colleges met with the respective deans: Dean Lepaine Sharp-McHenry of the College of Natural, Behavioral, and Health Sciences; Dean Marie desJardins of the College of Organizational, Computational, and Information Sciences; Dean Stephanie Berzin of the College of Social Sciences, Policy, and Practice; and Dean Brian Norman of the Gwen Ifill College of Media, Arts, and Humanities.