Campus & Community
Simmons Homecoming 2022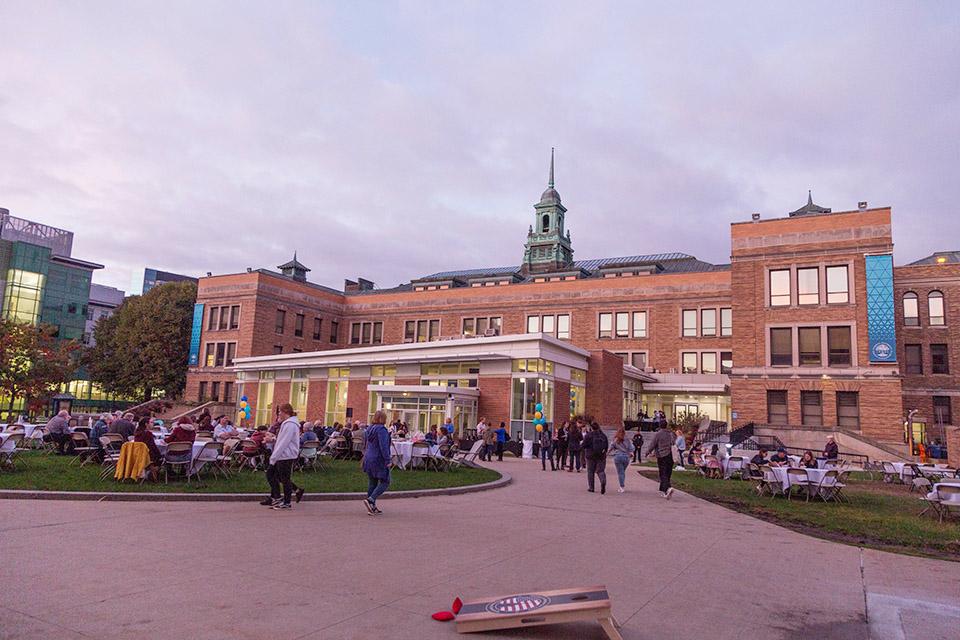 Recently, Simmons hosted Homecoming 2022, from Friday, October 14 to Sunday, October 16, offering students, their families, and alumnae/i an opportunity to connect with each other, and with the Simmons community.
Homecoming offered attendees a clear picture of Simmons, past, present, and future. University Archivist Jason Wood offered a presentation of the history of Simmons, and President Lynn Perry Wooten presented a State of the University Address. In addition to food trucks and student performances, campus tours were offered, including visits to the newly launched Nursing Simulation Lab, which features a simulated medical/surgical room, Emergency Room, ICU, and Birthing room, each equipped with medical mannequins.
"We're happy to be able to provide a different experience this year, one that is engaging, inviting, and in-person," Julia Hvoslef, Director of the Jennifer Eckert Center for Leadership and Engagement. "Our bottom line is that we are creating an opportunity for connection, whether people attend one Homecoming event or twelve, this is their opportunity to reconnect and enjoy the beauty of Boston and New England in the fall."
Krissy Raposa, Director of Alumnae/i and Volunteer Engagement, shared her thoughts on the value of Homecoming: "Our vision was to unite the community as one Simmons family in a fun, festive celebration, while also showcasing what it means that when Simmons leads, the world works better. We look forward to enhancing future programming with expanded collaborations and further input from participants."
Homecoming offered special programming for parents, including how to navigate the changes they may see in their now college-age kids, and a glimpse into studies at Simmons through a poetry class led by Assistant Professor Patrick Sylvain. In addition, students and their families could attend a cooking demonstration, a yoga class at the Sports Center, a tour of the Trustman Gallery, and pumpkin painting on the Residential Campus Quad. Student Affairs offered an event for first generation students to visit the Station at the Fenway, a creative meeting space, and all attendees were invited to the Student and Alumnae/i Business Fair, which featured businesses owned by Simmons students and alumnae/i.
For alumnae/i, the event offers an opportunity to return to the Simmons campus and tour the new facilities, reconnect with classmates, immerse in the student experience of today, and enjoy gorgeous autumn days in Boston. The weekend included Reunion celebrations for the Class of 1967, the Class of 1972, and the Class of 1997, an Executive Board Meeting of the Alumnae/i Association, and an Alumnae/i panel discussion on improving health equity and access, presented by the Latinx Affinity group in honor of Hispanic Heritage Month. All attendees were invited to sign up for a special Boston Harbor City Cruise and a Duck Boat Tour.