Announcement
Simmons Appoints Four New Deans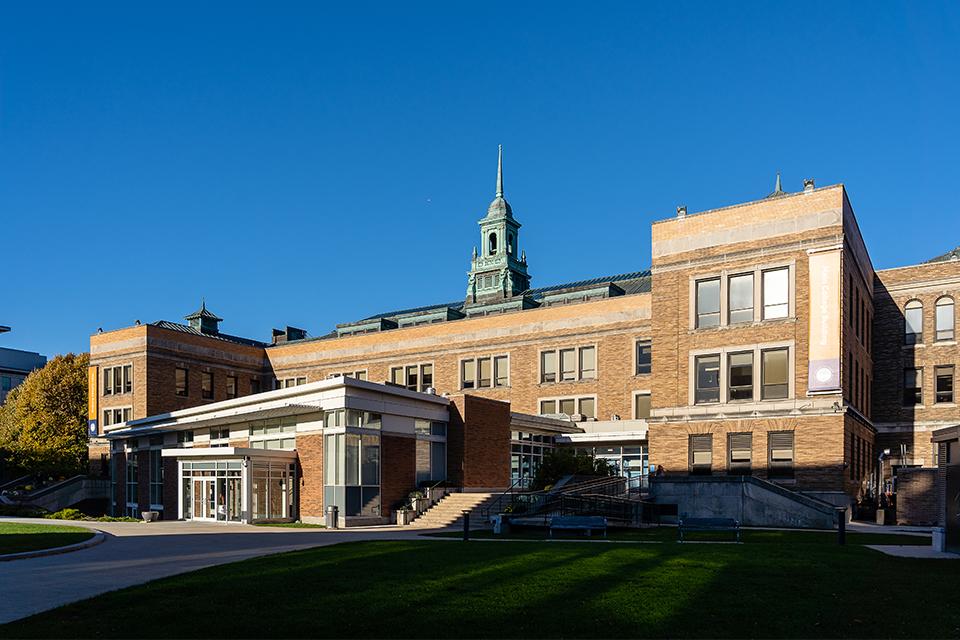 We're proud to announce four inaugural deans to lead four newly organized colleges.
Simmons, one of the first institutions of higher education in the United States to focus on preparing women for leadership, is naming four inaugural deans to lead four newly organized colleges. This move is the culmination of a visioning and academic redesign process begun in 2013 focused on building collaborative and interdisciplinary learning opportunities, enhancing professional preparation, and providing flexible undergraduate to graduate school pathways.
Since beginning the redesign work, Simmons has experienced record enrollments in its undergraduate program for women and a doubling of enrollments in its graduate programs, which are open to all. Simmons has also launched an international version of its successful women's leadership conference, and in 2015, Simmons completed the largest fundraising campaign in its history.
"When I became president ten years ago, we knew we had to better prepare students for a more complex and interconnected world, life, and workplace," said Helen G. Drinan, President of Simmons. "As a women's college built on a history of challenging traditional roles and barriers to equity, Simmons is more relevant than ever for today's student."
Under the leadership of Simmons Provost Katie Conboy, Ph.D., the new colleges were formed to emphasize signature Simmons strengths. The new deans will collaborate with the Provost and each other in an academic structure designed to combine disciplinary preparation with interdisciplinary emphases, inter-professional approaches, and attention to rapidly evolving fields of study and practice.
Together, the four new colleges reflect Simmons' commitment to a culture of inclusive leadership, social justice, global perspective, and civic engagement. Several of Simmons' well-known professional schools—the School of Nursing, the School of Social Work, the School of Library and Information Science, and the School of Business—will be housed inside the interdisciplinary colleges along with other existing departments and programs.
Our Deans
Judy Beal, DNSc, RN
Dean of the College of Natural, Behavioral, and Health Sciences
Dean Judy Beal has led Simmons' School of Nursing and Health Sciences since 2011. An engaging teacher, widely published scholar, and frequent public speaker, she has held significant leadership roles at Simmons and in her professional organizations. Dean Beal pioneered the successful expansion of Simmons's Master of Family Nurse Practitioner program to the online environment and oversaw the astonishing growth of that program. She then added the RN-to-MSN and the DNP to Simmons' online portfolio with 2U. She has built strong programs in nutrition and physical therapy—as well as international partnerships in Egypt, Saudi Arabia, Bangladesh, and Israel. She has been a Robert Wood Johnson Executive Nurse Fellow and is currently a Fellow in the American Academy of Nursing and the President-elect of the American Association of Colleges of Nursing.
---
Stephanie Berzin, PhD
Dean of the College of Social Sciences, Policy, and Practice
Dr. Stephanie Berzin is currently Assistant Dean for the Doctoral Program in the School of Social Work at Boston College (BC). Dr. Berzin joined the BC faculty in 2006. She co-led the curriculum redesign and the development of a strategic vision around social innovation, social entrepreneurship, leadership, and resource development in BC's School of Social Work. She serves as co-director of the BC Center for Social Innovation, which works to build the evidence-base for social innovation, prepare tomorrow's social sector leaders, and promote the capacity of existing agencies to respond to social issues. Dr. Berzin also works with social sector leaders to develop their innovation skills both locally and abroad. Oxford University Press recently published her book, Innovation From Within: Redefining How Nonprofits Solve Problems (2018).
---
Marie desJardins, PhD
Dean of the College of Organizational, Computational, and Information Sciences
Dr. Marie desJardins is currently Associate Dean of Academic Affairs in the College of Engineering and Information Technology, and Professor in the Department of Computer Science and Electrical Engineering, at the University of Maryland, Baltimore County (UMBC). Prior to joining the UMBC faculty in 2001, Dr. desJardins was a senior computer scientist at SRI International in Menlo Park, California. Her research is in artificial intelligence, focusing on the areas of machine learning, multi-agent systems, planning, interactive AI techniques, information management, reasoning with uncertainty, and decision theory. She is a prolific scholar, an award-winning teacher, and a mentor who has received national recognition for advancing women in computing. She is also active in the CS education community and chairs the Maryland Steering Committee for Computer Science Education.
---
Brian Norman, PhD
Dean of the Gwen Ifill College of Media, Arts, and Humanities
Dr. Brian Norman is a scholar of American and African American literature, professor of English, and academic administrator who most recently served as Associate Vice President of Faculty Affairs and Diversity at Loyola University in Baltimore, MD. He has taught a wide range of courses in literature and culture, and he founded Loyola's program in African and African American Studies. His research projects engage with questions of identity, belonging, justice, and the relationship between literature and social change. Dr. Norman is a distinguished scholar who has written or edited several books; his most recent are Neo-Segregation Narratives: Jim Crow in Post-Civil Rights American Literature (U of Georgia Press 2010) and Dead Women Talking: Figures of Injustice in American Literature(Johns Hopkins 2013) and is on the editorial board of the James Baldwin Review. He is currently spending his sabbatical as a research fellow at the Dresher Center for the Humanities at University of Maryland, Baltimore County (UMBC).