Alumnae/i Feature
Simmons Alumna Shares 5 Tips for First Generation Students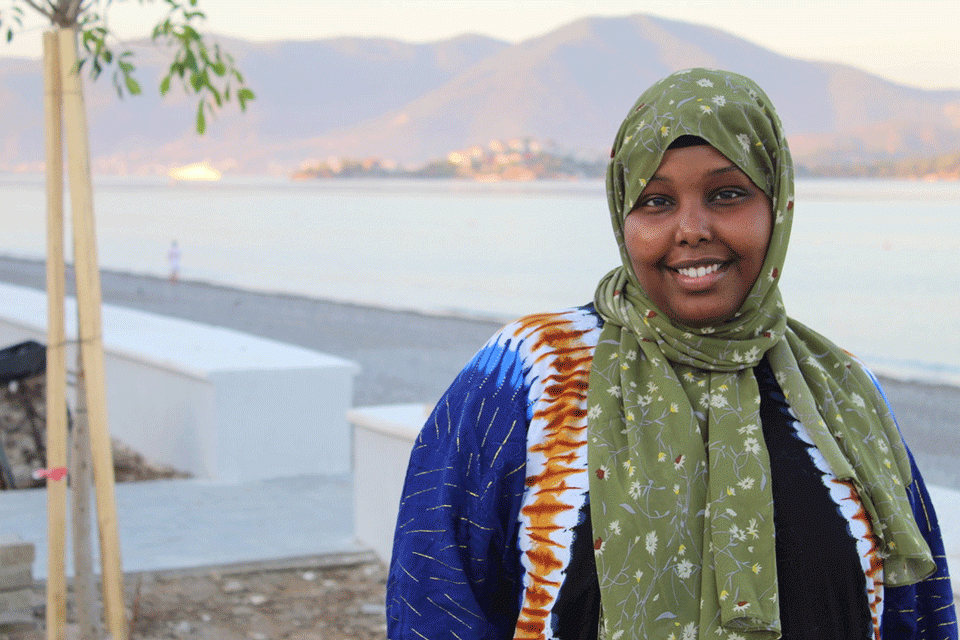 Simmons takes pride in giving students the real-world skills and experiences they need to thrive in the workplace. For recent grad Shukri M. Mohamud '21, her Simmons education has served her well post-grad. "Simmons prepares you to network and communicate," says Shukri M. Mohamud. "The faculty help you build the confidence that you need to bring into the workplace." 
Mohamud, who majored in business management and information technology at Simmons, recently started a position at Wellington Management as a Systems Analyst. In this role, Mohamud uses different processes and technology to analyze data and implement it into different information systems. "We meet with our business counterparts, talk about their needs, and figure out a program or system we can build for them," she says. "We develop a blueprint of what they need, in communication with the development team, then create code to bring this vision to life. Then we test the system for bugs before sending it back to the client for approval." 
Mohamud is also part of the Investment Technology Associate program at Wellington, which fosters new talent at the company by placing new hires in a team where they get to know the company and develop skills for navigating a professional position. "So far, I feel comfortable here" says Mohaumud. As a part of the program, "I've been able to network with wonderful individuals with different backgrounds and skills. I hope to learn and contribute, too". 
Now on the other side of graduation, Mohamud has the following advice for Simmons students to help prepare them for future professional positions:
Self advocate. "You need to speak up for yourself. Don't be afraid to approach your peers for help navigating Simmons. If you don't feel comfortable talking to your advisor or professor, speak to an upperclassman within your department. It can seem intimidating but it's worth it."
Find a mentor. "As a first generation student, I came to Simmons not knowing how to navigate the college scene." Mohamud was connected with a mentor as part of First to FINish, which offers guidance for first generation students. "You should take advantage of mentorship, it's a great thing! There are also mentorship opportunities through ALANA."
Explore your passions. "I didn't know what I wanted to do when I first arrived, but Simmons offered the perfect platform to take different courses to find my passion. I took a business course and fell in love with it. My advisor, Associate Professor Amber Stubbs, recommended I take a computer science course, and I ended up with a double major. Simmons allowed me to flourish; I followed my interests and found where I belonged in the Simmons community."
Develop communication skills. "In "Project Management," Associate Professor Yulong Li taught us how to work in a group, not just by communicating but by taking a leadership role and delegating tasks. In "Internship and Career Strategies" with Professor Cynthia Ingols, I learned to create an elevator pitch to introduce myself, and to adapt it for both a personal and a professional role. She taught us how to observe our surroundings and how to present ourselves in the best manner we can."
Keep learning. "Associate Professor Li inspired me to pursue a project management certificate, which I'm working on now. Professor Ray Pfeiffer inspired me to hold myself accountable to my goals. I've always had an interest in cybersecurity, but considered it a side project. He told me, if you really enjoy something, why not just go for it? Because of that conversation, I'm scheduled to do a cybersecurity certificate at the Benjamin Franklin Institute of Technology. You can make your ideas into reality!"