Student Story
School of Business Students Create Boston-Focused Alternative Spring Break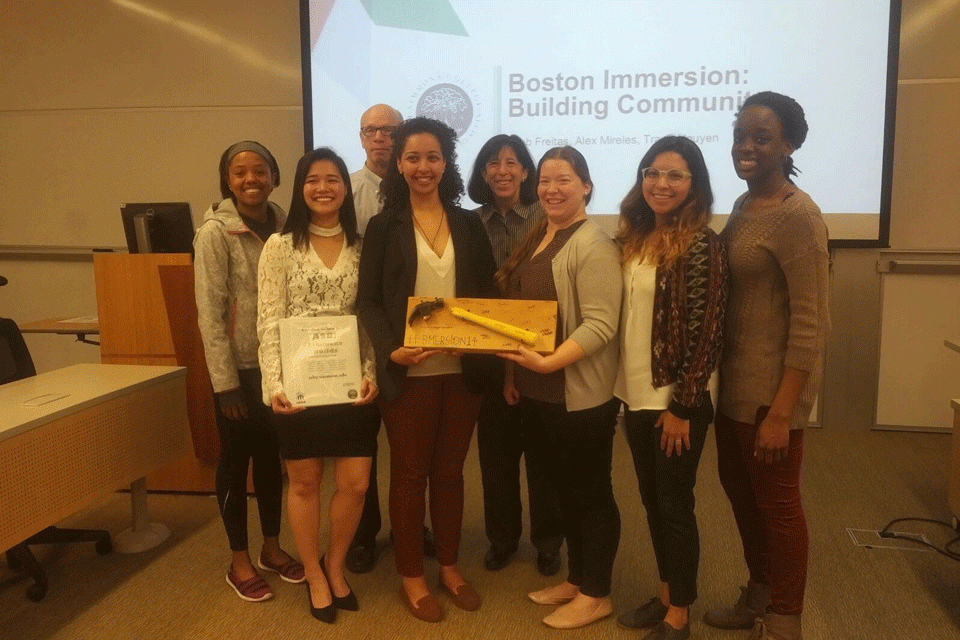 With this Capstone, Simmons gave me an opportunity to raise my voice and the freedom to turn my beliefs and ideas into a reality.
-Trang Nguyen '18
As students in the School of Business, Azeb Freitas '17, Alex Mireles '17, and Trang Nguyen '18 were eager to engage in social justice-oriented learning experiences.
During her time at Simmons, Freitas worked in Simmons Community Engagement (then called the Scott/Ross Center for Community Service).
"I was exposed to the wide variety of opportunities in the greater Boston community such as mentoring, tutoring, and alternative spring break," said Freitas.
Frietas joined the Habitat for Humanity Collegiate Challenge team during her sophomore year, first traveling to Laredo, Texas to build houses for an Alternative Spring Break (ASB). The following year, she co-led the next cohort to Thibodeaux, LA to rehabilitate homes built after Hurricane Katrina.
"I recognized that most Simmons students did not venture past the Mission Hill area and were not exposed to the rich diversity and culture Boston has to offer beyond the Colleges of the Fenway — unless they were student leaders in Simmons Community Engagement, participating in the mentoring or tutoring programs," reflected Frietas.
Inspired by these programs, these students wanted to create an opportunity for students to address the needs of their immediate community. This became the focus of their senior year Capstone project.
"As college students, it's easy to think of yourself as transient, as if you have no effect on the local social landscape," explained Mireles. "The truth is that colleges and universities have a profound effect on city policies, local development, job markets, city planning, and more."
Simmons has a long history of local services through mentoring, tutoring, and early education programs. Freitas, Mireles and Nguyen wanted that tradition to continue, and be sustainable, for future Simmons students.
"With this Capstone, Simmons gave me an opportunity to raise my voice and the freedom to turn my beliefs and ideas into a reality," said Nguyen.
Guided by input from community leaders, administrative staff, and students, they created a proposal for an alternative spring break program in Boston with a local service and social justice focus.
"With every challenge we faced, we had a group of powerful women leaders to advise us, supportive staff to provide us with resources to Boston communities, leaders to interview and students that cheered us on throughout the process," said Nguyen. "I truly enjoyed our capstone project because it enhanced my experience as a student and a leader at Simmons."
For the ASB, student leaders focus on a pressing issue in the Boston area, create a fundraising plan, and schedule their service week with Simmons Community Engagement staff as advisors. This student-led, staff-facilitated model is similar to the ASB Habitat for Humanity, and offers a more tenable structure than putting additional work on the Simmons Community Engagement staff.
"I wanted to ensure that there was a sustainable way for this program to make a comeback so that anyone could lead it and future Simmons students could experience the real heart of Boston," said Freitas.
The program is based on Boston Immersion, the original ASB held at Simmons that exposed students to local issues, community leaders, and other resources in Boston communities.
"We recognized that ultimately part of learning leadership skills is having hard conversations and coming to a consensus with your team," said Mireles. "These are the hard conversations that Simmons students must concern themselves with to become active citizens, community leaders, and change agents."
From this Capstone, the Health Equity in Boston Alternative Spring Break was created. In Fall 2018, the program launched for a pilot year. Ten students, including two team leaders, participated in the week-long immersive experience to investigate health disparities in the Boston area through a social justice framework. Throughout the week, the team worked with organizations such as Pine Street Inn, Greater Boston Food Bank, MGH Care Research Center, AIDS Action Committee, and Community Servings.
"This year was a major success," said Amanda Moser, Assistant Director for Student-Led Community Service at Simmons Community Engagement, "and we plan to fully incorporate the Health Equity in Boston team into the Alternative Break program offerings of Simmons Community Engagement."
As for their time at Simmons, the recent graduates have valuable advice for current students:
"Get involved in any of the student groups that interest you and take advantage of leadership opportunities," recommended Freitas. "Simmons students tend to be natural leaders and the student-run organizations are the perfect place to get experience and practice leadership skills. If none of the student organizations fit your style, then start your own and make a space for others who might feel the same way."
They also urge students to explore beyond campus:
"Boston is a great city to learn what it means to be an active citizen," said Mireles, reminding students to not underestimate their potential contributions. "If you have social media skills, graphic design, organizational skills, bilingual skills — literally anything, there is always a community organization that can use your help. Explore as many neighborhoods as possible and take the time to volunteer and meet some of Boston's social justice warriors. Start at Simmons Community Engagement, because they know everyone."