Faculty Spotlight
Professor Ortega On The History Graduate Program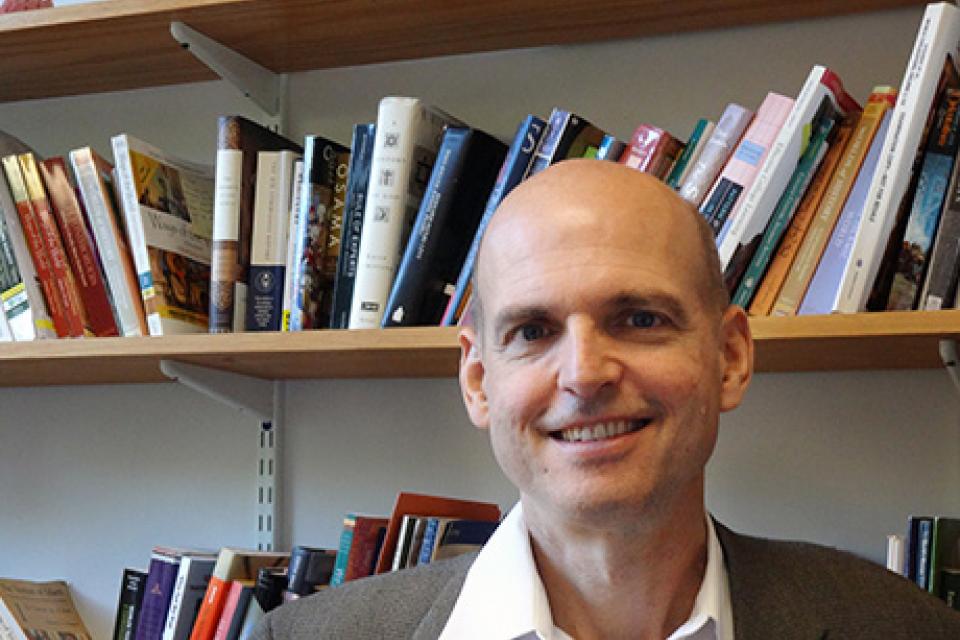 Meet Professor Steve Ortega, Associate Professor of History!
What do you teach in the graduate program at Simmons?
I teach three graduate classes: 9/11 Narratives, Encounters: Contact, Connections and Conflict, and Collective Memory. The first two classes look to understand East/West contact within a comprehensive framework and seek to break down barriers between parts of the world that are thought to be fundamentally different from a cultural standpoint. While 9/11 Narratives examines contemporary issues related to the events of September 11, 2001 in New York, Pennsylvania, and Washington, D.C., the Encounters course covers many types of cross-cultural contact from the pre-modern period to the present, including Marco Polo's and Ibn Batutta's travels and novels such as Orhan Pamuk's Snow. I co-teach the Collective Memory class with Jeannette Bastian from our School of Library and Information Science. The course examines different ways that societies or groups of people understand the past. It's a lot of fun to teach because Jeannette and I approach topics from different disciplinary perspectives.
What are your areas of academic and research interest?
I consider myself to be a Mediterranean and a world historian. I have written two books:Negotiating Transcultural Relations in the Early Modern Mediterranean: Ottoman-Venetian Relations and a co-authored textbook, The Thinking Past: Questions and Problems in World History. Negotiating Transcultural Relations looks at the decentralized nature of power in Ottoman-Venetian exchange, and The Thinking Past considers such questions as: Was Greece the first democracy? What is an empire? Both works emphasize the importance of looking at regional and global connections. As our need to understand a more integrated world expands, trans-national and trans-imperial studies provide a window into relationships that explain contact across cultural and political boundaries.
Along similar lines, I recently published an article on the use of video games in understanding trans-cultural history. As people acquire more of their knowledge of other parts of the world through different media, historians need to think further about the how media like games affect historical consciousness.
What led you to pursue a career teaching history?
I chose to pursue a career in history because I wanted to be involved in a profession that tried to tackle some of the world's most complex problems. In my classes we consider questions about the nature of violence, the problem of inequality and the effects of colonialism. I think that an understanding of history is essential to comprehending both our present and our future. As a historian, I enter into discussions with many different people who feel that contemporary politics need to be better informed by the effects and the consequences of long-term historical developments.
Tell us about the History Department at Simmons.
We are a pretty eclectic bunch in the Simmons History Department. Zhigang Liu teaches East Asian history; Sarah Leonard teaches European history; and Laura Prieto and Steve Berry teach American history. We also bring in other professors like Laurie Crumpacker and Nicole Eaton to teach important classes such as the American Renaissance and Sites of History, a course in which students spend a lot of time visiting historical locations in and around Boston. I know that I speak for my colleagues as well when I say that the History Department is a place where we value the ideas and the opinions of all of our students. I also consider it to be a space where a rigorous exchange of ideas takes place both in and outside the classroom.
What do graduates of the MA in History program go on to do?
Our History MA graduates go on to pursue PhDs in history; teach at the K-12 level; and work in museums, in research positions, and in historical tourism. Tourism is one of the world's largest industries and in cities like Boston, historical tourism is a major draw. Several of our students have used their MA in History degrees to find jobs in the tourism field, and I think we'll see this as a growing trend. We have been able to enhance our students' chances of finding work by helping them with internship placements. When combined with internship experience, the academic skills gained in a history program such as critical thinking, researching and writing become a very attractive combination for employers.
What's your favorite book?
I cannot say that I have one favorite book. A book I read recently that I loved was Rumi's Masnavi. Exposure to the writings of a medieval Sufi poet was an experience that took me out of my comfort zone and made me consider a life experience that was very different from my own. Trying to confront true cultural difference can be an incredibly rewarding experience.
Fill in the blank: My favorite travel destination is ___
Barcelona.
Fill in the blank: The goal at the top of my "bucket list" is ___
to see the Himalayas.