Faculty Spotlight
Professor Mercier Receives First Alden Poole Faculty Mentor Award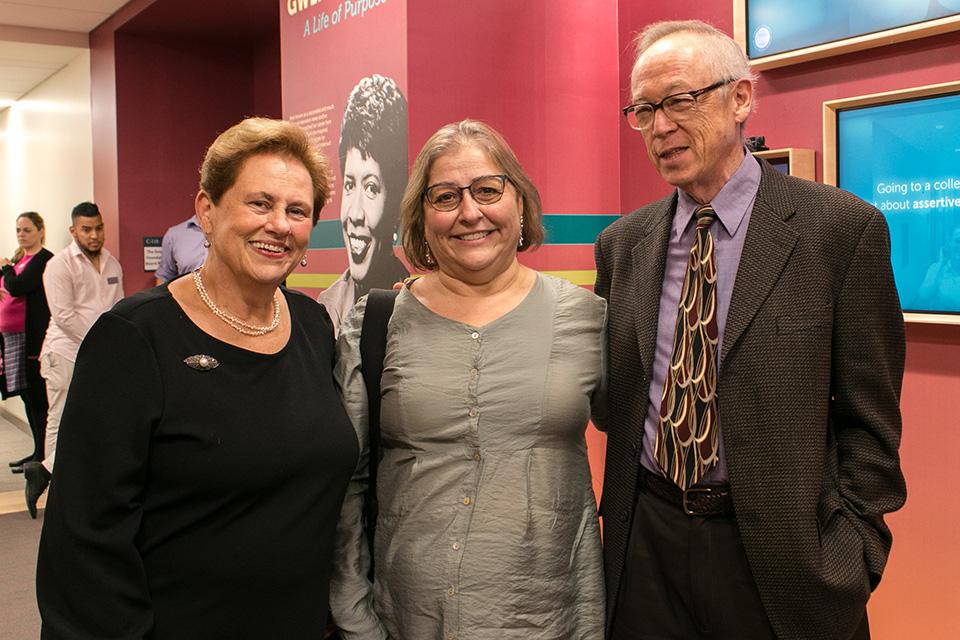 In honor of her commitment to mentoring, Professor Cathryn Mercier receives the Alden Poole Faculty Mentor Award.
Faculty mentors can change students' lives. They work with students both inside and outside the classroom, ask tough questions, push them to try new things and see their potential before the students do themselves. Simmons is fortunate to have several such mentors, including Cathryn Mercier, Simmons Professor and Director of the Children's Literature Program and Director of the Center for the Study of Children's Literature, who received the first Alden Poole Faculty Mentor Award through the Gwen Ifill College of Media, Arts, and Humanities at Simmons University on October 19.
This award was created in honor of Alden Poole, a valuable mentor to Gwen Ifill '77, '93HD. Ifill's family wanted Poole to be recognized as part of the story of the new college. Poole saw Ifill's promise, connected her to a job at the Boston Herald, and nurtured her to ask big questions of herself and the world. He was loved by his colleagues and students — so much that he was given a plaque in 1977 from eight graduating students, one of whom was Ifill. These eight young women knew early on that Simmons faculty mentors set their students up for lives of purpose and success.
For this new mentoring award, Ifill College Dean Brian Norman reached out to alumnae/i of the programs in the Ifill College, asking them to nominate a faculty member. Mercier was nominated by one of her first dean's fellows who credits Mercier with helping her move from bookstore worker to children's literature author. That's the type of support and belief that makes dreams come true. Or as Ifill inscribed on a copy of her book Breakthrough to Poole: "To Mr. Poole: Without whom I would never have pulled it off..."
Mercier's role as a mentor will be felt across an entire generation of young readers who are discovering new and different worlds in literature. As is often the case with mentors, Mercier herself has had wonderful mentors throughout her life: "Mentors see something in us that we may not see in ourselves. They find the time, just the right word or raised eyebrow or a comment in a paper, to push us beyond where we thought we wanted to go."
One of Gwen Ifill's legacies is her commitment to mentoring and nurturing the next generation. The Poole Award represents one way to instill her values at the heart of the new Gwen Ifill College of Media, Arts, and Humanities.
Photos courtesy of Lucky Li Photos (Class of 2018)