Voices of Simmons
Professor Jo Trigilio Named the 2018 Pride Marshal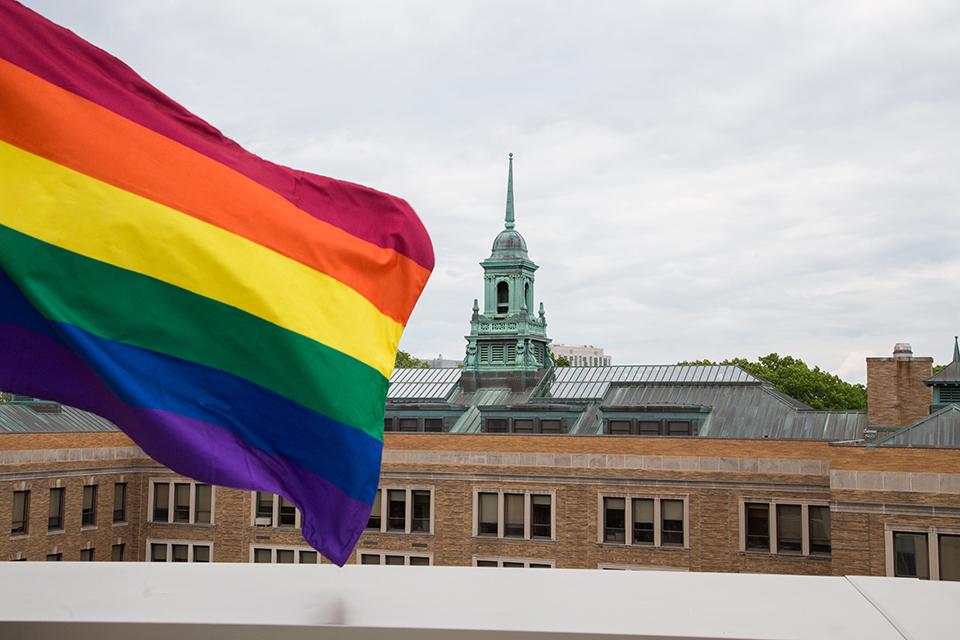 Professor Jo Trigilio has been an influential activist within the LGBTQ community since 1985 and is honored to be the Pride Marshal for the 48th Annual Boston Pride Parade. 

How Pride began
Gay Liberation marches began in cities across the U.S. in June 1970 to commemorate the Stonewall Riots, which took place in June 1969 outside of New York City's Stonewall Inn. The Stonewall Inn, frequented by working class LGBTQ people, many of whom were people of color and gender non-conforming, was a regular target of police harassment. Although LGBTQ people often fought back when gay bars were raided and all the patrons were forced into paddy wagons, the resistance at the Stonewall Inn turned into a riot that lasted for days. The Stonewall riots are used as convenient marker for the beginning of the Gay Liberation Movement in the U.S. In the '80s, as gay culture thrived in many urban centers, the political liberation marches transitioned to celebratory pride parades.  
The importance of Pride in 2018
The ongoing purpose of Pride Parades is to demand social justice and to celebrate the positive aspects of being LGBTQ. Homophobia, transphobia and anti-LGBTQ discrimination are alive and well in every corner of the U.S. Hate crimes targeting LGBTQ people are on the increase. LGBTQ youth have one of the highest attempted suicide rates. LGBTQ people who experience multiple forms of oppression face serious forms of social injustice. Pride is a good time for non-profits and community groups to raise awareness, educate people and solicit volunteers.  
Pride is also about fun, solidarity and community. For most people, their first Pride is an awesome and unimaginably empowering experience. For one day a year, thousands upon thousands of LGBTQ people congregate in the city. I went to my first Pride march 33 years ago, and I'm still thrilled and awed every year.  
How to be an ally
This is not a special month. I'm queer, gender non-conforming and an LGBTQ activist every day of the year. The worst mistake that allies can make is thinking that they only need to do something during Pride month. Being an ally to a group of people that faces systematic discrimination and social injustice is a full-time job with no vacations. Social justice is about doing the ethically right thing. Doing nothing, acquiescing to the homophobic, transphobic, sexist and racist status quo, is unethical. Allies to any oppressed group can do the following:
Continually, proactively educate yourself about different forms of oppression. Many people experience multiple forms of intersecting oppressions, so it's important to learn about all forms of oppression.  
Listen to the voices of those from oppressed groups. What are they saying they need? 
Be humble. Don't be paternalistic, and don't pat yourself on the back for doing the right thing. 
Reflect on your own privilege and work to change the systems that prevent others from having the same access to the goods and services of society.  
The role of Pride Marshal
I like to joke that I am a professional queer. I've been an activist in the LGBTQ movement since 1985. I've been deeply immersed in LGBTQ community and culture for just as long. I've been teaching courses in LGBTQ studies for over 30 years. I served on the executive organizing committee of the Boston Dyke March for 14 years, growing the march from 300 participants to over 2000. Much of my scholarship focuses on LGBTQ issues. For someone like me, being elected the Marshal of Pride is an incredible honor.  
But, the real truth is that I was nominated by the 2017 Grand Marshal to use my position to help address the growing tensions between some community groups and Boston Pride. I campaigned and was elected as an activist. Being the Pride Marshal is mostly a ceremonial role, but that is not my interest. Many community groups are unhappy with the rampant commercialization of Pride and the failure to address intersectional oppression at a deeper level. In this political climate, we cannot afford infighting. Simmons colleague, Sasha Goodfriend, and I have been meeting with community groups in an effort to help the Pride committee better understand the nature of the growing complaints.
---
Jo Trigilio is a Senior Lecturer and Program Director of Simmons' gender/cultural studies program. Jo Trigilio received a Ph.D. in Philosophy with a concentration in Feminist Theory from the University of Oregon. 
Professor Trigilio has a special interest in the intersection of theory and practice, specializing in oppression/liberation theories, including feminist and gender theories, race theories, and queer theory.