Faculty Spotlight
Professor Hamilton-Mason Plays Leading Role in National Social Work Month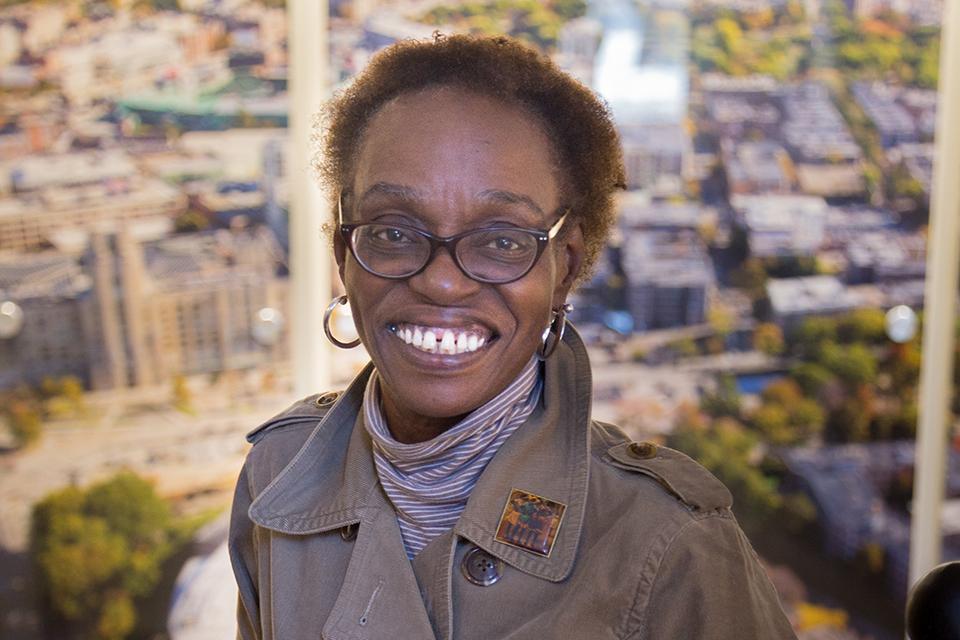 The month of March will celebrate the role of social workers across the country.
Simmons University Professor of Social Work Johnnie Hamilton-Mason, MSW, PhD, will play a leading role in the Massachusetts Chapter of the National Association of Social Workers (NASW-MA) celebrations of National Social Work Month. 
This year's theme celebrates social workers' roles as leaders, advocates, and champions. Dr. Hamilton-Mason's work will be on display from March 4 to March 8 in the Massachusetts State House. The exhibit space is meant to elevate and celebrate the diverse and meaningful contributions of social workers across the state. 
In addition, Dr. Hamilton-Mason will be the keynote speaker at the NASW-MA annual Legislative Education and Advocacy Day (LEAD) on March 25. LEAD draws approximately 700 social workers to learn about the legislative process, and to underscore the importance of advocacy for policies that are important to social work clients and the profession. Dr. Hamilton-Mason will be preceded by Massachusetts Senator Sonia Chang-Diaz (D-2nd Suffolk) at the event, which will take place at the historic Fanueil Hall in Boston. Following Dr. Hamilton-Mason's remarks, attendees will walk to the State House for a series of legislative panels and lobbying appointments with legislators.
Currently a "Member Spotlight" in the February 2019 edition of the NASW-MA monthly newsletter, Social Work Voice, Dr. Hamilton-Mason is described as, "an innovator, pioneering meaningful initiatives through her teaching, research, and advocacy."
Dr. Mason-Hamilton also co-authored a recently published book in fall 2018 titled, Systemic Racism in America: Its Perpetuation through Scaffolding. The text offers a powerful overview of racism in the United States: what it is, how it works, and the social, cultural, and institutional structures that have evolved to keep it in place.
---
Dr. Johnnie Hamilton-Mason is a Professor at Simmons School of Social Work where she co-founded the Pharnal Longus Academy for Undoing Racism in 2005. Dr. Hamilton-Mason currently serves as the Co-Chair of the Council on Social Work Education's Council on the Role and Status of Women in Higher Education. Dr. Hamilton-Mason is currently on the editorial board for Health and Social Work and the Journal of Social Work Education. She is also a Board of Trustees member for Research Education Collaborative for Al Quds University and the Heritage Guild.