Voices of Simmons
President Wooten Shares a Message of Gratitude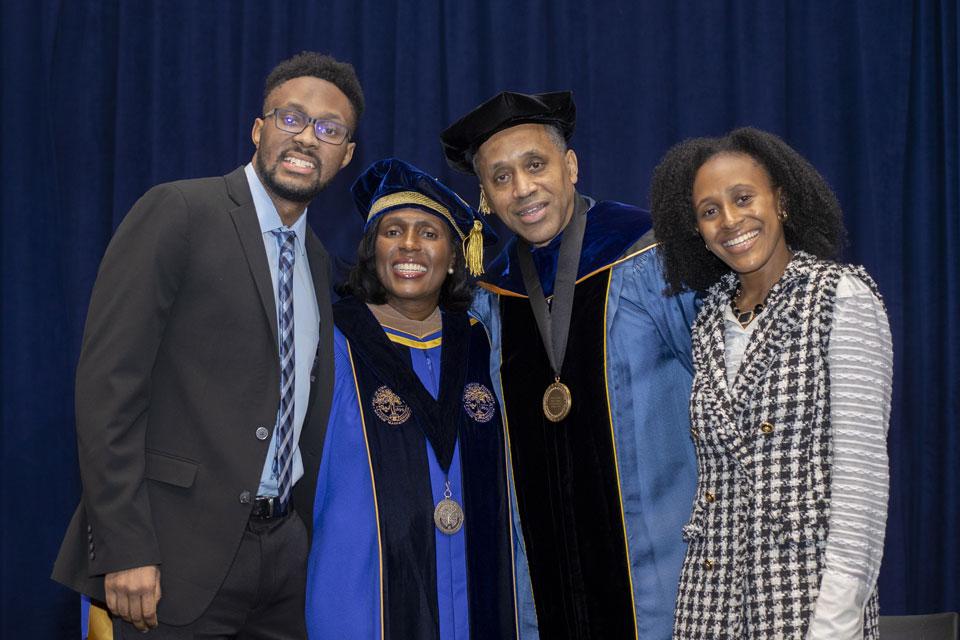 Simmons' mission of educating and empowering the next generation of leaders has never been more vital or relevant.
Dear Simmons Community,
As I reflect on the magic of the past few days, I want to take this moment to thank each of you for making my investiture such a memorable and extraordinary experience. It was an honor to invite my family, friends, and colleagues to Simmons. They were delighted to visit our campus in the heart of the Fenway, and to have the opportunity to experience firsthand the generosity, kindness, and spirit of the Simmons community.
While the investiture was incredibly important to me personally, I was even more proud and humbled to have the chance to be a part of this moment for Simmons. As I discussed in my remarks, our institution has much to be excited about, even as we no doubt will continue to confront challenges ahead. Simmons' mission of educating and empowering the next generation of leaders has never been more vital or relevant. A Simmons education, grounded in the type of learning that links passion with lifelong purpose, is truly our special sauce – one that has and will continue to enable our graduates to infuse vibrancy, leadership, and passion into institutions across Boston, the nation, and the world.
Investitures are also a moment to acknowledge our history and to embrace our future. I am grateful to play a role in Simmons' next chapter. Working together, we will continue to advance the Simmons mission while also investing in the type of innovation that enables our institution to thrive. This includes innovation in online education, in the workplace, in opportunities created by our One Simmons project, and in our commitment to becoming one of the most inclusive campuses in New England. Finally, I am looking forward to advancing everyday leadership across our institution and beyond. Our ability to provide new leadership education and programming both internally and externally will help fuel our work as one of Boston's premier leadership institutions.
I will share more details and updates about these priorities in the coming days, particularly as we continue to grapple with ongoing changes to the higher education business model. For now, I would like to thank you again for making this week so meaningful, personally and professionally. Your commitment, passion, and talent are an inspiration to me, and I am honored to be a part of the Simmons community.
Sincerely,
President Lynn Perry Wooten