Alumnae/i Feature
PhD Candidate Taylor Mahoney '15 on Her Journey as a First-Generation College Student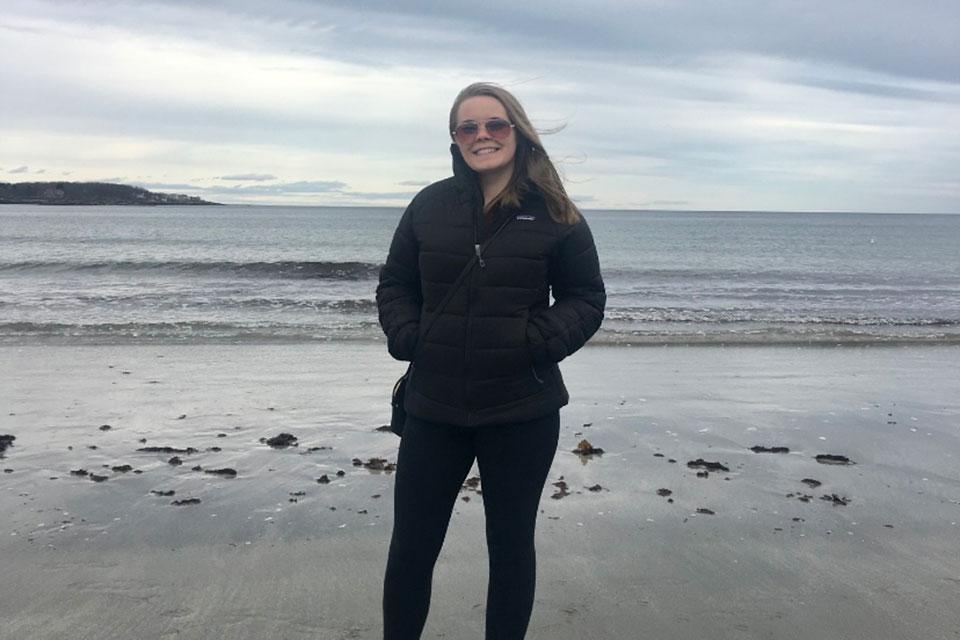 Taylor Mahoney '15 is a PhD candidate in biostatistics at Boston University, preparing to defend her PhD thesis and begin a position as Senior Biostatistician at Avania, a contract research organization in Marlborough, Massachusetts.
Mahoney shared her experience as a first-generation college student at Simmons.
---
What led you to Simmons University?
When I was younger, going to college was not something that I saw myself doing. I attended high school at Boston Latin School (right next door to Simmons!) where attending college was highly encouraged. The college application process was incredibly overwhelming, and I had no idea how to choose the "right" college for me. I needed to find a school in the Boston area so I could keep my head cashier job at Johnnie's Foodmaster, because I needed that job to support myself.
When I got my acceptance letter from Simmons, I was also awarded the Boston Scholarship, a full-tuition scholarship for a graduating senior from a Boston public school. That ultimately made the decision for me — coming from a single-parent, low-income household, I'm certain that I would not have been able to pursue higher education if it were not for the Boston Scholarship at Simmons.
What was your experience at Simmons as a first-gen student?
Overall, being a first-gen student at Simmons was a very positive experience. I think the feel of a smaller campus made it so much easier to find the support needed to overcome the obstacles that come with being first-gen. I don't think I would have felt as supported if I had attended a larger university for undergrad.
There were some things I hadn't anticipated. For instance, textbooks were a huge expense, and I was shocked and overwhelmed to learn during one of my biology lectures that there were two semesters in a year rather than just one — meaning that you had to buy textbooks twice. Also, I'm a naturally shy person, which made the first few weeks overwhelming. I couldn't seem to find any students with a similar background right at the beginning of my time at Simmons.
Simmons will help connect you with other students and faculty who understand.
Over time, I came out of my shell. I became treasurer of the yearbook and president of the math liaison. Senior year, I took a giant step and became the academic affairs officer of the Student Government Association. That was a great experience because I got to advocate for student needs and desires.
I enjoyed those experiences so much that I sought out similar opportunities at BU: I currently serve as the student representative on the education committee at the BU School of Public Health, and in the past I have served as the president of the Biostatistics Student Association at BU. The leadership skills that I gained at Simmons have prepared me well for both of those positions!
What made you choose to pursue a biostatistics degree?
When I started at Simmons, I assumed that people who went to college would become either doctors or lawyers. I didn't realize that you could study anything!
I like being challenged academically, and in high school, I was intrigued by genetics and Punnett squares. I entered Simmons as a biology major, but I told my advisor, Associate Professor Charlotte Russell, that I wasn't willing to give up math — numbers really sparked my interest! During "Calculus II" with Professor Donna Beers, we had a panel discussion with visiting alumni, and Estella Kanevsky '07 talked about doing her master's in biostatistics. It sounded so interesting! After the talk, I went over to the Registrar's Office and declared my biostatistics major — it was fate.
Initially, I was hesitant about changing my major and worried that if I stopped pursuing biology, I would never be able to work with genetics. During my sophomore year, Professor Beers and Professor Emeritus Robert Goldman encouraged me to apply to the Summer Institute for Training in Biostatistics (SIBS) at Boston University, where I discovered statistical genetics. This was an exciting moment because I learned that I could combine my love of numbers with my passion for genetics. It reaffirmed that switching my major to biostatistics was the right move for me! After SIBS at BU, I did another biostatistics program at the Harvard School of Public Health, SURPASs at Simmons, and an internship at Brigham & Women's Hospital.
Tell us about pursuing your PhD.
First-generation students may be unaware of what comes after college. I didn't know what a PhD was, but as I learned more about the biostatistics field, I learned that I needed a PhD to lead a research team and make an impact in the field. I ended up applying for my PhD as a post-bachelors candidate and enrolling in a fully-funded PhD program at Boston University, which can be more competitive but cost-effective.
If you want an advanced degree, you have to be ambitious and seek out research programs and opportunities with professors in order to make yourself stand out to the admissions committee. If you are applying for a PhD, you have to be as competitive as possible.
From my experience, I firmly believe that first-generation students will be some of the hardest workers, both inside and outside of the classroom.
What were the biggest challenges of being a first-generation student?
I was already used to working while going to school because I had done that all through high school. The hardest part was that not everyone had to do that — my friends stayed at Simmons all weekend while I went home and worked Friday through Sunday. Looking back, I can see how juggling school and work helped teach me time management, which prepared me for my PhD program. You have to be very organized to balance coursework, research, and research assistant work. The biostatistics program at Simmons prepared me, too, because of the coursework and research opportunities I had as an undergraduate.
I also learned a lot about leadership on the job. I started as a bagger at Johnnie's Foodmaster and was promoted to cashier in three months. By the time I was 17 years old, I was lead cashier, managing all the cashiers and the money in the store.
What advice do you have for first-gen students?
Take advantage of everything First to FINish offers, and do not feel ashamed of your first-gen identity — in fact, it's something that you should embrace! Simmons will help connect you with other students and faculty who understand. During my early years at Simmons, I didn't know that being a first-generation college student was an identity. Today, I'm extremely proud of this, and it's a piece of my identity that I hold near to my heart.
Being first-gen poses a whole set of challenges that peers from college-educated families do not have to face — and it's okay to talk about it. I've connected with so many students across universities in similar circumstances, and I'm confident that these connections will last a lifetime. From my experience, I firmly believe that first-generation students will be some of the hardest workers, both inside and outside of the classroom.