Alumnae/i Feature
Palliative Oncology Social Worker Rebecca Stormberg '21MSW Encourages Patients to Find Purpose and Meaning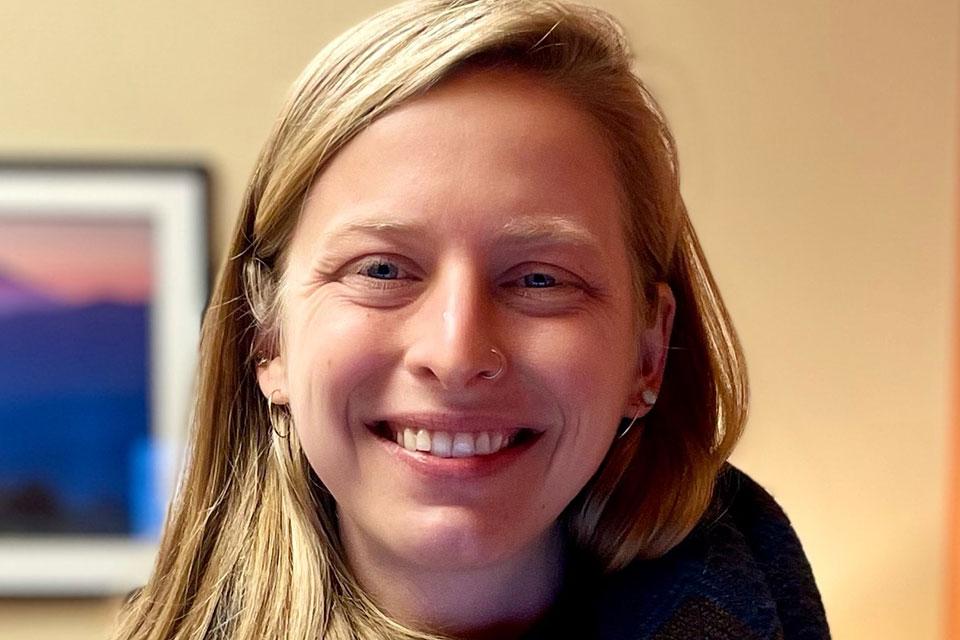 Every day, I talk to people about what brings them purpose and meaning, and I can't think of a more personally fulfilling and enriching job than that.
What the job entails
Rebecca is a palliative oncology social worker at Providence Cancer Institute, a comprehensive outpatient clinic in Portland, Oregon. In this deeply satisfying role, she works closely with a palliative nurse practitioner and other interdisciplinary team members to address the psychological and social needs of patients with terminal cancer diagnoses. "I work with a lot of patients with Stage 4 pancreatic, lung, and colon cancers," she says. In addition to providing counseling, Rebecca helps patients and their families identify individualized goals of care, conduct advance care and end-of-life planning, and connect to resources. She also co-facilitates a biweekly support group for patients. "It is such an honor to learn from their collective wisdom and capacity for reflection," she says.
What brought her to Simmons University
A graduate of the University of Vermont with a degree in psychology, Rebecca hoped to build her clinical skills after working for two years in community mental health. She chose Simmons, she says, for its small class sizes and long-standing reputation as a rigorous clinical program. She also heard high praise for the MSW Program from colleagues. "I could see that they had great training," she explains, "and that inspired me to apply."
How Simmons prepared her for her career
Rebecca arrived at Simmons open to exploring different social work roles and settings "to build flexibility into my future," she says. Enrolled in the Health Care & Social Work Certificate program, she learned from targeted coursework and classmates with varied backgrounds "who helped each other grow." For her first placement, Rebecca interned at Dearborn STEP Assessment, where she provided individual and group counseling to adolescents facing school exclusions. In her second year, she supported patients and families in Inpatient Hematology/Oncology and Palliative Care at Beth Israel Deaconess Medical Center. Without that experience, Rebecca states "I would not have the job I have today without that experience." Challenging simulations also prepared her for her current position. She particularly benefited from the opportunity to partner with medical and physician assistant students from Tufts University School of Medicine. This allowed her to practice goals-of-care discussions opposite actors. In addition, Rebecca served as a Dean's Research Fellow for the College of Social Sciences, Policy, and Practice.
Why her work is rewarding
"There are tough, heartbreaking moments, but there are also moments that are beautiful and peaceful," says Rebecca. "Every day, I talk to people about what brings them purpose and meaning, and I can't think of a more personally fulfilling and enriching job than that."