Campus & Community
National Urban Fellows: A Win-Win Partnership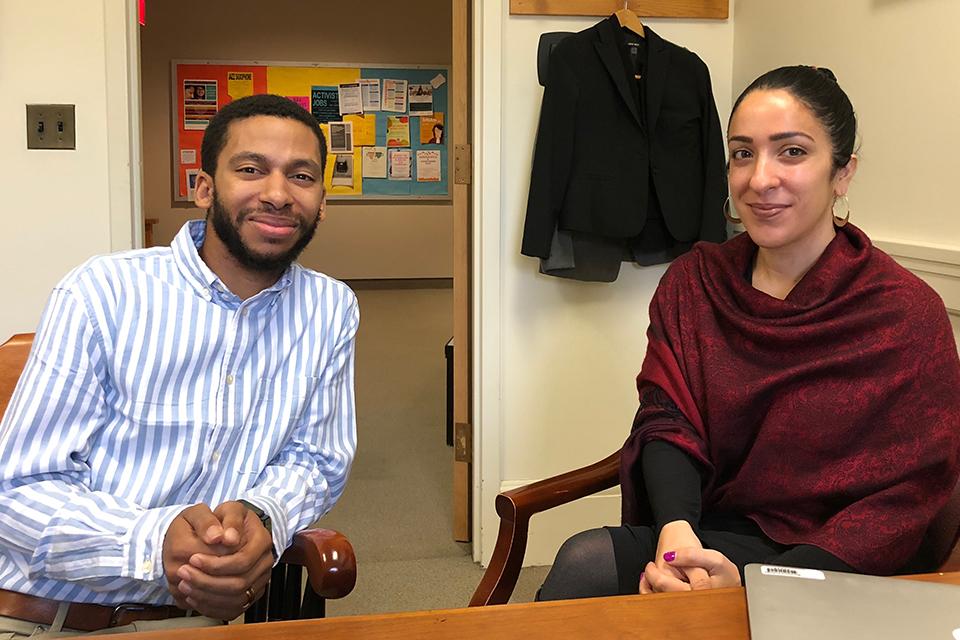 Simmons welcomes two National Urban Fellows to Human Resources and the Office for Organizational Culture, Inclusion, and Equity.

Meet Maria Arettines and Fielding Vaughn, our two National Urban Fellows at Simmons. Celebrating its 50th anniversary this year, the National Urban Fellows Program is a leadership program for mid-career professionals, in particular people of color and women. Its mission is to "develop leaders and change agents in the public and non-profit sectors, with a strong commitment to social justice and equity." The program lasts 14 months and consists of mentorship placements with organizations as well as online and remote classes toward earning a master's degree in public administration. 
"It's really a partnership," says Fielding, "We're able to bring our experience from various career backgrounds to an organization and in return receive mentorship as well as an irreplaceable opportunity to develop professionally." Fielding's placement is in Human Resources, where he's working with the new Committee for Inclusive Excellence in Hiring and researching best practices in hiring.
Maria is working in the newly created Office for Organizational Culture, Inclusion, and Equity (OCIE). Her previous work included connecting displaced students from Syria to higher education opportunities. As she notes, "Much of my work has revolved around trying to make higher education more accessible, but never in an office solely committed to diversity, equity and inclusion." Maria has been instrumental in the launch of this new office at Simmons and works closely with Debra Perez, a former Fellow herself, who has mentored over 20 Fellows since her own fellowship.
For more information about this leadership program, visit National Urban Fellows.