Student Story
National Student Nurses Association Brings Simmons Students to Salt Lake City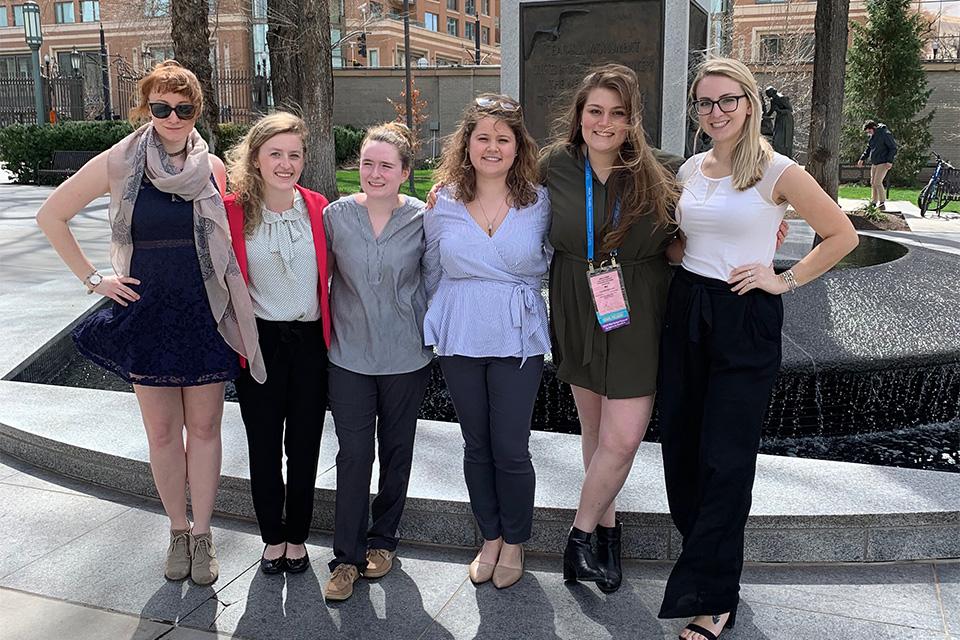 Nurses can be inventors, teachers, managers, business partners, and so much more.
Katie Lawson '20 tells us about her experience at the 67th National Student Nurses Association Convention. 
In the beginning of April, six members of the Student Nursing Association (SNA)'s executive board traveled to Salt Lake City, Utah for the 67th National SNA Convention. They attended focus sessions led by nurse leaders about topics ranging from the role of technology and engineering in nursing, to getting involved with global healthcare.
Six Simmons students completed an emergency preparedness training session through the American Red Cross to become certified as Disaster Health Services volunteers.
The convention served as an opportunity for networking with nursing students from around the country, as well as with representatives from graduate schools, healthcare facilities, national and global nursing organizations, and NCLEX (the nurse licensure examination) preparation services.
What did you learn from this experience?
The biggest thing I took away from this experience was "as a nurse, you're never just a nurse." Nurses can be inventors, teachers, managers, business partners, and so much more. Since nurses are on the front line of patient care, they can design effective devices, services, and protocols that will be the most beneficial for patients.
What inspired you to pursue nursing?
Ever since I was little, I wanted to be a teacher. Throughout high school, I became increasingly fascinated with biology, chemistry, and anatomy. My mother is a nurse and always told me stories about her patients, highlighting how she made them feel, what she taught them, and what she learned from her interactions. I asked her many questions about medication, managing specific conditions, and strategies for effectively teaching health management.
The combination of my desire to learn about the human body and teach people about their anatomy and health, with the inspiration and support from my mother, drove me to pursue a career in nursing.
Tell us about the Student Nursing Association.
SNA is a student-centered organization that acts as a liaison between nursing students and the Simmons nursing community. We start our bi-weekly meetings discussing important deadlines, upcoming nursing and health science events at Simmons and around the Boston area, and SNA events and fundraising opportunities.
For the rest of the meeting we have discussions about news and current events in nursing, job opportunities for nursing students, classes, and clinicals. We host special meetings right before registration each semester where students can guide and advise other students on schedule creation.
We host a bi-annual apparel fundraiser and a CPR certification course. SNA is a great organization for nursing students to meet, connect, and network with their peers and to get involved with the nursing community.
What is your favorite Simmons memory?
Along with being involved with SNA, I have been a member of the Simmons University Dance Company since my first semester here. One of my favorite memories is dancing at the annual May Day celebration at the end of the school year, which is a longstanding Simmons tradition. I have led the choreography for the dance around the May Pole for the past two years (this year is my third!), and I love spending one last moment in the sunshine with my dance family before finals and departing for the summer.