Campus & Community
The Multicultural Center's Bridge Program Pilot Gives BIPOC Students a Sense of Inclusion and Belonging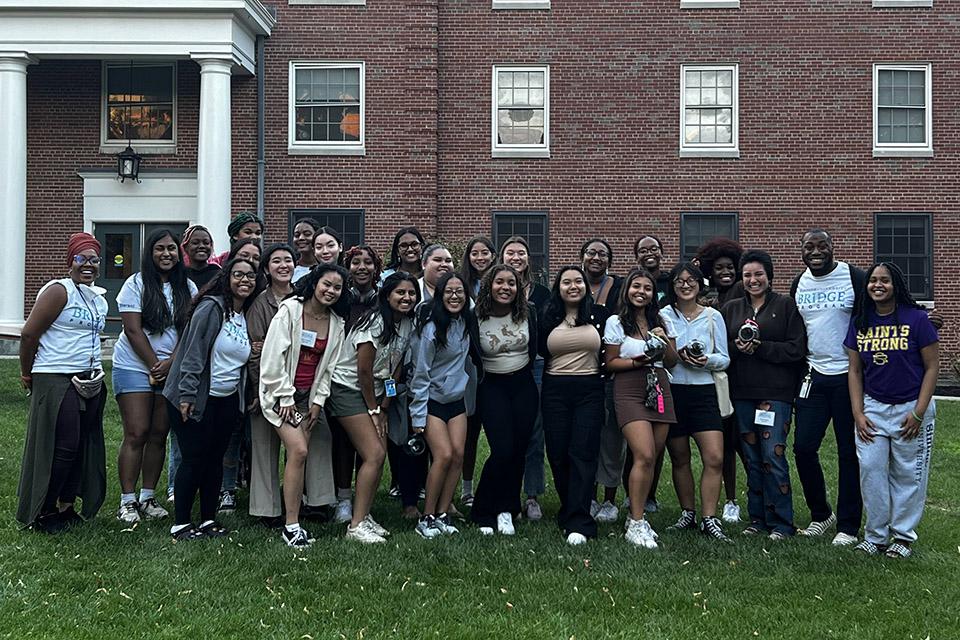 Last summer, the Multicultural Center, in partnership with the Office of Residence Life, launched the Bridge Pilot Program. The Bridge Pilot is a free transition program that enables new BIPOC students to participate, connect, learn, and grow with the Simmons community.
According to Multicultural Center Director EriKa Monfort, earlier generations of Simmons students planted the seeds for what became the Bridge Program. Students advocated for themselves by providing voluntary feedback based on their own experiences of being students of color within a historically white university. This feedback developed into meaningful conversations with Student Affairs, the University President, and Monfort. "The idea came from student feedback," explains Monfort, "and we are trying to implement what they need to succeed at Simmons."
As Monfort recounts, the 2021-2022 academic year was a turning point for reflecting on the student experience. "I consider the last academic year a year of observation, since it was the big return coming back to campus after the pandemic," she says. "Our BIPOC students gave us a lot of feedback in needing a space to grow and come into the college experience. We were able to launch the program this academic year due to more feedback from the previous academic year."
The Bridge Program also derives inspiration from the Posse Foundation. Founded in 1989, the Posse Foundation provides scholarships for college students from diverse backgrounds. This organization is in part a response to students of color who remarked that they would not have left college if they had had "their posse." Thus, the Posse Foundation shapes the leaders of tomorrow while increasing the retention of students of color at historically white institutions.
Simmons' Bridge pilot program is very similar. "Our BIPOC students were struggling with their transition, especially in the pandemic era. For incoming first-year students, our goal is to contribute to the bridge programs that already exist at Simmons. For us, this was a must, we could not hold this off any longer," explains Monfort.
The Bridge Program entails two components: the summer experience and the beyond experience. The summer experience provides incoming students of color a two-and-a-half-day orientation, including space to connect, learn, and identify key resources and support networks on campus. Basically, Bridge students move into their on-campus residences 3-4 days before orientation. The summer experience is designed to facilitate students' success and transition at Simmons. Afterwards, students partake in the traditional campus orientation.
The beyond experience occurs throughout the academic year. This includes social events, workshops, and leadership opportunities. During the spring semester, Bridge students can apply to be a mentor. "We now have five Bridge mentors on campus," says Monfort. "We are going to recruit in the spring for mentors, and they will be assisting the transition of the next incoming class. We hope to have more staff, including more mentors, as the program grows."
The Bridge Program helps new students fulfill numerous objectives, including building community, addressing imposter syndrome, connecting with faculty and peer mentors, and navigating the city of Boston.
Monfort cannot overemphasize the importance of this initiative for marginalized students. "College spaces are historically white, and were created for cis-gendered males to go to college," says Monfort. "John Simmons wanted to create a space for women when he founded this University, but it was intended for white women." BIPOC students need a place of belonging and mentorship. Moreover, many students of color at Simmons are first-generation college students. Simmons is helping them navigate the college experience. "Ultimately, programs like these not only help you find belonging in college, but help you find belonging in the world. And students belong here," says Monfort.
Since the summer of 2022, the Bridge Program has hosted events and has received vocal feedback from incoming Simmons students. Students have conveyed to Monfort that they are very appreciative of this community. Currently, the program is reserved for incoming students, but upperclass folks can join the workshops during the school year. "I tell students that your voices planted the seeds of this program, and it will continue to grow," says Monfort.
The Bridge Program will soon be recruiting students for the summer of 2023. Check their website for updates and more detailed information.